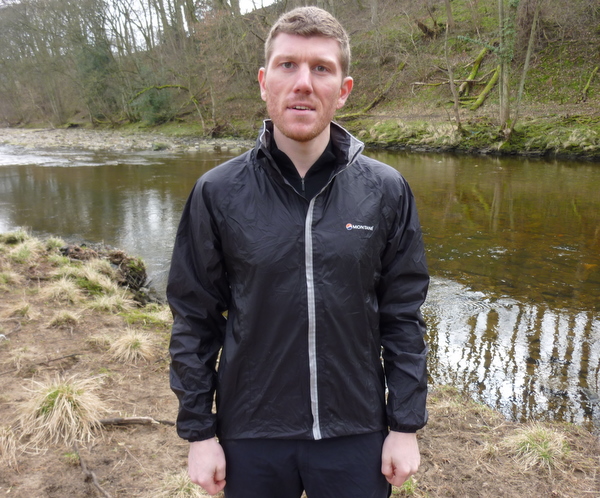 Weight: 170g (Medium)
Price: £67.49 (PureKit)
Product Page: PureKit
Overview
An ultra-lightweight minimalist waterproof jacket, claimed to be the worlds lightest hooded waterproof jacket that is intended for people moving fast and light in the mountains with its roots in mountain running.
Features
Roll-away hood
DWR coating
Taped seams
Carry bag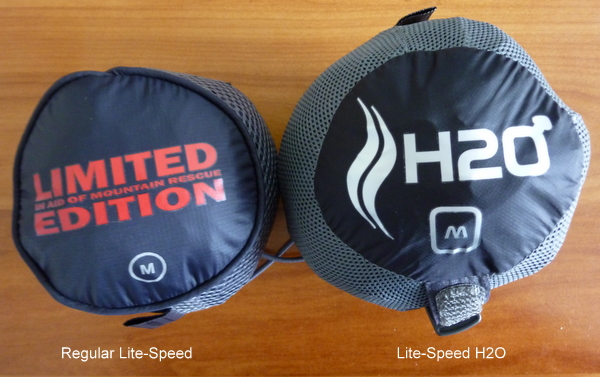 The whole point of this jacket is the lack of features which make it incredibly lightweight. There are no pockets or fancy wired hoods just taped seams, a basic roll-away hood and a DWR coating. I believe this is all you need from a Waterproof jacket which is only worn when its tipping it down with rain. Although I had no problems wearing it all day on my last trip when not raining.
Detail
I will say from the start I'm a huge fan of Montane products not because they are from the North East of England (my home), but because every peice of kit I've had from them has done the job asked of it. I've looked at the H2O for months, possibly because the burnt orange version can be seen from the international space station and you can't miss it in the shop. Personally I prefer to be a bit more stealthy and opted for the black. I would imagine most people are familiar with the standard Lite-speed its a windproof that to my mind is hard to beat. I'm currently on my second, but still use the original after 5 years. Every walk one comes with me, I can't think of another bit of kit I could say the same about. So putting Lite-speed in front of H2O set the bar high for me.
One thing to note on the tag attached to the H2O jacket it reads "moderately waterproof fabric" this is part of the reason I've been unsure about it, everywhere else the "moderately" is dropped. When you feel the Freeflow fabric it is hard to believe it could ever keep you dry and most Lite-speed users will of experienced wetting out if worn in the rain. The H2O uses different fabric, you could read more about it on the Montane site if so inclined, its lighter than Pertex but has a DWR coating.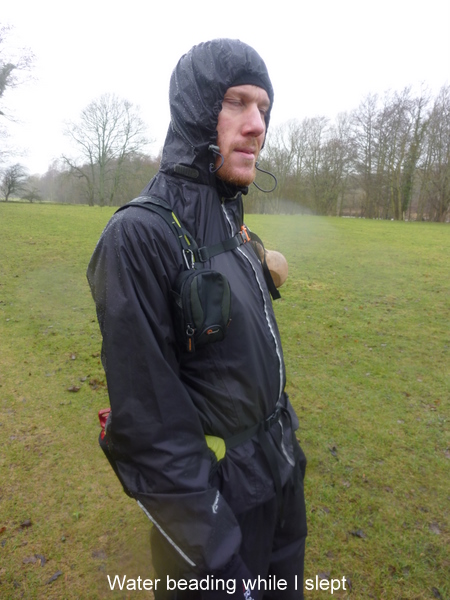 The first trip with the H2O was perfect testing weather, windy and chucking it down. This isn't a trip report so the summary; even in horizontal rain the jacket kept me dry with water beading and running off, to be certain I was totally dry I wore a light grey base layer underneath and there were no signs of damp patches. To say I was surprised would be an understatement, my dad who I walked with was also looking admiringly at it while he wore his Montane Super-fly which is twice the weight and with more restricted movement.
I have used the jacket on several other trips, twice it sat in my bag while in Scotland not noticing it was there due to it minuscule size and weight. The last trip I walked 14 miles in the dry and used it instead of the Lite-speed, wearing it over the top of my base layer. This time I was expecting to get damp from the inside, which would of happened if I'd done this with my Quickfire jacket, once again to my surprise I remained dry, no sweating. It's hard to test without swapping jackets during a walk but I think the H2O is very slightly warmer probably due to the DWR coating, hence less breathable? I haven't been able to prove this yet.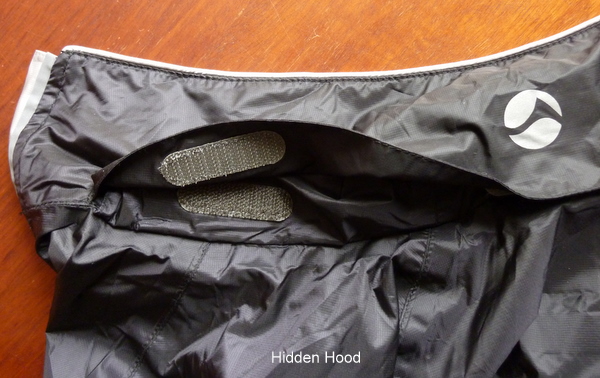 The hood was used on the 1st trip and kept my head/hat dry underneath, it appears to be slightly more shaped than the normal lite-speed hood but maybe that is just the taped seams. There is no wired hood but you don't need one, the hood isn't big enough to get in the way and simple one handed draw cords keep it tight. A baseball style cap can be used if needed.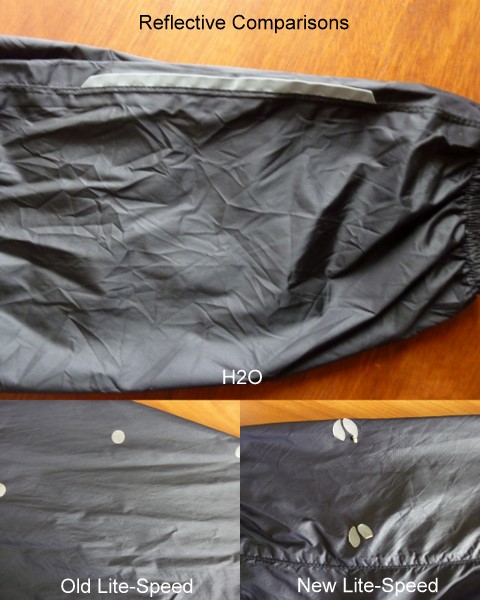 The jacket has reflective trim, which is basically reflective fabric used as a storm flap over the zip and is also sown in various other places to allow you to be seen at night. I prefer this to reflective stickers/patches used on the regular Lite-speed which are pealing off the newest one, making it look old before its time. Interestingly the old style stickers on the 5 year old model are still OK.
As noted at the top of this article the H2O weighs 170g and the stuff sack 13g yet strangely my scale shows 182g when in the stuff sack. This must be due to the way the scale rounds off. Compare this to the regular non-waterproof which is 1g heavier. You may wonder why the waterproof is lighter, this is due to no pocket, a slimmer fit and slightly lighter fabric. The slimmer fit is quite noticeable, I almost ordered a small but pleased I didn't.
The last thing to note is the stuff sack has a velcro strap which allows you to fix it to somewhere in/on your pack. The regular has a carabiner style clip which can be a pain with very cold hands, no such problems with the velcro fastener.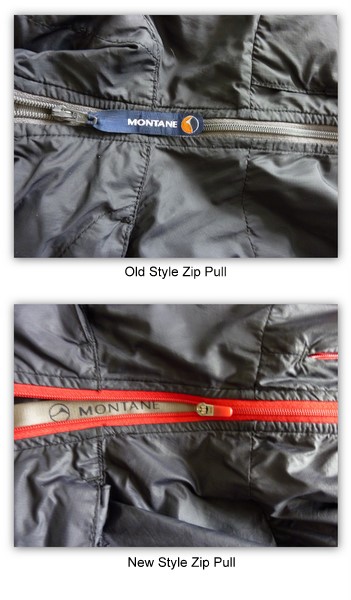 One minor gripe and this is for all of the newer light Montane jackets why did they change the zip pull from my 5 year old Lite-speed. It had a long piece of fabric used for the pull which was easily found, the short plastic ones on all newer models are a nightmare to get hold of. The image above doesn't show the H2O but the zip is the same as the New Lite-Speed pull.
Montane has updated the jacket while I have been testing this one, the colours are now Shadow grey / tangerine (zips), Electric blue / tangerine (zips), Fluoro yellow (see here). It is sad to see the black dropped, although most shops will still have the old colours for a while yet and the price shown above reflects this. The only other change I can see is the 360 reflective sticker things they've added which is a negative, rather than the sown reflective fabric on my test one. The 360 ones are the same as the ones pealing off my regular Lite-speed.
Pros: lightweight, packability, price
Cons: durability, lack of pockets?
Summary
The H2O is a pleasant surprise, the weight and packability are a huge draw. Surprisingly keeping me dry during a deluge. I have slight concerns over how effective the DWR coating will be after extended use, but so far its keeping me dryer than my regular Event jacket. For the price I think it is perfect for 3 season day walk use, where you keep it in your pack in case of a downpour. Personally I am happy using it on multi-day trips but would be unsure for long trips without extended testing. My only wish is that it was available as a smock, which would be even lighter. At the current reduced price of the model I have can you not buy it?
Disclaimer
I was sent this by Purekit to review, as with anything I review I will always write exactly what I think, even if it is a negative review.