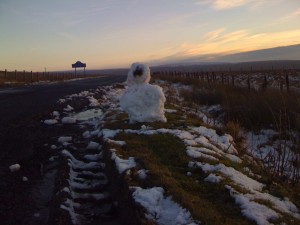 Unfortunately I haven't done any walking over the weekend, the snowman picture above was taken on Friday between Cowshill and Allenheads with the iPhone. I wasn't in the best of moods, so left work early and went for a drive. Snow and hills are probably the best medicine to cheer me up.
Further along the road above Killhope I could see a lot more snow on Cross Fell, which set a plan in motion to walk it on Saturday. Unfortunately when I got up, there was a pea soup fog. I walked Cross Fell once before in 2005 when I could see less than 6 feet, I had no desire to repeat it. So the bed called me back and for once spent the day doing house work I'd been putting off.
My parents asked if I wanted to go walking with them today along old railway lines near Langley Park, but I couldn't due to work commitments.
Hopefully next weekend will be more successful.