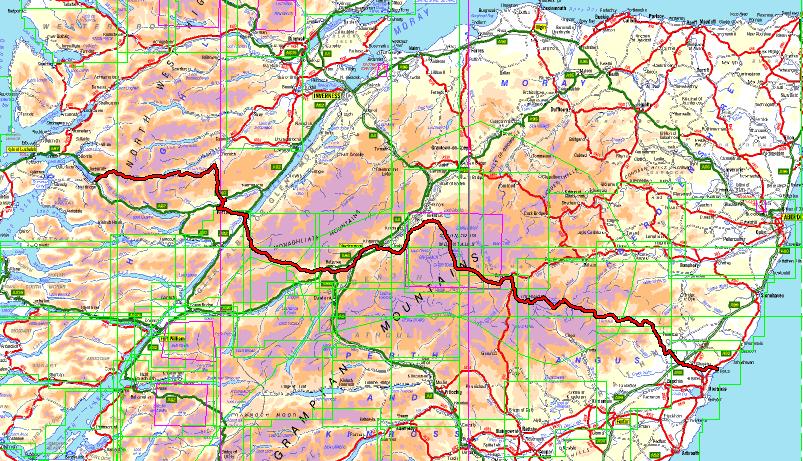 I finished drawing my TGO Challenge route a few days ago, when I say finished I haven't submitted it for checking yet and I haven't drawn the Foul Weather Alternatives (finding this hard to do). I posted the route a couple of days ago on Twitter, but hadn't broken it down into days. These can now be seen in the table below, had to hand code that HTML Table
| Day | Destination | Distance |
| --- | --- | --- |
| Day 0 (Thursday) | Shiel Bridge | 0 miles |
| Day 1 (Friday) | Glen Affric | 12 miles |
| Day 2 (Saturday) | Plodda Falls (After Cougie) | 13 miles |
| Day 3 (Sunday) | Fort Augustus | 18 miles |
| Day 4 (Monday) | Garva Bridge | 15.5 miles |
| Day 5 (Tuesday) | Kingussie | 18 miles |
| Day 6 (Wednesday) | Rothiemurchus | 16.5 miles |
| Day 7 (Thursday) | Corrour Bothy | 9 miles |
| Day 8 (Friday) | Marr Lodge/Braemar | 9/13.5 miles |
| Day 9 (Saturday) | Braemar | 4.5/0 miles |
| Day 10 (Sunday) | Glas-alt-Shiel (Loch Muick) | 14 miles |
| Day 11 (Monday) | Tarfside | 17.5 miles |
| Day 12 (Tuesday) | North Water Bridge | 17 miles |
| Day 13 (Wednesday) | St Cyrus | 8 miles |
The GPX File I posted on Twitter can be found here, the rounded figures above total 172 miles (short for the challenge). All of this could change before I submit it and very likely after its checked.
I'm not really sure if it's the "done" thing posting your route in advance but quoting from the challenge outline "foster good fellowship among walkers". In my experience walkers like nothing better than talking about routes, other than maybe talking about gear.
Now off to work out the Foul Weather Alternatives!