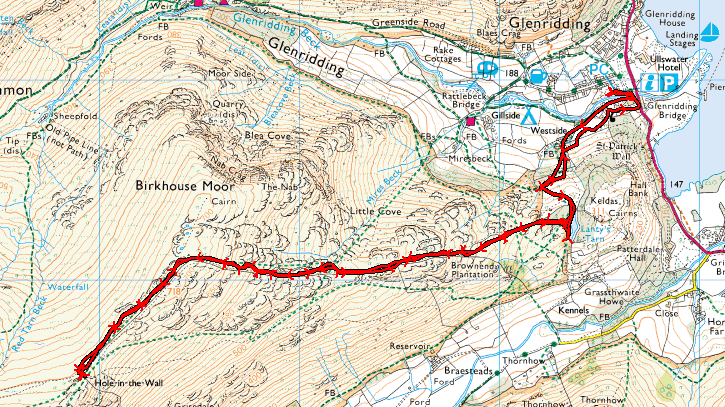 It has taken me a while to write this up. On the 27th of December after staying sober on boxing day, I set off for Glenridding with the aim of a wildcamp and a good practise with the ice axe & crampons.
The plan was to walk to the Hole in the Wall via Lanty's Tarn and on up to Helvellyn via Swirral Edge. A walk along the ridge and down to Grisedale Tarn, where I would camp before heading up to St Sunday Crag the following day and returning to Glenridding via Birks.
The weather conditions had other ideas, I set off after 10 which is quite late for me from the main car park which was a sheet of ice. I reached Lanty's tarn quickly after a few diversions due to paths being diverted. I decided at this point to follow the wall up and around to The Hole in the Wall, there were a few foot prints to follow.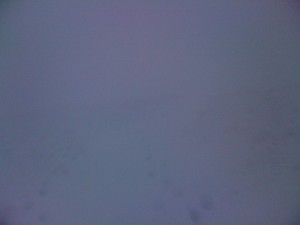 With each step upwards the snow got deeper and the going more difficult. By the time I'd reached 2000 feet the snow was regularly over knee height (over a foot). Regularly I would step into a hole and it would be up to thigh or waist height. Around this time the visibility seriously deteriorated, initially to 10-12 feet.
Another walker heading down near to where the wall turns left stopped and spoke about how bad the conditions were, I think he had turned back. I carried on and a few minutes later I saw or rather I didn't see what he had described. The wind was battering ice/snow into me and the visibility reduced to between 3-6 feet. I saw a group of other walkers heading down on the other side of the wall and another lone walk also heading down.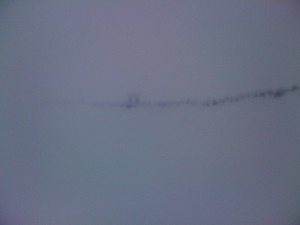 I decided to push on a bit further and if things didn't improve I would head back down over the Hole in the Wall stile. The wind seamed to get stronger and it became obvious it would be stupid to try to go any higher. I didn't have the winter skills to tackle Swirral Edge in these conditions. It was quite hard to even follow the wall because the snow was drifted to the height of it (over 4 feet). I initially walked past the stile because it was almost hidden under snow. I tried to walk towards it but the snow was waist height and getting deeper, I headed away from it and tried to see over the wall, it was just as deep the other side.
The only thing I could do was to head back the way I'd come. I stopped for a few minutes to have a drink and get my breath back even on the flat it was hard work. Sitting there I found myself with a big grin on my face enjoying the solitude, if anyone else had seen me sat in a whiteout with a strange grin on my face they'd think I had gone made (maybe I had). Yet there was something magical about the loneliness. I considered setting up my tent where I sat, but decided against it.
I reluctantly set off again, noticing that my footprints from a few minutes earlier had completely disappeared. Knowing I had made the correct decision I had another of those strange grins and headed back down hill. At one point I fell down a dip and sat there a couple of minutes watching a mouse or vole pick up something and head into a hole in the snow. All too quickly I was back to Lanty's tarn where I sat a few minutes and had a bite to eat reflecting on the much shorter walk than intended. It was still an enjoyable trip.
Twenty minutes later I was back in Glenridding trying to stay on my feet on the ice rink, sorry car park.
The walk was just over 5 miles, but distance isn't everything, it's about the journey and the experiences along the way. It was certainly an experience.
Sorry about the quality of the pictures and lack of them, the conditions were too poor for the iPhone.