I will break the roundup of the gear I carried on the challenge into multiple posts. My pack weight minus food and water was 7.51kg, this was at the end. This includes several things most would class as wearing like hat, gloves, buff and several other things. There are lots of items that I probably wouldn't take again and could get this under 7kg. Here's the first post with the major items.
Pack - Golite Jam 2009: I bought this a few months ago when Go Outdoors were selling off last years model for £35. I've now used this on the Challenge, West Highland Way, Finland and a couple of other shorter walks. It's fantastic, light comfortable and holds everything I need. I wish it had a see through mesh pocket at the front as it can be hard to find your stuff in the big front pocket. Otherwise I have no complaints with it and doesn't look too worn either. (732g, you could remove some straps to save weight)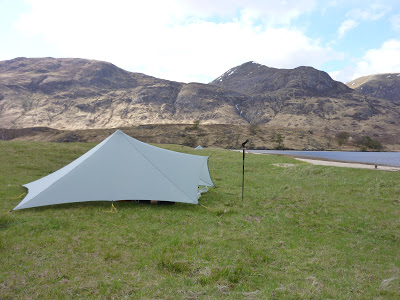 Shelter - MLD Trailstar : This is amazing, I first saw this when Phil Turner used his in January in the Lake District. After seeing it on another trip I decided I had to have one ($155/£115). Its amazing value, you can fit 2 people in comfortably with all their gear and still have room to spread out, its possible to fit 3 or 4 in if needed. My idea of a tarp or single skin lightweight shelter before seeing this, was of something flapping in the wind with both ends open. You really need to see the Trailstar to understand just how rock solid it is in wind, flaps less than my Akto. Weight was initially my biggest reason for looking at this (560g seam sealed with guys attached and in supplied bag). I use the stakes you can buy with it, five 9" Easton stakes & five 6.5" Titanium Skewer stakes, also one titanium V peg for front pole guy (total 141g in Akto peg bag). So a total of 701g for shelter and pegs. I use my Pacer Poles which I am already carrying, so wouldn't include them in weight total. Everyone who saw this on the challenge appeared to be impressed, with a few thinking of buying one of even making one. You can find an excellent PDF by Colin Ibbotson all about the Trailstar here on Andy Howells site, an essential read.
Sleeping Bag - PHD Minimus: My Minimus has a couple of options added, I got it with 900 down and in MX fabric both to save a few more grams. I was slightly worried about taking this on the challenge when I'd not had chance to test it. When looking at it compared to my normal Alpkit Pipedream 600, I thought I'm going to be freezing. It weighs 427g (30g over what is quoted with the options) I carried it in an Extra Small Exped Drybag (35g). The first few nights I used an Alpkit Hunka Bivvy bag around it and my legs were slightly chilly. Then I tried it without the Hunka and I was lots warmer, the bivvy appeared to be compressing the down. I never used the Hunka again.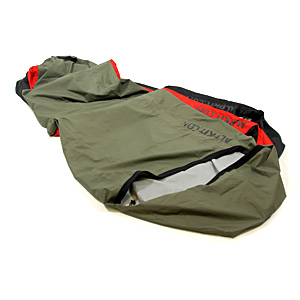 Bivvy bag - Alpkit Hunka: This is incredibly cheap (£33), I bought this ages ago and never used it until this year. It's not exactly lightweight at 385g but its functional and was bought for summer wildcamping. I have always taken it when using the Trailstar in case I got wet, wasn't sure about my seam sealing. I have some problems with it, it looks quite big but it tapers down to your feet and I tend to sleep on my side, when you do this I find it tighter around your hips and this compresses the down in your sleeping bag. I also find the hood too big, no matter how much I pull the draw strings. In the end I stopped using it and found I was much warmer. I will probably test it on a summer night with no shelter. For a cheap bivvy it is excellent, but not really needed on this trip.