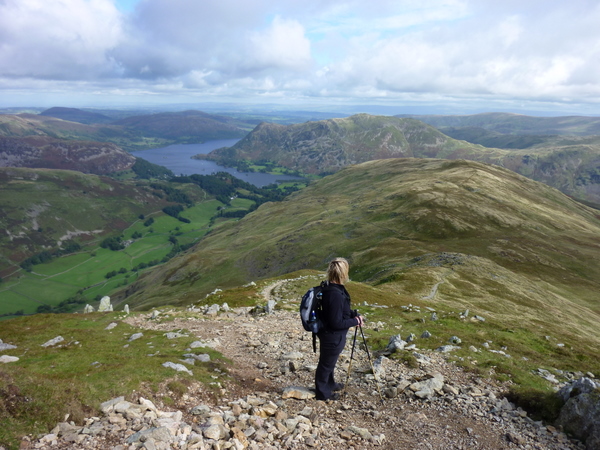 St Sunday Crag has been on my list of hills to walk all year, yesterday was finally the day I would tick it off the list. The hill was the highest of my unwalked Wainwrights.
A conversation somewhere on the internet with Helen Fisher, ended up with her joining me on the walk. The plan was to walk from Pattterdale, to Arnison Crag, Birks then finally up to St Sunday Crag. A quick and fairly easy stroll for me these days.
I arrived in Patterdale at 8:30 (early), Helen had already text to say she was running late due to traffic. I hunted out free parking, no way I was paying £3.50 opposite the hotel. Then I went for a short stroll before returning to the car to listen to some music. It wasn't long before Miss Fisher arrived.
We set off past the toilets and along the path looking for a stone wall that would cross the path which we would up nearly to the top of Arnison Crag, the first Wainwright of the day.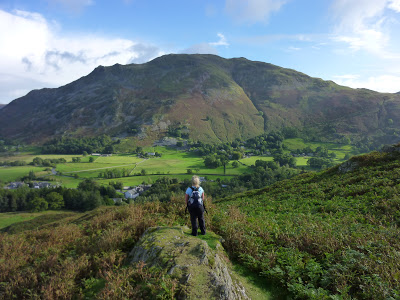 The path next to the wall gained height quickly and there were soon fantastic views over Ullswater and the surrounding much higher hills. Every few feet Helen would stop to look at the views and say something that usually began with "A" like "Amazing", "Awesome" or "Ace", her favourite words. I don't think she was describing me but the views, any description of me beginning with "A" would probably end with "hole".
(http://picasaweb.google.com/lh/photo/2zihxoTKCL5AAN3oqCanzw?feat=embedwebsite)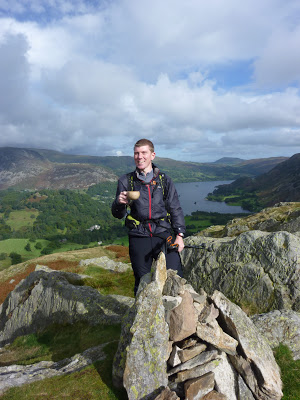 I noticed during one of the "Amazing" stops that we were being tracked by an older couple who were catching us up. I'm not having that, I thought to myself, still unable to let go of the competitive part of me. We were soon at the top and Kuksa summit pictures were taken before turning our attention to Birks, nearly 600 feet above us.
As we descended to Trough Head we watched sheep being hearded by a shepherd and what looked like 10 dogs, unless some black sheep were pretending to be dogs. From Trough Head we followed the stone wall leading up towards Birks.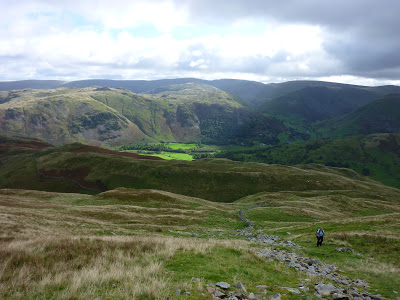 We stopped for a minute to admire the sunlight as it made the fields glow a luminous green as it traveled along the valley below us. Actually I stopped for a minute, then continued up hill. I turned around a couple minutes later, to find Helen still rooted to the spot like a statue quite a long way beneath me. I thought about hiding behind a rock, but that would be childish, there weren't any suitable ones. I sat and waited for Helen to awaken from her statue like state, thoughts of throwing something at her did cross my mind, but there were only rocks at hand, hmm. The view was stunning, so I decided to just sit and admire the ever changing light show on the hills opposite.
We were quite close to the summit and thought I'd run/jog/pant to the top, it was further than I thought. The summit isn't a lot to write home about, but the backdrop is a fabulous view of the Helvellyn ridge. Striding Edge was lit up, as if someone had just directed a few hundred halogen bulbs towards it.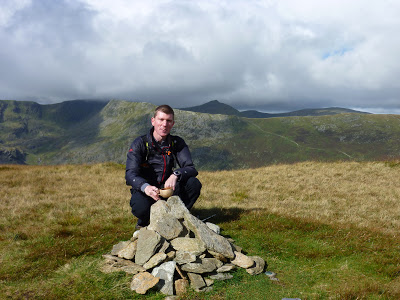 Again Kuksa summit pictures were taken as we revelled in the delight of leaning into the wind to walk. Helen mentioned about the wind making you feel "Alive" she only says words beginning with "A". The school she attended clearly only had books for the first letter of the alphabet ;-)
(http://picasaweb.google.com/lh/photo/nLVT3HDN5lzLllgCNsNlRg?feat=embedwebsite)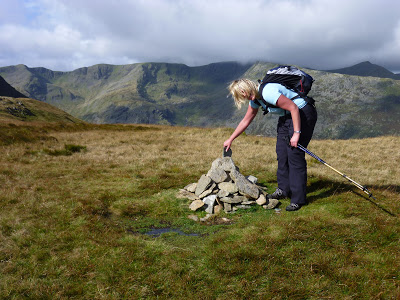 Looking up towards St Sunday Crag there were several people descending in our direction. They were wrapped up as if they were on a polar expedition. We were stood there in a Lite-Speed for me and Helen a 100 weight fleece. We waited leaning into the wind, while they descended towards us.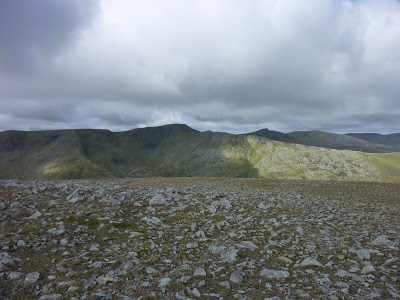 The ascent from Birks to St Sunday Crag changes from long grass to rocky terrain, which I prefer. The going is very easy though and far easier than I imagined. Maybe I should ascend via one of the gullies or Pinnacle Ridge next time. Once again I decided to run/jog/pant to the top, which once again was much further than I thought, realising I was looking at a false summit. I quickly decided to complete the rest of the ascent at a walking pace, especially with the strong wind making it far harder (my excuse anyway).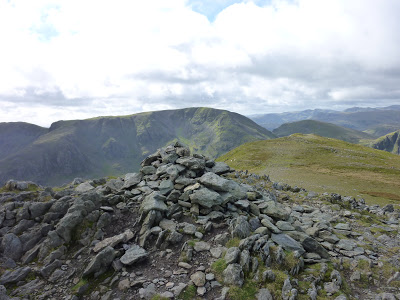 The top of St Sunday Crag isn't quite as impressive as I'd hoped either, the false summit was more impressive. The views were breath taking or was that my attempted run. Fairfield looked Astounding (will have to teach Helen that one), very different views from this side. We sat just below the top, slightly sheltered from the wind for a few minutes. A guy passed us heading the same direction as us, he also looked like he was on a polar expedition. I was surprised he could see anything, although the only thing he was looking at was his Garmin GPS.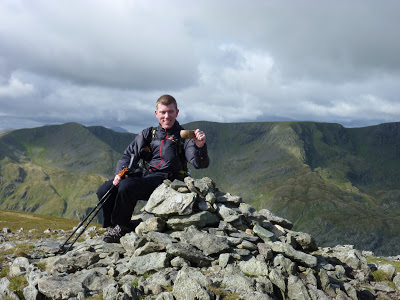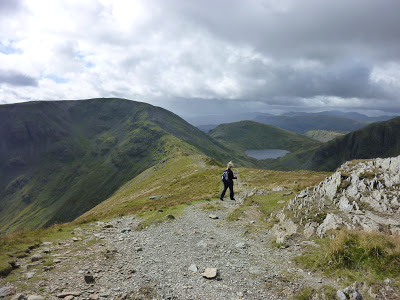 We set off again, I'd been thinking about wandering up Seat Sandel the only remaining Wainwright in this area but decided to leave it as a good excuse to camp at Grisedale Tarn in the future (like I need one). The guy with the GPS was ahead, he was still busy staring at the screen, this reminded me of myself a couple of years ago. He was unsure which way to go, changing his mind a couple of time, during one of his indecision moments we past him and descended towards Grisedale Tarn.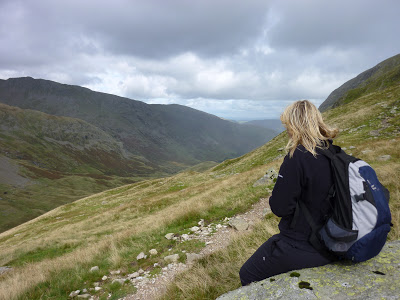 There were a large number of people sat having a break at the tarn. We decided to do the same and I happily demolished my sandwiches, it had been a while since I had taken sandwiches on a walk. Helen produced her stove from her pack and set about making a brew. I'd eaten my sandwiches and was beginning to think about popping down to Patterdale and back with a cuppa when the Titan Kettle began to boil (Helen needs a wind shield). I was given the task of making the coffee, I was directed to add 1Ib of coffee to the 5cms of water. No wonder she's always hyper! I watched as a river of people headed our direction from Hause Gap, the C2C route. The first person I noticed was Richard Branson, well a double of him. I watched him for a while, almost certain it was him, but when he spoke it didn't sound like him. Richard then decided to show off by standing in the water to show how great his boots were (bet he got wet feet).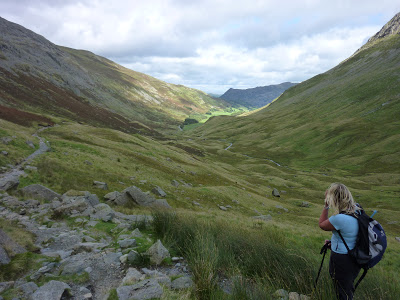 The route back to Patterdale is about 4 miles from Grisedale tarn and all down hill. Strangely the 4 miles must of taken us ages, passing the Ruthwaite climbing lodge and stopping to admire more views. Not forgetting Helen falling over, thank god I didn't take her along Striding Edge in the wind. I think we would of been using my Mountain Rescue donations.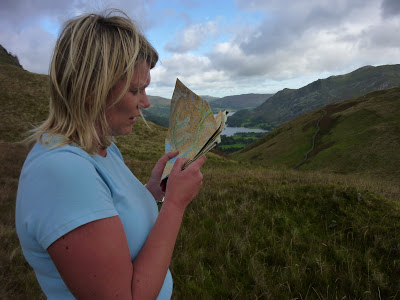 Helen was telling me how great her map reading skills were, so I asked if we'd passed the footpath turn off. After reading the map upside down, to "orientate it" she says, we were heading East but whatever. Lets say my memory and tech is more reliable than Miss Fishers map skills (I may not live another walk). The day was completed in the White Lion, a good day had by us both.