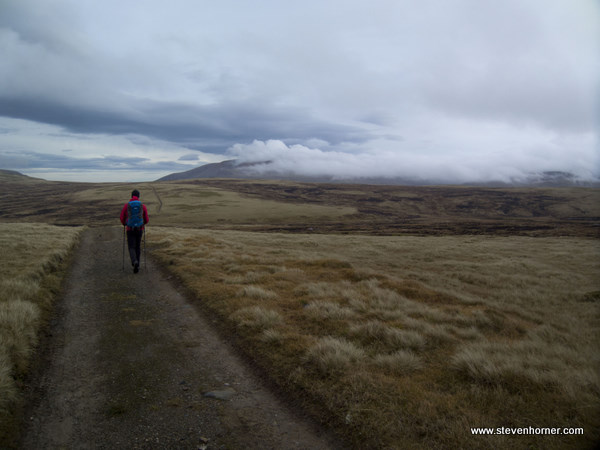 Day 1 = 1 mile

Day 2 = 16 miles

Day 3 = 22 miles

Total = 39 miles

Munros = 2
Last year it seamed every other week I was out walking with Phil Turner, both of us have been so busy this year that the trips have been few and few far between until recently. Remarkably I emailed a date when I was free and the stars must of aligned and Phil was also free. A couple of weeks later and I arrived at Turner Towers to see him watching a live video of @pilgrimchris walking through the woods and responding to messages Phil was typing to him. This was a demonstration of Bambuser, impressive if you have a decent signal (I rarely do where I walk).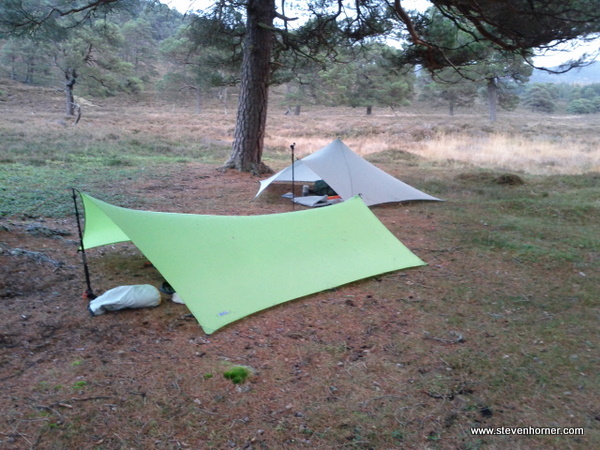 The original plan had been to walk an EPIC Cairngorms Colin Ibbotson route, but we needed nice weather to do it justice. The forecast was for very strong winds and low cloud, a change of plan was needed. On route North we decided to head towards Braemar and the Linn of Dee. I had never driven to Braemar before, the road is a bit of a nightmare and I've no idea how they ever get any skiing surely the road is permanenty shut. Eventually we arrived at the Linn of Dee around 3pm (£2 parking). The plan which had evolved on the way was to camp in some trees a mile from the car, it was beginning to get dark and windy. Camping in trees in the wind, probably isn't the best idea (we survived). The spot was perfect, sheltered, flat and close to the the river, a few minutes after arriving I had the Trailstar pitched and Phil had his Gossamer Gear Tarp up. It was starting to get dark and it wasn't long before food was eaten and we retired to our shelters.
This time of year, the nights are long, very long. Eventually after listening to a few Podcasts I dozed off and after what seamed like a week I woke expecting it to be 6am, only to find it was 1am. What do you do when you find yourself wide awake wild camping with several hours spare. Unfortunately for me I had forgotten to bring my Kindle, I tried reading on my phone but after it slipped out my hand a few times hitting me in the face I gave up on that. I listened to music for a while, but got bored of that too (I really need to update my Spotify playlists). Eventually I gave up with digital distractions and listened to the wind and the river, my thoughts drifted to plans for the future and lots of different ideas. At some point I nodded off and woke a few hours later and waited for the sound of movement from Phil, luckily it wasn't too long.
After our breakfasts we had a quick discussion and decided to stay low for the day, due to the MWIS forecast for gales again. This included the classic TGO Challenge FWA route through Glen Feshie which lots of people rave about. The majority of the days walking until we reached Glen Feshie is quite barren and not the sort of terrain I normally enjoy, the North Pennines and North York Moors are on my doorstep and maybe this familiarity with bleak landscapes shape my regular desire for "pointy bits". Possibly it's the reading list I have or the walking companions but I am now noticing far more than in the past. Rather than rushing from point to point, walks certainly feel more like a journey with discoveries on route. Actually walking with the map in hand and constantly picking things out as you pass helps with this, previously I tended to just check my position on an O.S. map on my phone at regular intervals but the smaller area shown doesn't allow you to spot things in the distance. I always carry a map but often never look at it other than in camp or at a food stop. Making the route up as we walked added something to this trip.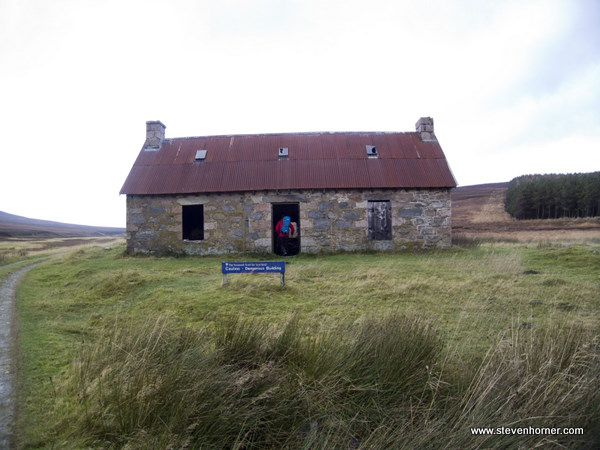 White Bridge (presumably it was once white?) was passed a couple of miles after setting off. We then headed for Red House with its warning signs. It has a nice little platform bodged together if you fancy sleeping here. The building looked fairly sound if a little drafty with no door but I have no door on the Trailstar.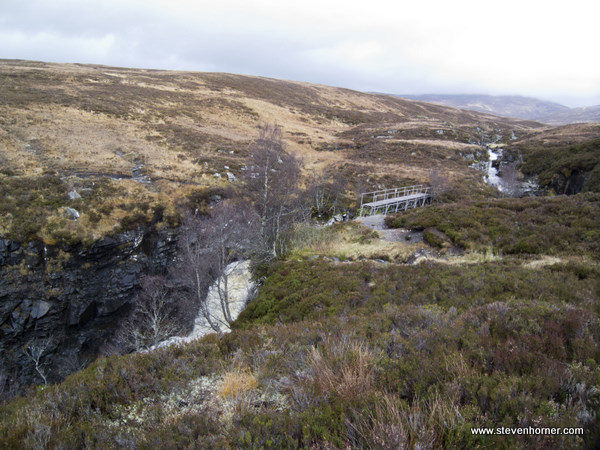 Our route then followed Geldie Burn and the continuation of the very obvious track, my map reading skills weren't exactly needed yet. We stopped for tensies (like elevensies but earlier, a food stop) opposite the ruins of Geldie Lodge where the track becomes a bit narrower and shortly after boggier. The next section from Geldie Lodge to Eidart Bridge is a bit moist in places but with some pacer pole olympic jumps most can be avoided. Eidart bridge isn't the nicest looking bridge it looks like some scaffolding across the river but the falls beneath are beautiful and could make for some nice photos on a less grey day. The target for dinner (lunch to those strange Southerners) was what Phil described as a horse hut, where he had seen wild horses previously. Horses with a hut don't sound very wild to me but I decided not to question him about it. The "hut" was of the wild camping variety, it had 1.5 walls and a roof. I've noticed even after 2 years of knowing Phil he is still easily pleased with Horner and corner references. He took great delight in taking a picture of me eating my dinner in the corner of the 1.5 walled "hut".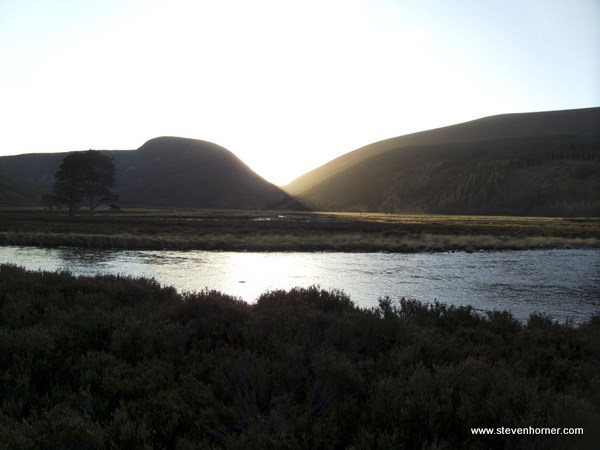 We started to see trees lining the water side as we entered Glen Feshie and we were greeted by several deer, unfortunately they didn't look too magnificent due to only their guts remaining at the side of the track. They looked quite fresh, presumably shot and gutted recently. I was beginning to wonder why people liked Glen Feshie so much, but the further we walked the more I understood. The area just South of Ruigh Aiteachain looked stunning as the sun started to dip behind the hills and a wide open area presented itself.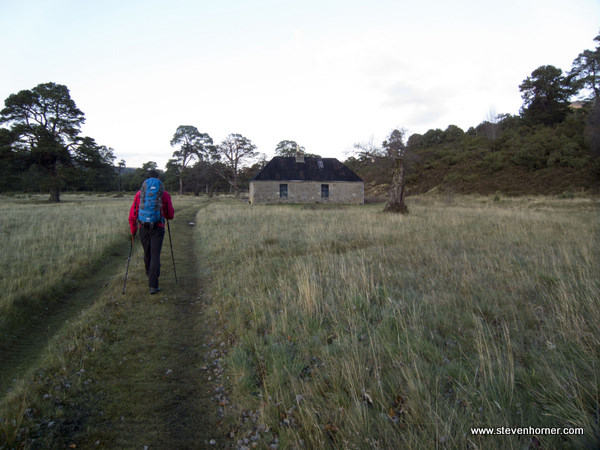 Ruigh Aiteachain bothy is a 2 roomed building with sleeping platform/bunks in one room and the fire in the other. I have visited several bothy but have never slept in any. Phil wasn't too thrilled when I mentioned this, he muttered something about mice and it being a busy bothy not far from a road. He then rushed out to try the "luxury" toilet. The "luxury" toilet is a drain with a kermode above, you have to collect a bucket of water first from above. You really wouldn't want to be in a rush, best not to eat too many Mountain House meals.
Shelters were again pitched, this time about 100 yards from the bothy. We had walked all day and not seen a single person. There was evidence that people were staying in the bothy that night, several carrier bags of food and gear hanging up. Probably another reason Phil ran from the building, the people not the food. As the sun retreated further and the darkness began to take hold, a couple of people appeared at the bothy. They hung around outside for quite a while before disappearing inside, while we sat leaning against trees reading. Shortly after we retreated to our own domains where I dozed listening to music. Just before 7pm I saw a headtorch approaching the bothy quickly. Soon after I began to hear loud noises inbetween the songs I was listening to. I realised it wasn't Phil having a party under his tarp, someone in the bothy was playing a guitar. I think the guitar playing went on for ages, I am pleased we didn't sleep in there.
Again I woke up in the early hours, this time thinking someone had turned a spotlight on or the bothy dwellers had decided to add a light show to accompany the guitar. Once the sleep was rubbed from my eyes, the spotlight was revealed as the moon. The next hour was spent watching stars in the clear sky, at some point sleep returned and I woke at 4am and made some coffee. 2 hours until the agreed wakeup time, lost in my own thoughts the time disappeared surprisingly quickly.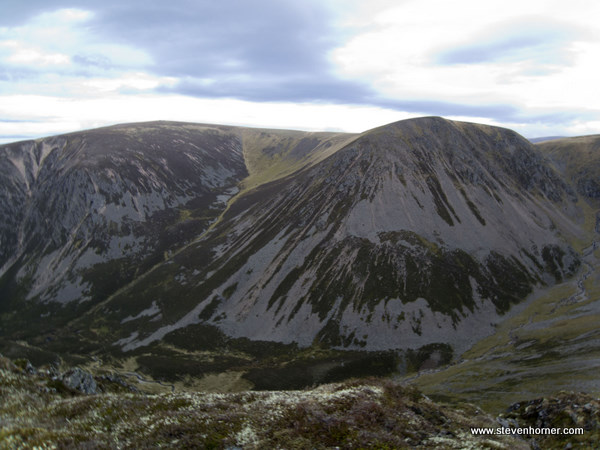 The only problem with the route we had chosen was that the only obvious options open to us was either crossing over the mountains or returning the way we had came. We both wanted to gain some height, we left the overnight spot in the early morning darkness and easily found the vehicle track heading up next to Allt Choire Chaoil. As the height was gained, the wind increased, an inviting path to our left lead to a small hill (sub 900m). I continued on after a few glances from Phil. I hate tracks that you can see for what seams like miles, this was one of those. Views of Meall Dubhag distracted my attention from the wind and the track.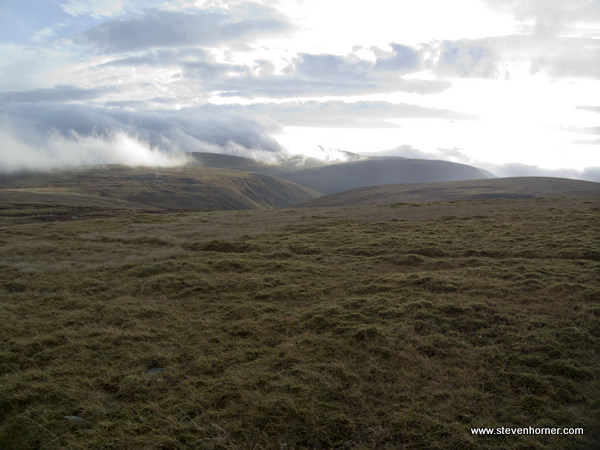 Once above 900m the area became relatively flat but here the plateau is covered with peat hags, unlike the rocky plateau around Ben Macdui. On this occassion we were pleased of the shooters track, avoiding lots of boggy messiness. We stopped for food as the track crossed Coachan Dubh, at this point Phil realised the mice he had complained about inhabiting bothies had taken their revenge. While he was sleeping they had helped themselves to his Kit Kat, he still ate the remains (of the Kit Kat not the mice).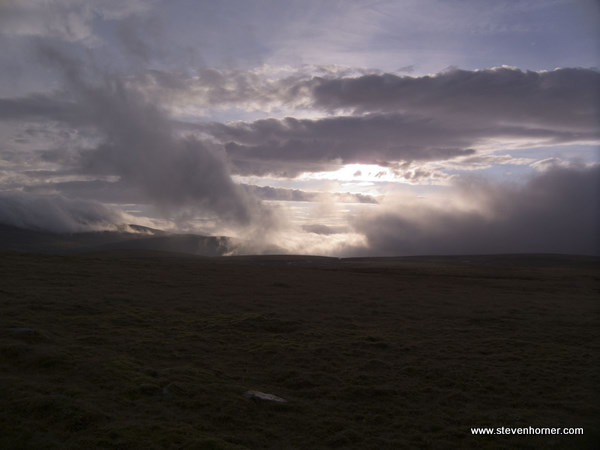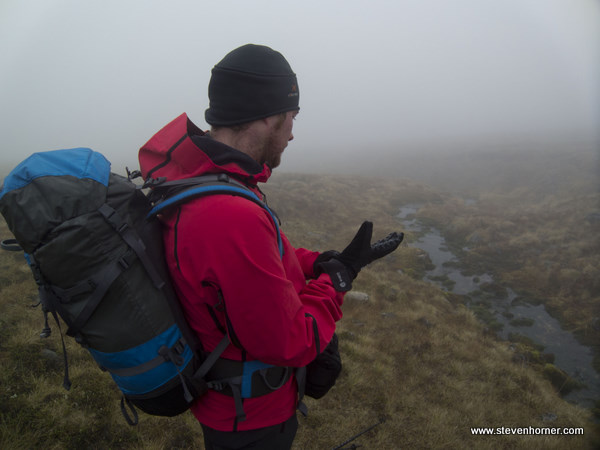 So far we were lucky and been afforded good visibility. This being the Cairngorms when we set off from our stop in a slight dip, the cloud had started to descend. We headed to Tom Dubh (most obvious feature) now that the track was coming to an end. The visibility was now down to around 15-20m or was that feet I can't remember now. I'm sure Phil had a grin, he was going to get a chance to practise his navigation. I'd been reading Ultimate Navigation and improving mine but enjoyed watching someone else navigate (probably still be there if I did the navigating). A bearing was taken and we followed it to a stream (whatever they call them in Scotland), the followed it up to the ridge.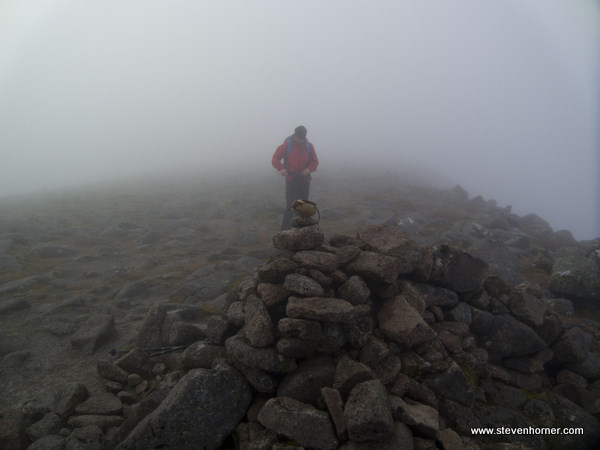 There was no way I was missing out Munros when we were this close and I was pleasantly surprised when Phil agreed. We couldn't see anything on the ridge and the path up to Sgor an Lochain Uaine (Angels Peak) went upwards into the cloud forever. When I know I'm not far from from a summit I always forget any tiredness and speed up (unless walking with Colin and he almost runs by me). Sadly there was absolutely no view from the summit, but of course the summit Kuksa pictures were taken anyway.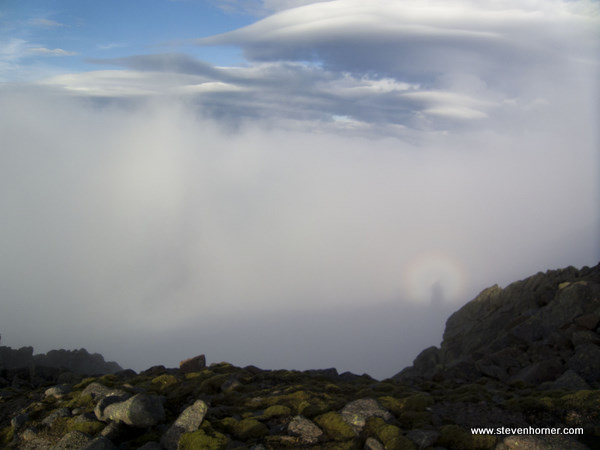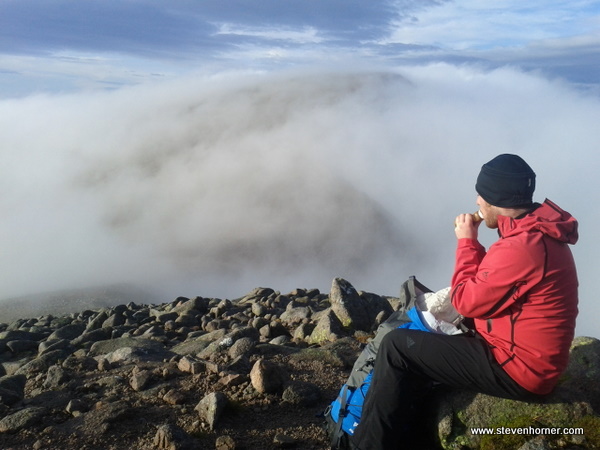 The next summit along the ridge was Cairn Toul, I'm sure there was a comment made about maybe taking a path around it if there was one (bet Phil is pleased he didn't). We descended in the cloud over rocky ground before the path started to ascend again, the cloud started to thin slightly and we were lucky enough to see a Brocken Spectre again (second time this year). The route up to the summit of Cairn Toul cleared as Phil squirted Peanut butter into his mouth from a Tomato sauce bottle. The realisation that we were about to see an inversion was all the fuel I needed as I raced for the summit.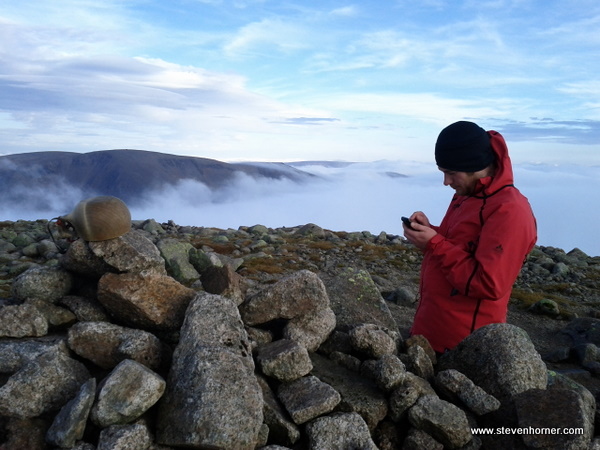 At the summit shelter we were indeed presented with an inversion, intially only the highest peaks were poking out from the cloud. The cloud continued to descend revealing ever more mountains. I have no idea how long we stood there in awe of the view, taking pictures and identifying mountains. I had forgotten to charge my camera, luckily the phone didn't do a bad job when the camera eventually gave up. We could see Lochnagar briefly before the cloud reclaimed it. I would guess we were at the summit for an hour, it then started to dawn on us that we had a long walk back to the car. We reluctantly started the descent, then reascent up Stob Boire an t-Saighdeir before once again descending to the path down Coire Odhar and Corrour bothy. We didn't have the time to bag Bod an Deamhain (The Devil's Point), which was still shrouded in cloud until we reached Corrour anyway.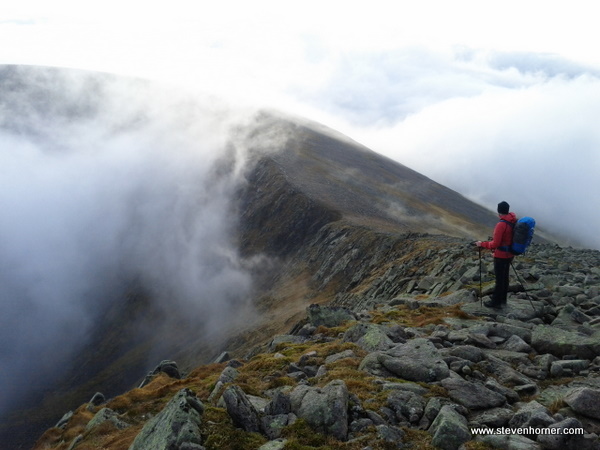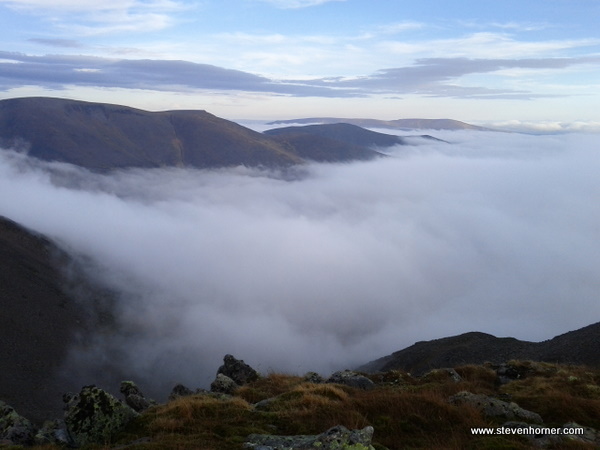 There was no time to hang about at Corrour either, we checked if it was occupied, it wasn't. We had been talking about sharing my spare dehydrated meal at the bothy but we knew we would lose light rapidly soon. We decided to head down Glen Dee to White Bridge then back to the Linn of Dee where my car awaited. The path is very faint (or not where the O.S. say it is) and boggy where it splits near Corrour (we missed it). We managed to join the path and continued our boggy journey at pace, as the light faded. Initially in the darkness I wore an e+Lite but it wasn't up to the job over the uneven bog and was swapped for a Tikka Plus.
I would guess we walked for at least an hour in the darkness before reaching White Bridge, and a good track to follow. It was a relief to finally be on an easy track with less than an hour to the end, behind us at White Bridge was a bright light aproaching faster than we were walking. Eventually we realised it wasn't a vehicle but a man on a bike with headtorch and bike lights. By now we were tired and both dreaming of the fish and chips in Braemar, the thought spurred us on.
We arrived to an empty car park, except for 1 Landrover driving by. In the previous 2 days we had seen no one except for a couple of people at the bothy and the man on his bike. There were many, many more stand out moments on this trip. This is long enough without describing ptarmagins, snow buntings, horses, etc.
Day 3 felt like 22 miles, especially when it included two 4000 foot peaks with short daylight hours. In hindsight I wonder if walking via Derry Lodge, instead of Glen Dee would of been the better option.
We were denied those fish and chips in Braemar, it was shut along with almost every other eatery we passed. The MacDonalds at Perth tasted fantastic, which shows how hungry we must of been. I don't think myself and Phil ever do boring trips when we walk together.