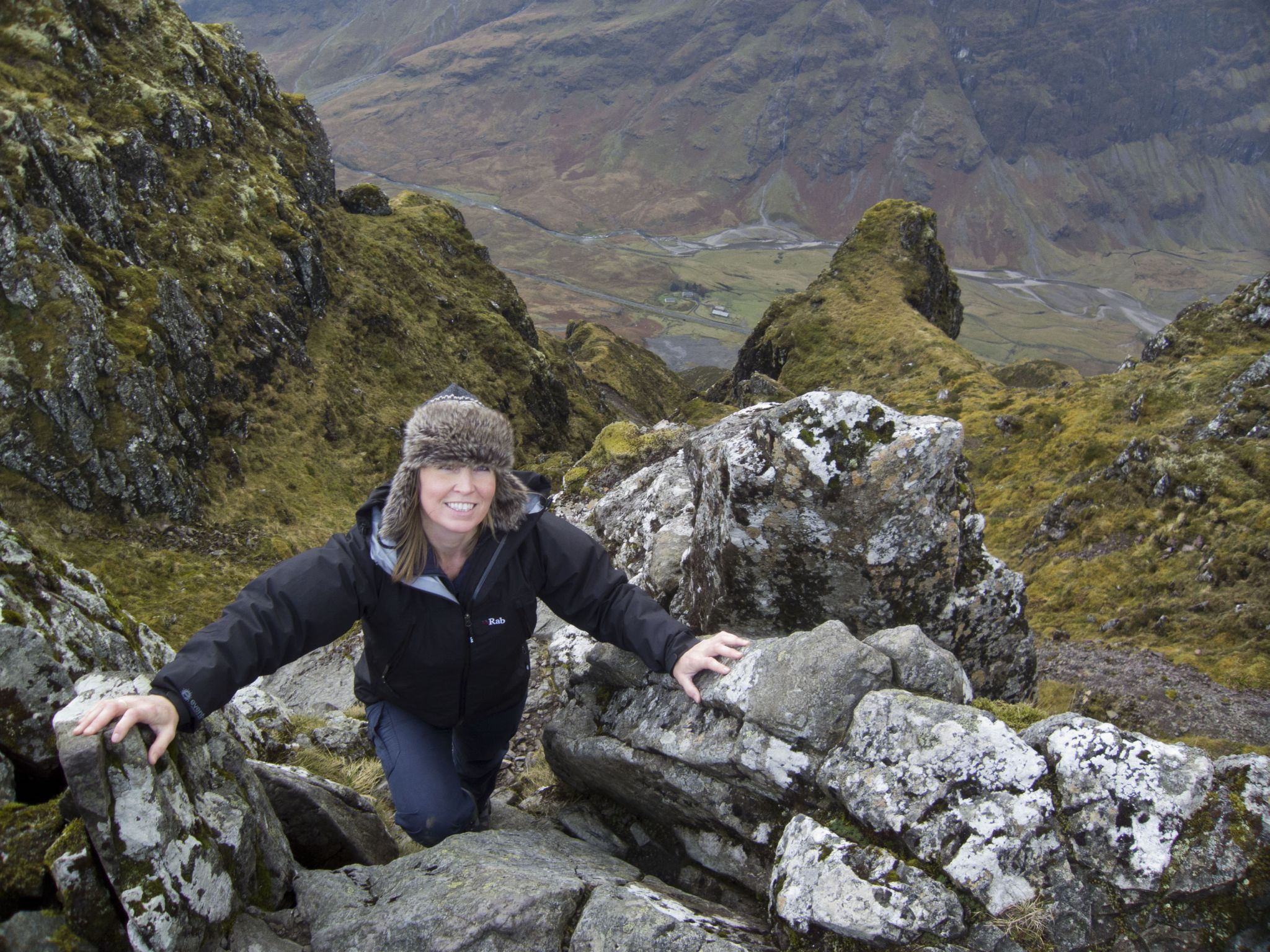 A couple of cheap hotel deals saw me driving towards Glencoe after breaking the journey North overnight at the Travelodge in Dumbarton. The forecast was far from encouraging, gusts in excess of 60mph and rain. Each time I drive through Glen Coe I dream of walking the Aonach Eagach and every time something happens to stop me. The previous trip I had managed to thwart the Cairngorm demons that did the same in the East of Scotland.
We were over an hour later than intended after snoozing the alarm one too many times. Recently I've stopped making any rigid plans and basically making it up when I get to a location. As I drove over Rannoch Moor and Buachaille Etive Mor came into view, it was to be option 1. The wind was lower than I expected and an option 2 jumped into my head, screaming to be done, this was the Aonach Eagach. The decision was made to drive to the foot of the track up to Am Bodach and check the conditions.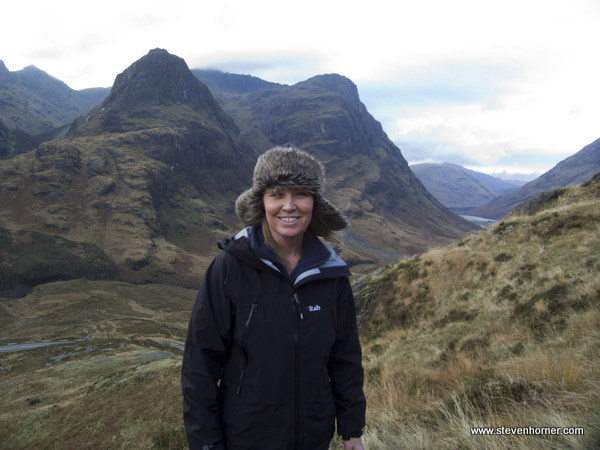 The Aonach Eagach was clear of cloud, as were almost all the Munros in the area except for Bidean nam Bian. Things were looking good but the conditions at the top could be considerably different to the sheltered glen. We headed up the steep track towards Am Bodach, I agreed with Traci that we would make a decision once we reached the summit and then again at Meall Dearg.We weren't going to take any chances on the ridge if the conditions didn't look good.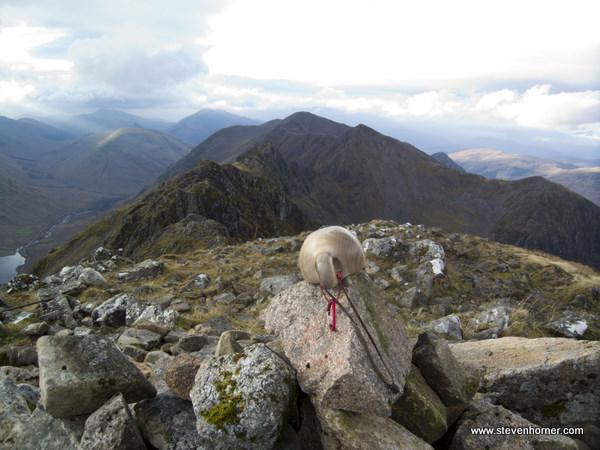 Strangely the higher we climbed the more the wind receded, by the time we made it to Meall Dearg, there was barely any wind. No clouds were heading our direction either, we had a window. The only thing I was slightly worried about was the daylight.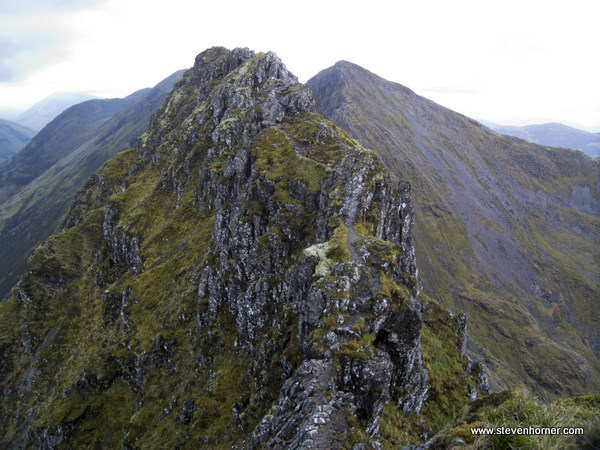 When walking alone it's easy to judge my own pace even over difficult terrain but when walking with others it's not so easy. Traci is fit and far from slow so we set off along the Aonach Eagach. We made good progress passing 3 people coming towards us, who didn't look particularly happy.By about half way I made a comment that it was far easier than I was expecting. Yes there were drops down into the glen below and some climbs up and down but nothing that felt difficult or dangerous.
Maybe I spoke too soon. I waited for Traci and looked up at a longish climb upwards and said "this may get fun", while I was waiting I noticed a very obvious path to my right which descended then joined a bit further along or so it appeared. This was error number 1. I led us around the right (North) side of the ridge. As we descended it became increasingly wet, mossy and slippy and we were descending more than I would have expected. I am not sure what went through my mind to take this route, it's a ridge route why did I descend to one side. As we descended, the route became narrower and even wetter until there wasn't really a route. I could still see what had looked like a path heading back up further along. But by now I would guess we were at a higher grade than scrambling, it felt like climbing. I was leading the way, then trying to help Traci place her feet and hands. We appeared to be almost at the bottom of "route" but there was a very steep, wet and slippy down climb onto a very narrow grassy ledge. I made it down without any problems but Traci is shorter and struggled and felt she was slipping. She lost her grip with her right hand and foot, swinging round while clinging on with her left hand. I can remember the moment perfectly, it was almost like everything slowed down around me. Luckily I was very close and pressed her back into the rock helping her find something to grip.
Traci like myself was strangely calm considering she could have very easily of fallen. For a few seconds I think Traci was slightly shook up (as you would expect) and didn't want to move her hand . Yet less than a minute later she continued on as if nothing had happened. Most people would probably have frozen with fear and refused to move, clearly Traci is not most people. A few minutes later we were back on the ridge looking back at where we should have walked. I have no idea why I chose to go around the side or even if that really is a route.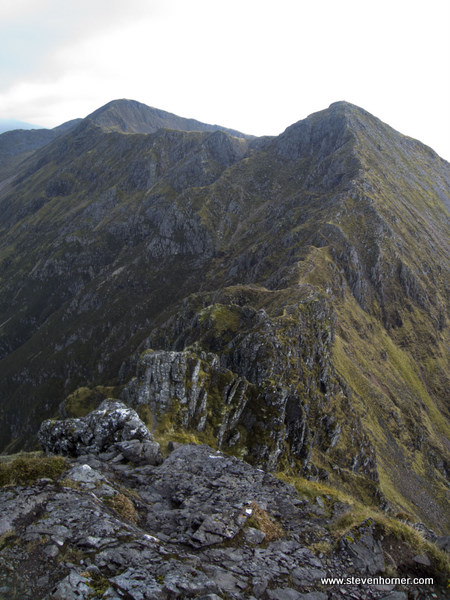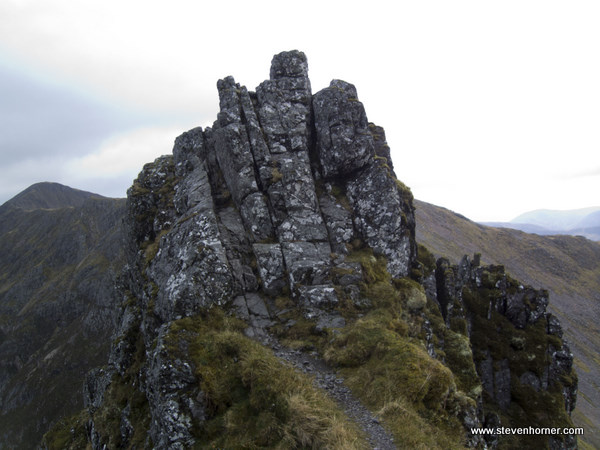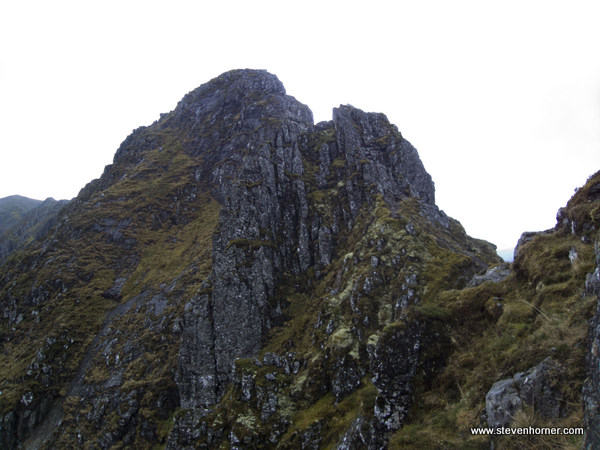 The pinnacles that followed, one of which is the grade 2 I believe felt tame by comparison. Near the end of the ridge we could see four people heading for Sgorr nam Fiannaidh, we weren't far behind them but couldn't see them when we reached the summit. That was the Aonach Eagach over but everyone knows it's the descent when most accidents happen and we couldn't relax yet the Clachaig is still some distance away.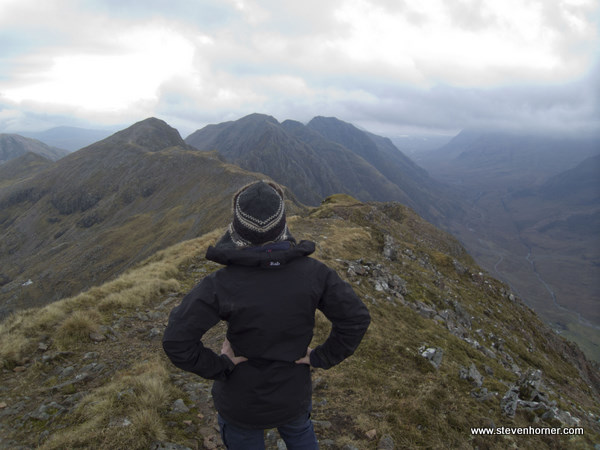 I had read ages ago about the gulley down to the Clachaig, several people had different opinions on it. Some saying it's dangerous and should be avoided (deaths have happened), while others think there is nothing wrong with it. I decided to take a look at it, if it looked too steep or difficult we would head back up and head further long and descend via the col before the Pap of Glencoe. The path is cairned and well marked higher up and we decided we would descend the gulley (the path next to the gulley). This was a mistake (error number 2), it wasn't particularly difficult or in the dry weather, very slippery. It was just very slow going, Traci was becoming tired and decided it a good idea to slide at one point down some rock.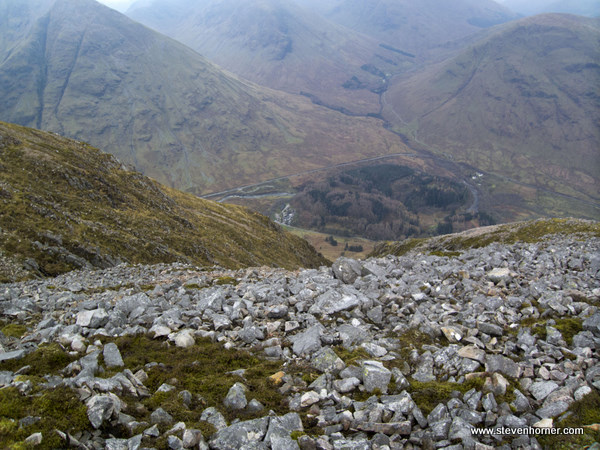 I'm not sure it would be an exaggeration to say it took as long to descend the gulley to the Clachaig, as it did to cross the Aonach Eagach. We were beginning to think the pub was a mirage. We reached the grass and the road at the bottom just as the last of the of the light went. Descending in darkness would have been dangerous.
We still had the walk along the road to the car in the dark but we had earned a pint and a rest. Reluctantly we left the main hotel bar, the climbers bar was closed for refurbishments. It was now drizzling, waterproofs were slipped into and head torches worn. The route march back to the car passed happily uneventfully.
We had slightly more of an adventure than I had intended, lessons were learned but I still have no idea why I didn't stick to the ridge. I have a GPX file of our tracks, but it's hard to read on the map. The 1:10k maps which don't have contours may help to identify exactly where I made a detour.
I will be returning at least once next year in the summer to walk the ridge correctly, possibly in the winter too.