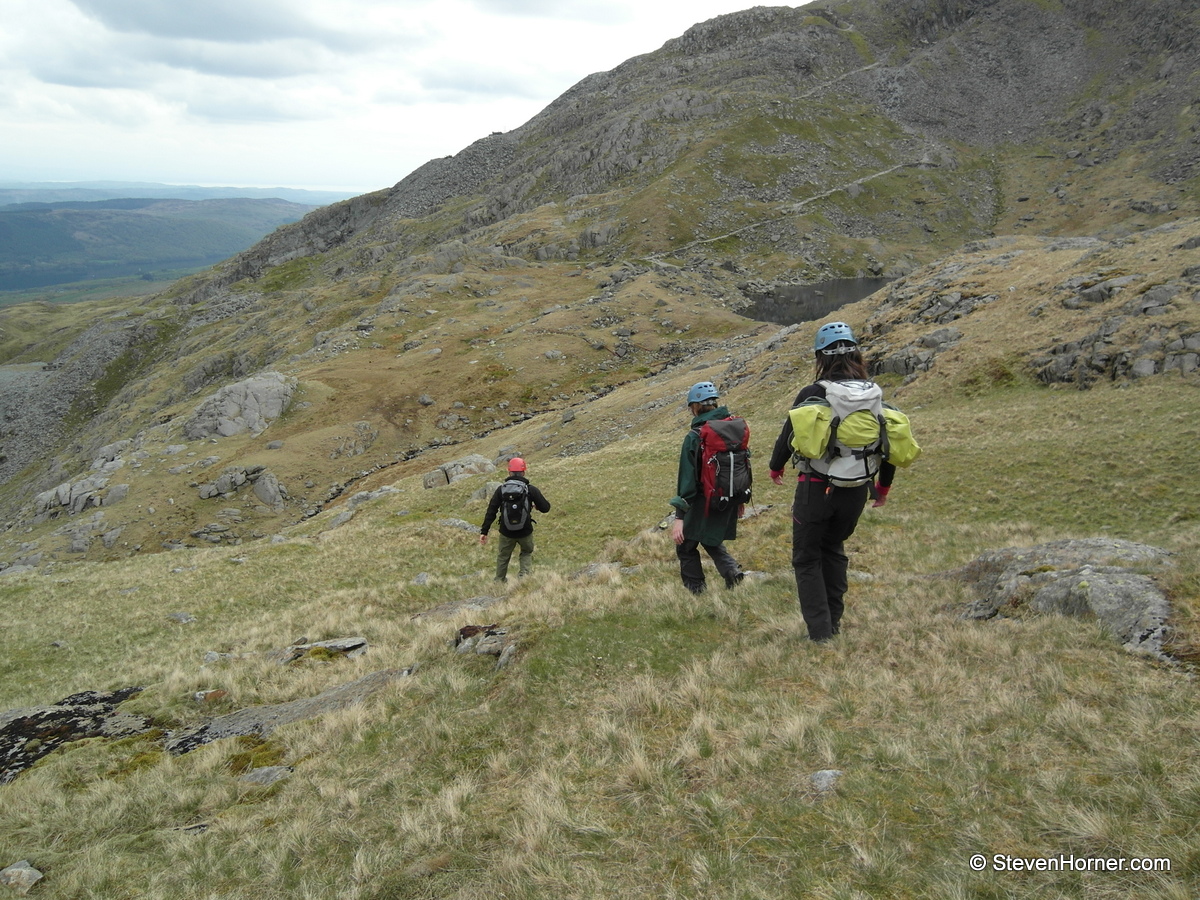 Over a year ago now I attended a Mountain Leader Summer Training course with the intention of deciding if I would like to guide walks for a living. I had taken many friends and family walking over the years and wanted to know what it would be like to do it for a job.
If I decided not to follow that ML path the money (£450) wouldn't be wasted because I knew I would gain new skills which I'm always eager to learn. I originally hoped to do the course at Glenmore Lodge, having heard good things from others who had attended. Unfortunately they were fully booked, my next choice would be in the Lake District.
Top of the list was Apex not just because they begin with A, but because the prices were competitive, included accommodation in Holly How Youth Hostel where I had stayed before and they had good feedback on their courses.
Upon arrival at the Youth Hostel I checked in and waited for the others to arrive. The other attendees had a range of backgrounds and reasons for attending. I was surprised that some had never wildcamped a night in their lives.
Entry Requirements
To attend a Mountain Leader course you are supposed to have a minimum of 20 Quality mountain days, be registered with the Mountain Training Association in your country and have a log book completed to show that you have this experience.
I had typed my log book up and had over 40 quality mountain days from all over the UK, this was only a fraction of the quality days I could have actually entered.
Not everyone else was this organised or experienced, some had not completed the log book at all. Some clearly didn't have anywhere near that level of experience.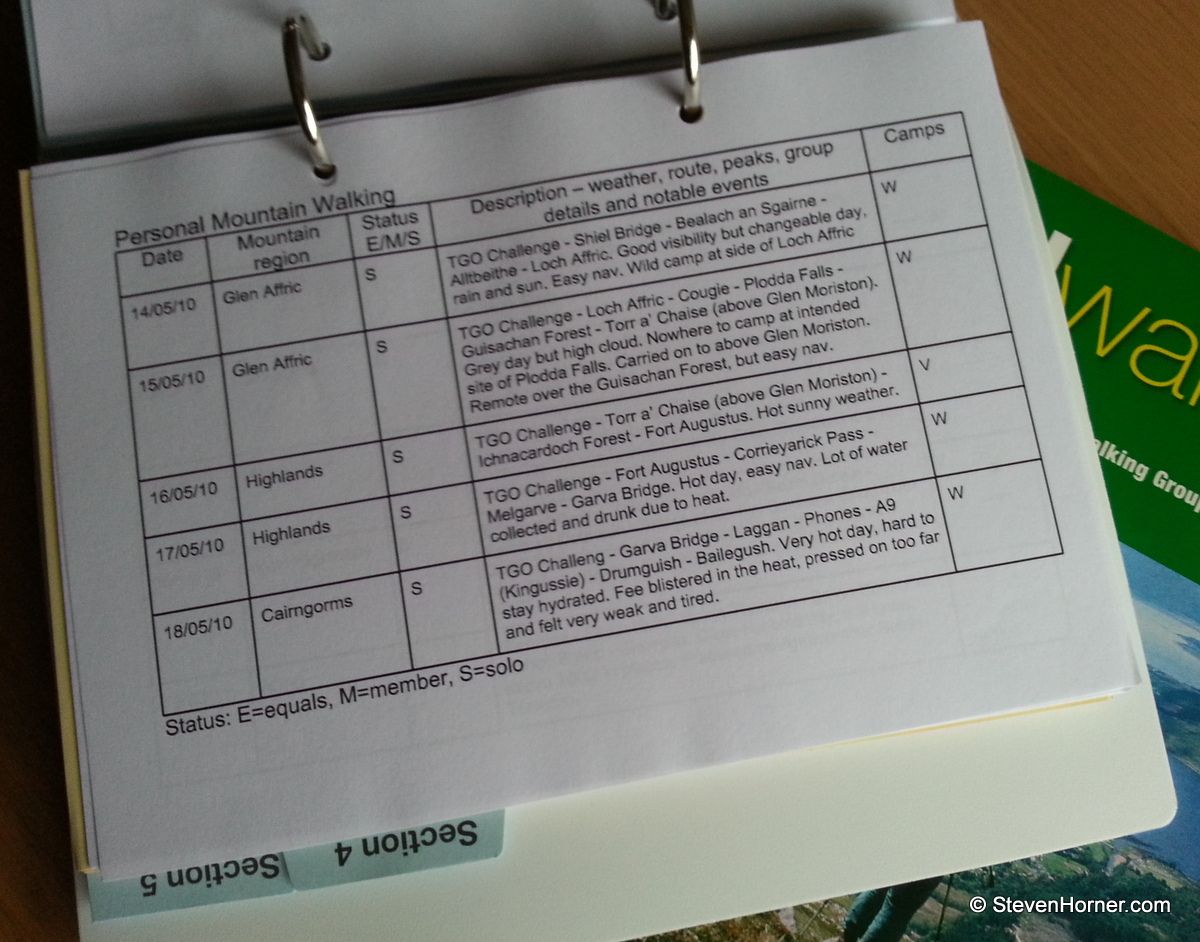 Numbers and Reasons
There were 5 of us who arrived for the course on the Sunday evening, also Marc from Pass and Peak who is a qualified Mountain Leader tagged along to keep his hand in and helped out for the first few days. We were joined on the Tuesday by Dean from Active Edge who I had more in common with (not paragliding) but I will get to that shortly.
I already mentioned my reasons for attending but the other attendees generally had different reasons. Two were from the Glasgow hill walking club and they wanted to learn skills to help with the group walks they did. Another attendee worked for the scouts, but was more of a climber. There was only one who was really doing the course for the mountain leader qualification so he could use that as part of his business as a paraglider teacher, this was Dean who joined us on the second day after having started a course previously and breaking an ankle.
There was 3 males and 3 females which I think is unusual, generally I believe the males outnumber the women.
What do you learn?
Below is a overview of the things we covered in my course, I can't guarantee I got this in correct order, it was over a year since my course.
Weather Forecasting
The weather reading was really interesting and I learned a lot, I understood what an isobar was before the course but not much more. Each evening we spent time studying the next few days weather charts and making our predictions. We would also review what we had predicted for the previous day. This could sound dull to some, but I really enjoyed this and I now read the synoptic charts myself before heading to the hills as well as checking what MWIS say.
Navigation
The first full day started with finding out our natural pacing by walking 100m and seeing how many steps it took. We then did compass work and map reading with lots of practise. While I could read a map well and had basic compass skills, this highlighted I needed more practise. We were each taught about a different plant that we would then have to point out to the others and explain more about it. The day finished back at the Youth Hostel with predicting the weather and reviewing our previous predictions.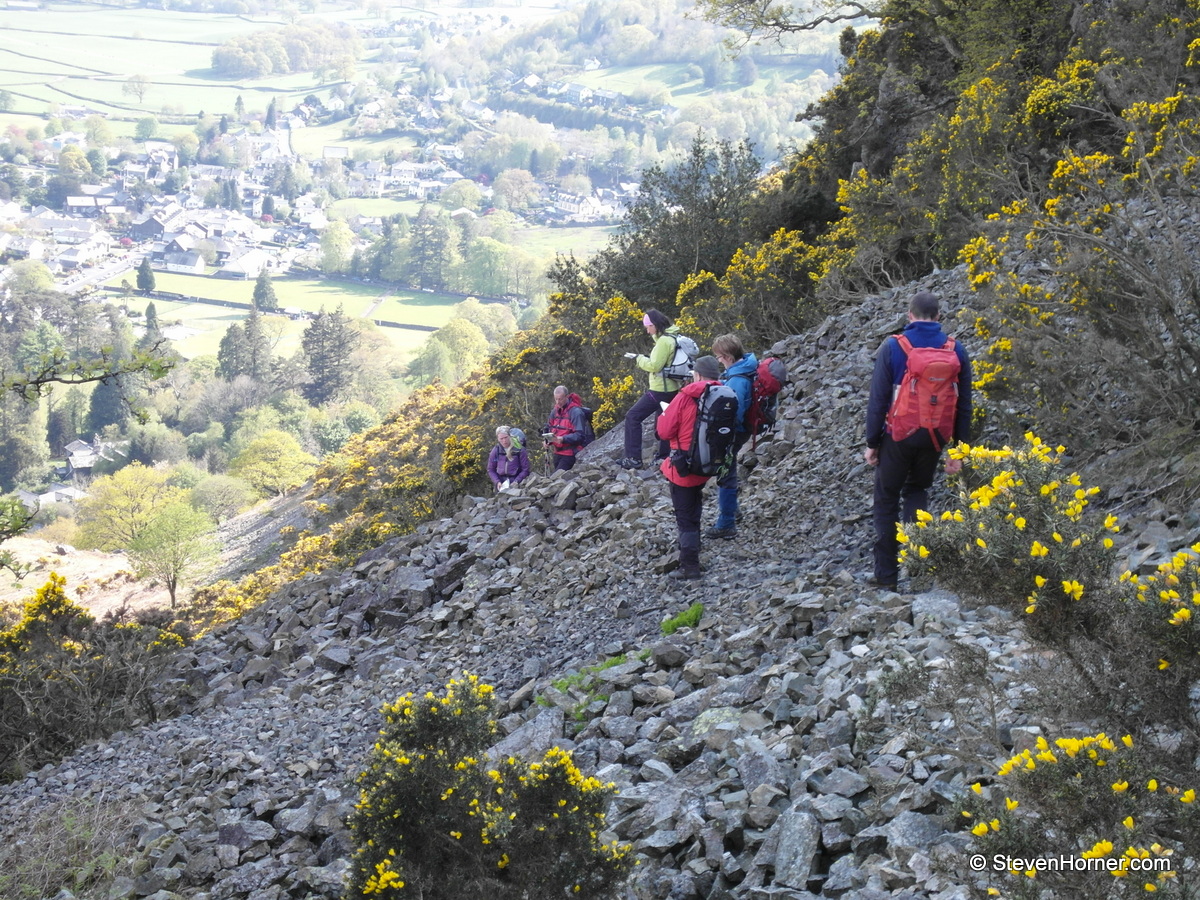 Rope Work
The second day was Rope work and steep ground, we also practised map and compass work. The rope work was another area I was keen to learn in, while I climbed indoors the techniques used on the Mountain Leader training is very different. We had fun trying out the different knots, altough you can get away with only one. You learn everything you need to lower someone down rock faces with only a rope and no other climbing equipment (we had helmets). Besides for the brushing up my map reading skills this was the most enjoyable part of the week. Again the day ends with the weather for the coming days and review.
Rope practise & Trip planning
Day three we practised steep ground and crossed loose shale, again map and compass work. We then put our new skills from the rope lessons the day before to practise by setting up everything ourselves with the instructor checking just before we lowered each other. We then headed back to the Youth Hostel to do some planning work, this involved planning a trip for groups as if we were qualified mountain leaders. We would have to take into account the ability of the people we were given, the weather, the area, the desires of the group and a lot more. This was actually easier for me than the others because I knew the Lake District far better than the others but I don't really like doing this. Again we finished with the weather.
Overnighter
Day four is the day we would be setting off for our overnighter, obviously to me this is nothing new but for several of the others this was a huge deal. One had never done a wildcamp before and it looked like from the size of her pack that she had brought the entire contents of her house. A slight exageration, I'm not sure she had practised pitching the tent she had borrowed either. Yes I took the Trailstar, you can imagine the others faces when I described it. Yet it wasn't the only one in our group, Dean also had a Trailstar and had read my review and pitching guide for it. I wonder how often 2 Trailstars had been used on an ML course at that point.
The weather was poor when we headed out, I don't think it stopped raining all day. We spent the day taking turns navigating the rest of the group to the locations we were given. You learn a lot more than just navigating but taking into account the groups abilities and pacing rather than racing off. After a wet day navigating we pitched our shelters, the instructor was keen to look at the Trailstar and was happy with it. I think he had visions of me and Dean having to share his tent with us. We then practised river crossings not in the river because it was in flood. A few hours rest before we had to get up for night nav.
Night Nav
This was another part of the course I was looking forward to, when we emerged from our shelters not only was it dark but the fog had descended and we could only see a few feet ahead of us. Perfect weather for really learning. We may as well have been blind folded the visibility was so poor, yet the rain had stopped. The streams were flooded and we had several to cross. I think all of us enjoyed the night nav, it's the perfect way to put all skills learned earlier in the week to practise.
The final day we walked back to our pickup location which was at the Old Dungeeon Ghyll. We then returned to the Youth Hostel where we were individually debriefed by our instructor.
Debrief
The instructor was very happy with me over the week and with my levels of experience and knowledge. I didn't have much I needed to work on, he commented on the depth of experience I already had. He did comment on footwear because during the week I had discussed my dislike for boots which I had worn all week. He said they had passed people with Trailrunners but while that might be fine for the guide, if you were actually leading you would probably want to wear boots so that your clients who have less or no experience wear boots that they should be safer in. He wore trailrunners when not working.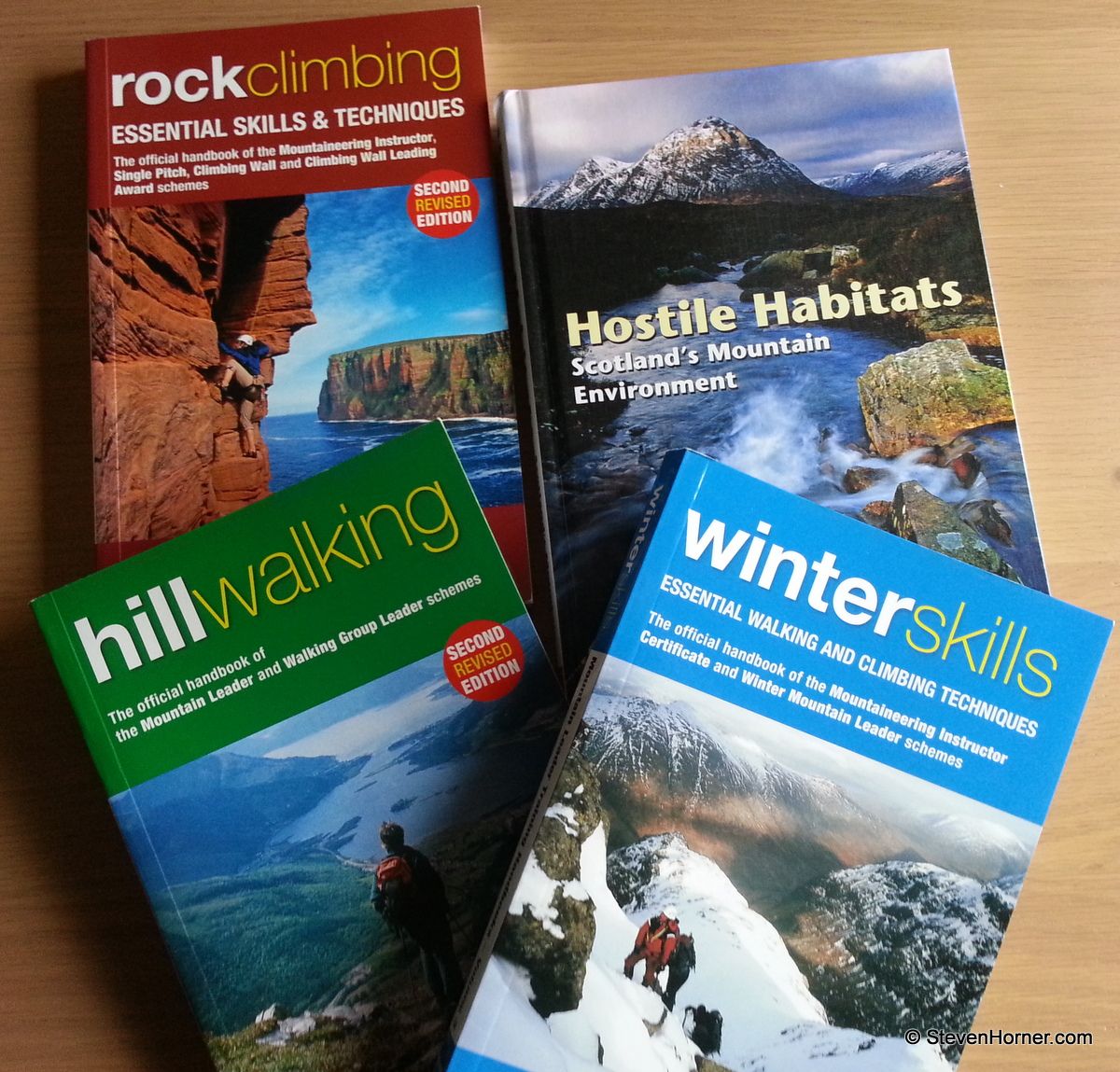 Reading
While training to become a Summer Mountain Leader there are a couple of useful books that are worth reading:
The above are essential reading even if you have no interest in leading. The following 2 books are useful if you decide to go for the Winter Mountain leader or one of the climbing awards.
Summary
I loved it, the people in my group had a wide variety of skill levels but all were there to learn and no one dropped out. I decided not to persue a career Leading. I will continue to take friends and family out walking but I would hate the planning side that I would need to do if taking paying customers, which is strange considering how much I love maps. I would just prefer not to have the hassle, I go walking to get away from things not to take more potential problems with me.
While we were doing the Mountain Leader Training there was was an Assessment course running at the same time. It was interesting to talk to them and It was obvious to me some of them didn't have the skills to be a leader. Only 1 passed out 5.
I would highly recommend going on the course even if you have no intention of taking the assessment and becoming a leader. The skills you will learn and refine during the week are worth every penny.
Unfortunately I forgot to take many pictures during the course and the ones I did take are very poor quality. Sorry about that.
Be aware that there have been changes to the course since I attended, the rope work has changed considerably. Please read this.