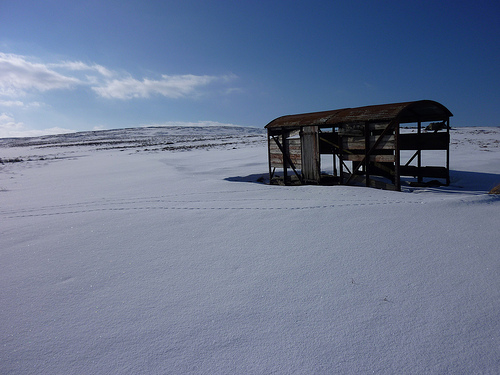 I am off to walk the West Highland Way at the weekend, so decided I needed one last Wildcamp to test a few bits and bobs out. It's easy to forget what a beautiful area I live in when you've looked at it all your life. There are many hills I've looked up at and thought I want to be up there, yet for some reason I've never gone.
I decided to correct that and walk up at least 1 hill that I've looked at every time I've driven past, which is a lot, especially when I used drive my car fast around the dale as a 'youngen'. The hill is Carrs Top.
When I start thinking about going out walking, there's a tendency to over plan everything. I find myself staring at a map, plotting a route in Memory Map and agonising over every detail. I am trying to get out of this habit, the hills are there to be explored and explore them I shall, on foot not in the house.
Resisting the urge to draw a route and transfer it to the GPS, I found myself late on a Saturday morning heading towards Frosterley. This is only about 20 minutes from home and I had a vague plan in my head that I would walk up to Hill End, up to the trig point on Catterick then along to Carrs Top and maybe camp in the valley beneath.
As I passed the Black Bull, a pub not an actual black bull, I heard the train whistle blow. I considered standing on the bridge and waiting to see if it was the steam train, I listened for a couple of minutes but couldn't hear it approaching and decided to press on.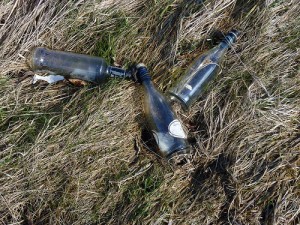 While walking up the road to Hill End I couldn't help but notice the litter, which sadly there is quite a lot of. While muttering to myself about why they didn't take it home, I noticed that it was nearly all bottles. Then as I progressed up the hill I kept seeing the same type of bottle. It turns out that there were over 12 bottles of Lambrini thrown out. Maybe someone in Hill End has a problem and each time they walk up the hill, they drink a bottle of Lambrini. Anyway I was going to keep this short, better stop writing so much rubbish (see what I did there).
Back to the walk, everyone in Hill End knew I was approaching because they could hear my Pacer Poles tinking on the tarmac and I think they all hid indoors because it was very quiet. This is where the moors start, once over the cattle grid, this is also where I found the first snow of the walk.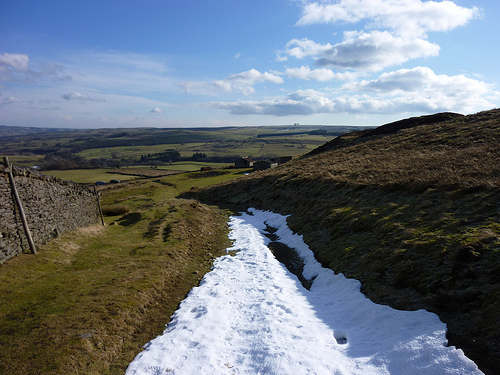 I checked I was on the correct path by looking at Memory Map on the , which is one of the things I was testing. I was happy to see that I was following the correct track, looking up at the open moor ahead I saw a line of multi-coloured jackets crossing the path ahead (that'll be a guided walk then). I let them get out of sight and made a break for Catterick trig point which is off the path. It's open access land, but I still have memories of being told off by a game keeper around here when I was a kid. No game keeper today!
The view from the top was fantastic, only spoiled by looking back towards home where I could see rows of wind turbines (sorry but I don't like them). I found myself soaking up the views and the fantastic clear weather for almost 20 minutes. Oh I was tweeting too and taking pictures, I suddenly realised I hadn't taken my pack off. Normally when I stop somewhere it's the first thing I'd do, maybe I'm starting to become a lightweight backpacker finally?
I set off towards my target (Carrs Top) which I could see in the distance, deciding to take a direct line across the fell top to meet the road where the path up started from. I soon found that the ground wasn't entirely frozen, when I felt the icey cold water in my Terrocs (something else I was testing). This was expected I guess but it turned out to be a problem later.
Regular checks with Memory Map confirmed I was heading the right direction, the great big hill in front of me told me that too. Happily I met the path marked on the map, which was some 4x4 tracks across the grass. Again I managed to find the none frozen part of the moor. Progress was surprisingly quick and before I knew it I was nearing the rocks beneath the cairn I had seen from the road over the years.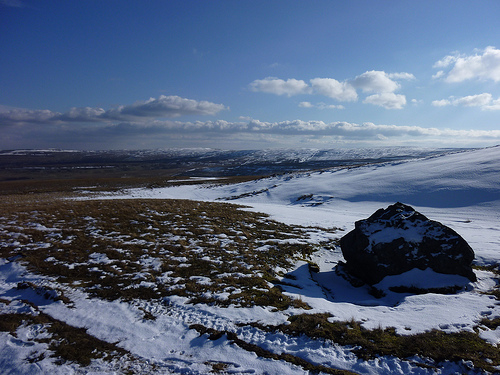 There were several flat grassy areas I could camp here, but a check of the time showed it was only 2pm. I continued to the cairn and stopped to admire the view and play with the camera, remembering it did video (720p too). While spinning around in circles snapping away I couldn't help but be drawn to the ridge (if you can call it that) to the South of me. It was totally white and looked like I could get to it without very much decent. Another plan was formed to "Run To The Hills" sorry an Iron Maiden song jumped into my head then, right back to the increasingly long write up.
A check of the iPhone screen confirmed that I could cut across Bollihope grains and head towards the fence that would lead me to Harnisha Hill. The further I walked the whiter the scene became. Along the way I spotted a fenced off section of moor which has a sign explaining it was a test endorsed by the Enviroment Agency, not sure what it was testing. I then spotted what looked like a barn or building. This turned out to be an old railway carriage being used to feed or shelter sheep (Picture at the top). They are all over Weardale usually in the most remote parts, that leave you wondering how they got there?
The next section was the most interesting of the walk, Bollihope Grains. In the spring or Autumn I would imagine this would be a total nightmare to cross. Its a maze of streams draining from the fell. I had no problems it was frozen and covered in snow, my only worry was falling through the tens of streams I crossed covered over. I was reassured by the 4x4 tracks that criss crossed through dozens of them, it looked like the game keeper was driving up here to feed the grouse. This place is beautiful in the snow and would encourage anyone in the area to get up there while its frozen over.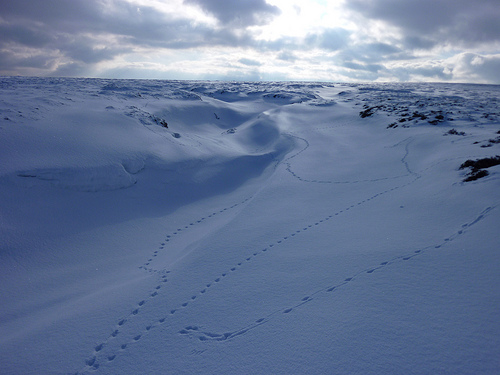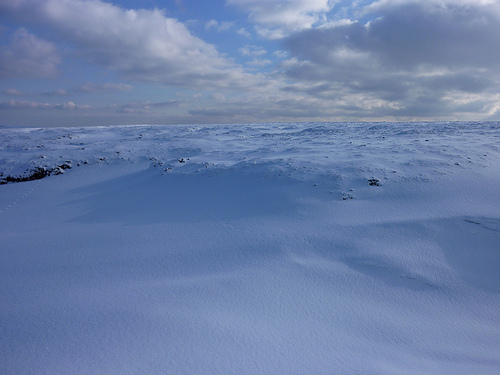 I headed on and reached the fence which also marks the edge of the local boundary, Wear Valley. The other side is Teesdale, this fence goes on for miles following the top of the hills. This makes navigation incredibly easy, if maybe a little dull.
Harnisha Hill was reached and after studying the map on the iPhone (saved getting the real one out of the bag) I decided that as it was 4 o'clock, I'd set the tent up. There was a nice flat place, with no heather and views of Weardale. The Akto was quickly pitched and then I encountered my first problem.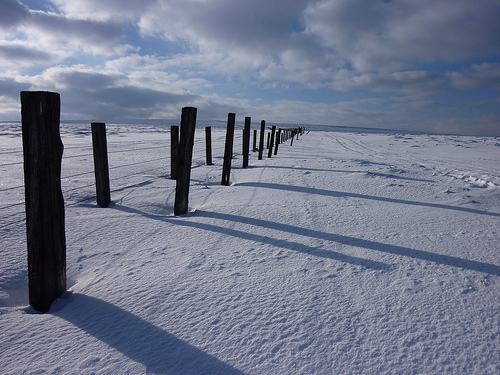 Another bit of kit I wanted to test was my new Caldera Keg, which Phil has just done a nice write up on. On my way to the walk I had stopped at the local shop with the intention of buying chocolate and a lighter. I was in so much shock from there being no chocolate except for a timeout that I forgot about the lighter. All was not lost as I always carried a backup, a Firesteel. So I started to create some sparks to light the meths but it was having none of it, anyone watching me would think I had a sparkler but the meths just wouldn't light. After god knows how long and making my new stove look very grubby from the bits coming off the firesteel, I gave up.
Once again I had a backup besides for the dehydrated meal that would clearly be staying dehydrated, a sausage roll. Now this is no normal sausage roll, these are Robinsons Butchers Sausage Rolls that are fantastic and probably have about 6 times the calories of the meal I had planned to eat.
After filling my face I laid down in the sleeping bag with my wet socks on thinking they would dry out, they didn't feel too wet. This was a big mistake, inside the bag I used a silk liner which soaked up the damp from my socks. The temperature was decidely chilly and dropping, after an hour my feet were getting colder and I then realised how damp the liner had become. I removed this and it froze solid within 10 minutes. I checked my shoes any they too were frozen solid, luckily I had remembered to open them out. I was now laid in my sleeping bag with cold damp feet and no spare socks (wont do this again).
I have cold feet at the best of times, never mind when it's very cold. I lay there wiggling my toes, but had look luck warming them up. After 4 hours of laying in the tent I decided I was wide awake and got the idea to do some night hiking. Once I get an idea in my head I might as well do it or its just going to stick in my mind. The tent and the rest of the gear was packed impressively quickly and my first real night hiking started. To be honest it couldn't get much easier I was only about 1.5 miles from a road and the way to it, was to follow a fence all the way. I found myself looking up at the stars, you can see so many when you're away from light pollution. Something tells me its not the best idea to be looking at the sky while walking across a moor in the dark, but it was impressive.
The road was met without incident and the best way to get back to the car was to follow the road. Sadly this involved 6.5 miles of road walking, rather than a walk along the tops which I'd of done in daylight. I found myself singing away to myself, luckily there was no one around to hear me (or maybe they were too busy hiding from the noise). The road walking was covered in about 90 minutes I think, with only 2 cars met along the way until I got near Frosterley.
There were several lessons from this, which was the point of the walk. Always have a spare pair of socks and don't forget a lighter or matches. Memory Map worked perfectly for my purposes, which is just to check my location on the map. I like that the GPS is turned off when the screen locks, this saves the battery and the signal was picked up again within 2 seconds upon unlocking.
This is long enough, so wont go into anymore detail here.
Distance: 16 miles