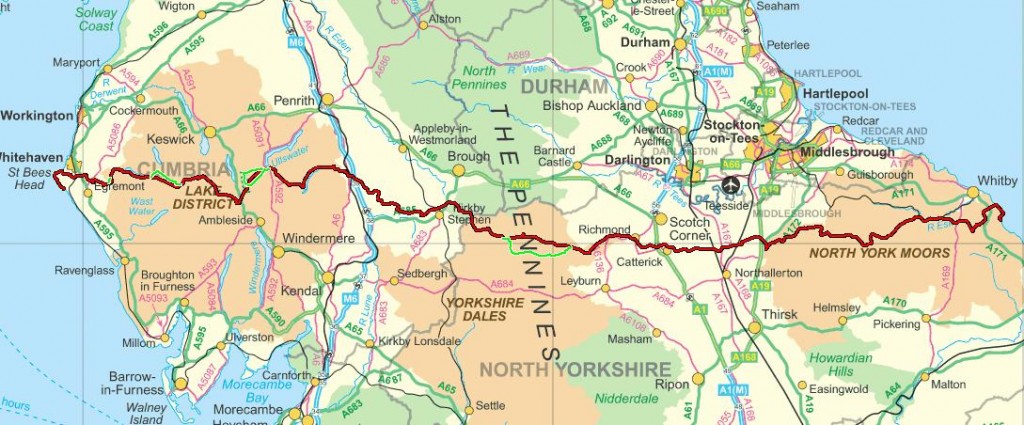 Tomorrow I will be catching a train (3 actually) from Durham to St Bees with my dad. We are walking Wainwright's Coast to Coast which crosses 3 National Parks (Lake District, Yorkshire Dales & North York Moors). This was planned many months ago before the Julia Bradbury TV programmes and the repeats, which may make it slightly busier than I'd hoped.
Below is the rough schedule that my dad made, I will be altering these as we go and will try to wildcamp wherever possible. I'm getting tight in my old age and don't want to pay every night for a field, when we could be up a hill for free. He tells me he wants a shower, at least every couple of days, I say HTFU (Warning swearing).
1 - Sat 4th Sept - St Bees to Ennerdale Bridge - 15 mls
2 - Sun 5th Sept - Ennerdale Bridge to Rosthwaite - 15ml
3 - Mon 6th Sept - Rosthwaite to Grisedale Tarn - 13ml
4 - Tues 7th Sept - Grisedale Tarn to Haweswater - 13ml
5 - Wed 8th Sept - Haweswater to Brents Farm - 17ml
6 - Thur 9th Sept - Brents Farm to Keld - 18ml
7 - Fri 10th Sept - Keld to East Applegarth - 18ml
8 - Sat 11th Sept - East Applegarth to Danby Whiske - 15ml
9 - Sun 12th Sept - Danby Whiske to Clayton Bank - 16ml
10 - Mon 13th Sept - Clayton Bank to Lion Inn(Blakey) - 13ml
11 - Tues 14th Sept - Lion Inn to Grosmont - 13ml
12 - Wed 15th Sept - Grosmont to Robin Hoods Bay - 16ml
I don't expect us to stick to the above, but I'm hoping to take it easy and explore things as we pass, not just the pubs. I think those mileages may be a bit off too.
I made the mistake as usual of packing the bag too early and have ended up putting in far to much. I have had spare clothes in and out about 3 times. I've left them in only because we may be frequenting a few eating places and probably best I don't stink the places out. Here's a PDF, I created a day or so ago with what I'd packed. This doesn't include food, which was a kilo until I added 320g of Sausage rolls and some sandwiches for the train. The aim is to buy food as we pass through places.
I also ended up taking some spare clothes which I probably wouldn't have done if I was on my own and not eating out. The last slightly annoying bit is carrying so much fuel. I have not been organised enough and haven't posted anything on, so I am carrying all my fuel for the trip. I decided to carry both Meths & Esbit although and test each against the other, far too much of each if we eat in pubs and may send some esbit home.
The whole things is far heavier than I need to take, but its not like we are in a rush or have massive mileage or ascent.
I haven't decided whether I am going to just tweet and post on here as I go (probably will). See you on the other side...