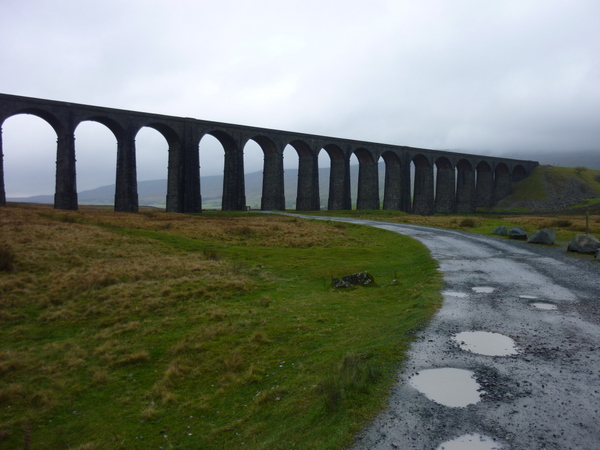 I decided I needed a route that would give me an idea of my fitness. The North Yorkshire 3 peaks would be that route, which I had walked twice before. Along the route I encountered the bogs of doom, I fell over after a heart incident and ran several sections. Completing the route in 8 hours 32 minutes. Full Trip report below.
Stats & GPX Files:
Full Trip Report
This was to be my first long weekend after changing my working arrangement to allow for a 3 days weekend every 2 weeks. I was eyeing up long walks in Scotland but the weather had different ideas, the forecast was for severe gales. I didn't fancy driving 4-5 hours for that. Recently I haven't walked any challenging routes and was conscious I may be losing some fitness. with the weather not being kind I decided on the North Yorkshire 3 peaks which would give me a good indication of fitness, its 24 miles and I've done it twice before in 11.5 hours and 10 hours both with a partner.
After a 2 hour drive in the dark I made it the car park in Horton-in-Ribblesdale and decided to pay the £3.50 to the Park Authority rather than seeking out a free place. A few minutes after 8am I was leaving the car behind and heading out of the village in the direction of Pen-y-ghent. Besides for testing my fitness I also wanted to test out ViewRanger and Social Hiking which I'd loaded up the route and maps into the night before. Shortly after leaving the back road and heading up the muddy track towards the base of Penn-y-ghent I started getting texts from work. I decided to stop and reply to one in the hope of getting rid of them for they day, the sudden stop would prove costly.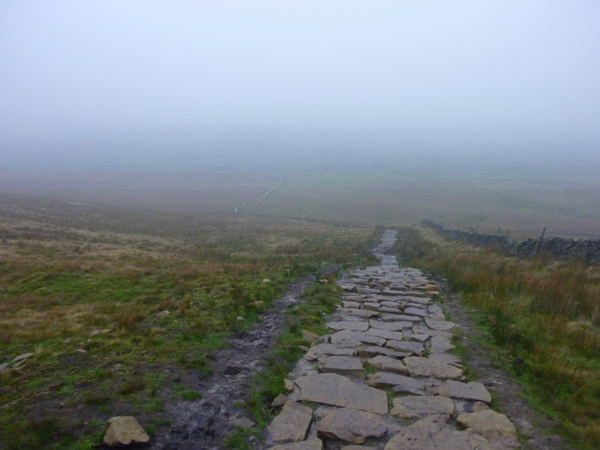 I have a strange problem with my heart that supposedly affects 1% of the population, basically the electrical signal in my heart sometimes goes in a loop and causes it to beat fast. I've written about it in the past so wont go over it again, but I've noticed this year that it only happens when I stop suddenly after exercise. This can be a problem if I go ahead and then stop to wait for someone or in this case stop suddenly to use my phone.
On this occasion just after I sent a message and set off again I could feel something was about to happen and my vision closed in to almost a dot and I went weak losing my balance. I fell to the floor and annoyed I immediately tried to get up falling over like some drunk trying to right themselves. This happened for less than a minute, as quick as it came on it went again and I got to my feet and looked around feeling an idiot. I had never fallen over before but when it happened this time I was off balance, normally I would lean on poles or something. I then had to make a decision, whether to carry on or turn round and walk back to the car having walked 2 miles.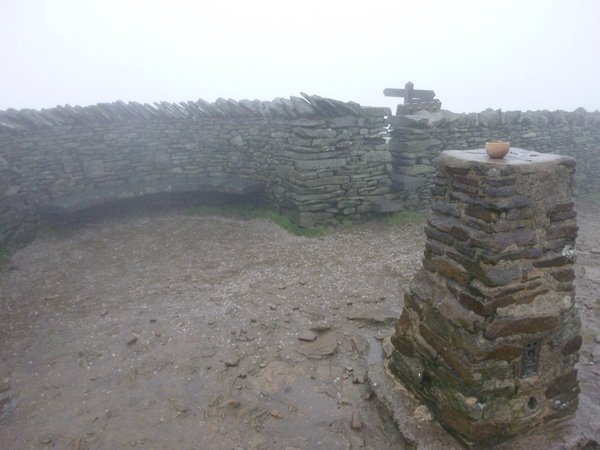 I now felt fine and decided to carry on to the top of Penn-y-ghent and make a decision once there, I thought it wise to slow my pace slightly. On the way up the rocky side I passed 3 people heading the same direction, the first struggling a bit said it had been 30 years since he'd walked up it and it was easier then. Not long after passing them I then got a call from work, I was starting to get annoyed now. I would of switched off my phone but needed it on for the Social Hiking test. I couldn't hear a word they were saying for the wind, so said I was on a mountain and hung up. As it happened this was to be the last time I would have signal for several miles. The top of Pen-y-ghent reminded me of the first time I did the NY3P cloaked in damp cloud with strong winds. Customary Kuksa summit pictures were taken before deciding to get off the top quickly.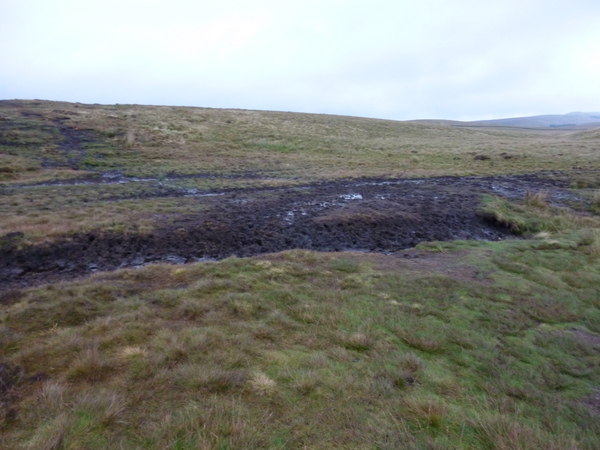 I now had to make the decision; to return to Horton-in-Ribblesdale or continue on. It was kind of the point of no return, the further I walked the further from the car I would be. I wasn't in the mood to quit and I've been becoming more and more angry with my heart getting in the way (seeing a specialist soon about possible operation) so I decided to continue and just to give it a test; I decided to run. I didn't run for long before I came to a familiar place; the start of the Bogs of Doom. This isn't their real name but its what I'm calling them from now on. Between Pen-y-ghent and High Birkwith there are few areas that are huge bogs and can be a nightmare to cross. It had rained quite a lot recently and they were larger than the last time I was here, the first one I ran and danced over. A possible new show "Dancing on Bog". My memory must be failing me and I thought I had cleared the worst when I reached the top of a small hill and noticed a huge area of bog, I now remembered the last time my girlfriend got covered almost up to her waist at this one. I tried to walk around but it was huge and fences were in the way. Luckily this time I had my Pacer Poles, I was about to stand on a tuft of grass but decided to put the pole on it when the pole sunk right up the handle, it would of kept going if I hadn't held my balance and pulled it back out. It was clear this was deeper than my waist. I eventually found what appeared to be a better route and decided to run, which I've found is a better strategy with your weight never on any area for long enough to sink very far; I made it through but I was covered in mud and it smelled like dead animals, nice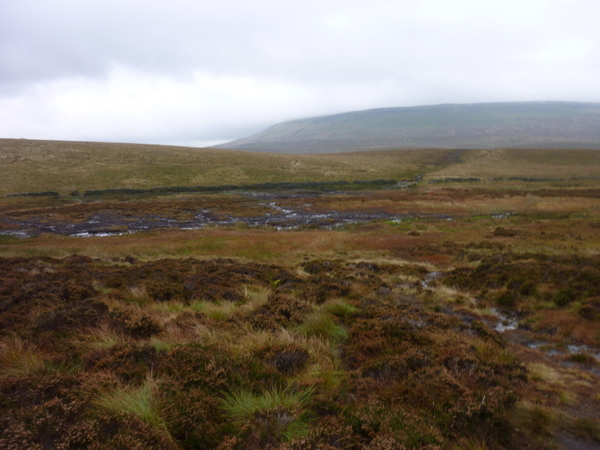 The day was turning out to be eventful but the bog had been fun and I'd advise anyone walking across here or any other boggy area to carry walking poles!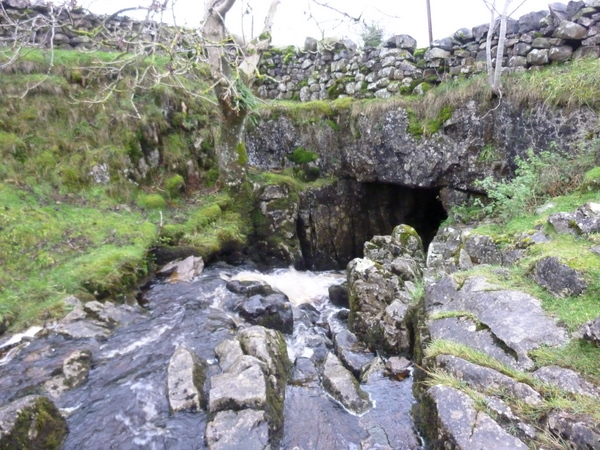 I stopped for water and a picture of God's bridge; the second one of these I've come across. After this its an easy walk down towards High Birkwith and up to the road. The road is then followed to the junction where most people park their cars to walk Whernside or admire the Ribblehead viaduct. Normally there is a burger van here and I'd been dreaming about a hotdog for the last few miles. Here's my reaction when I found it wasn't there:
There were quite a few people wandering aroud near the viaduct who quickly scuttled back to their cars as the weather changed. I pressed on quite fast past Blea Moor signal box and started to ascend again up to Whernside. I looked at my Forerunner watch and noticed my heart rate had jumped to over 230bpm, the decision to stop and eat was made. My disappointment at the lack of a burger van subsided as I enjoyed a sausage roll and decided to video my heart rate dropping:
Once it returned to a normal level I set off up hill again, there were very few people up here in the cloud and rain. A stark contrast to 18 months earlier when lines of people were doing the challenge. I was soon on the top taking my customary Kuksa photo, as a group of puzzled walkers looked on. I huddled the other side of the wall while I sent a tweet, it was too windy to linger for long. The wind was almost gale force and it was hard to walk. As soon as I was out of the strongest gales I ran/jogged/stumbled for a mile down hill. I felt like a I'd covered the descent in no time at all and was soon at the main road walking past the Hill Inn considering calling in. I decided not to or I may never want to leave. From here on my eyes were firmly fixed on Ingleborough directly ahead of me, the final peak of the day. The views around me were of large limestone pavements and Whernside which looked miles away already.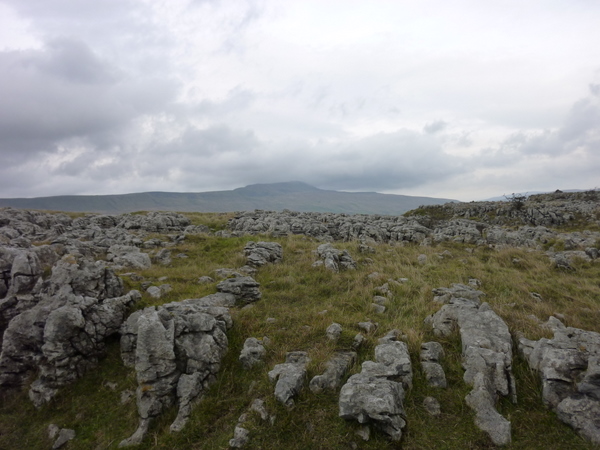 Once at the foot of Ingleborough there's a sharp ascent, I knew this could be hard going after a long day and I was again surprised by how much energy I still had as numerous people were passed on the way up. I was asked if the Pacer Poles made a difference and I have to say they do. They enable me to run down hill and keep my balance over some rough terrain, going up hill they act like pistons pushing me upwards. The day now felt like it was flying by and the rocky summit plateau felt like the end as I hurried to the trig point. I stood trying to decide whether the trig point, a large cairn or the shelter was the highest. My unscientific conclusion was that a large cairn further along the the plateau was actually the highest point. I struggled trying to take pictures of the Kuksa, the wind kept blowing it off. I eventually resorted to holding the Kuksa on the top.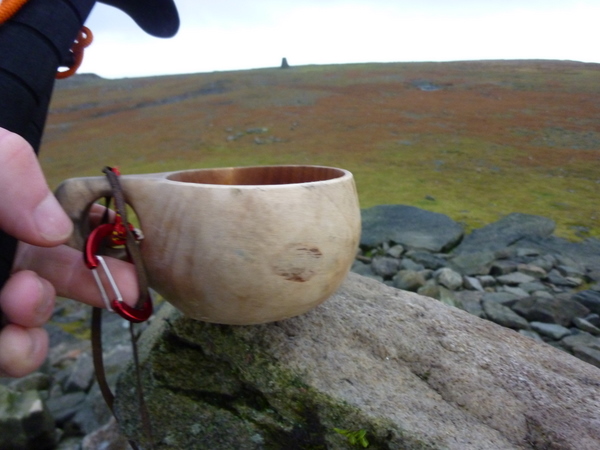 That was it; only the long 4-5 mile gradual descent to Horton-in-Ribbledale lay ahead. I remember from previous trips that this takes a long time to cover. Again I ran from the top for a while but the uneven surface and my now tiring legs where making it a bit harder than earlier. I could see Pen-y-ghent directly ahead where I'd almost decided to give up over 7 hours earlier. This put one of those crazy smiles on my face, knowing that I'd not given in. The only thing of note on the final leg in the drab weather was the spectacular limestone and the mud as I neared Horton-in-Ribblesdale. I jogged down the bank to the station and stopped to record a short video. While recording I noticed the time, I had almost been going for 8 hours and 30 minutes. If only I hadn't stopped for the video I'd of made it back to the car in under 8:30. My final time was 8:32 which was about 90 minutes quicker than my last walk around the same route.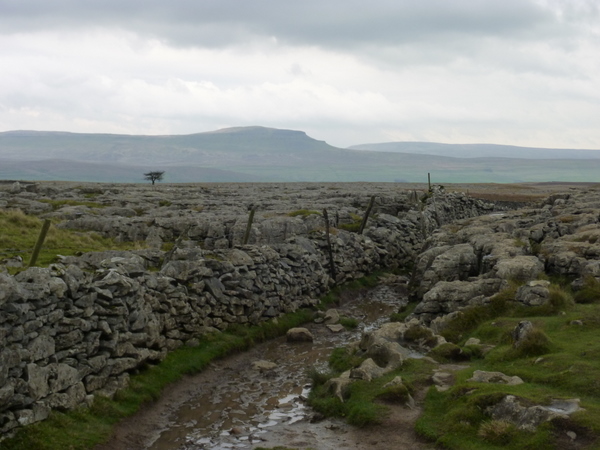 Overall I was happy with my fitness and kind of surprised, especially with the lack of more difficult routes in the previous 2 months. I'm unsure if I will do the route a 4th time, I can remember saying previously that I probably wouldn't do it again, we shall see..