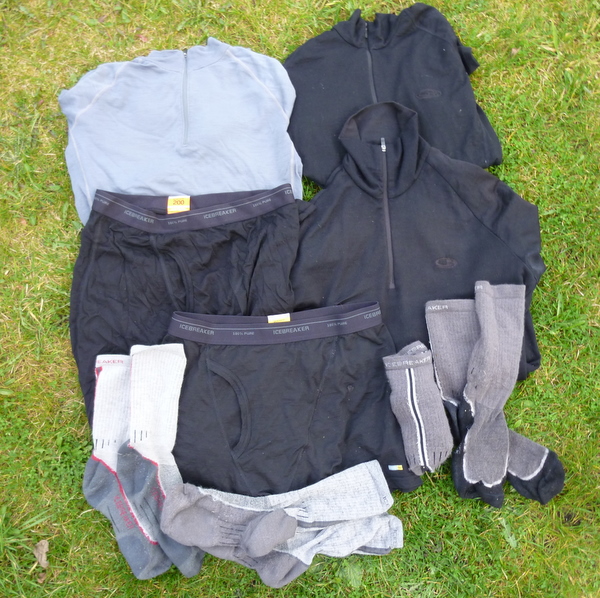 I was sorting through my walking gear and realised that certain manufacturers dominate my gear and the main reason for this is the quality of the their products. One of the dominant names is Icebreaker. Whenever I'm after base layers they are my goto brand, I've tried others but always return. Rather than writing a post on each item, I thought I'd write about them all in this one post. All the items I have bought, except for the Leggings (Long Johns) which were provided to me by Webtogs. All Icebreaker products below are 100% Merino wool from New Zealand. Many of the products come with a label that allows you to track the sheep the wool came from, I've never looked and just see it as a gimmick. The clothing is rated according to the weight of the merino wool used. **
Mondo Zip (Bodyfit 200)
Price: £48
Weight: 238g (old one 241g)
Link: Webtogs
This was the first Icebreaker bit of clothing I bought about 5 years ago, the grey top in the picture is the original top. It has been worn on countless trips and has outlasted a couple of other tops I've had from Smartwool and Alpkit. It is looking a bit faded but I still wear it regularly. The Mondo is a Skin 200 top which is in the Lite range. The black top next to the original grey is the same model but is only a year old, the fit has changed and it is now figure hugging (either that or I stretched the original). Luckily I am slim but if you weren't you maybe need to go up a size. The Mondo is the perfect base layer for 3 season use, I wear only this top and a light-speed in all but Winter and I'm always warm or cool enough. It features a zip neck collar which is my preference over T-shirt style.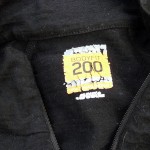 There's not a lot I can say, it feels comfortable, smart enough for the pub, warm even when damp and the essential for me: It doesn't stink even after several days of sweating in it, unlike most other tops I've tried. The only negative is the newer models have an inside label that is cracking compared to the old sewn fabric label, its not itchy but doesn't look good (see picture).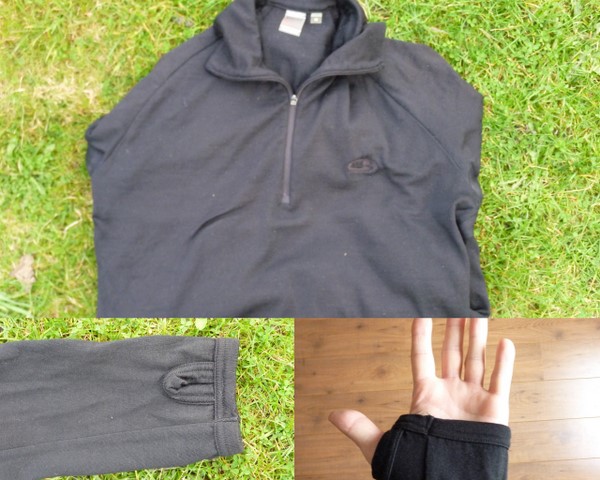 Tech Top (Bodyfit 260)
Price: £59.95
Weight: 377g
Link: Webtogs
This is my favourite top, I bought it before doing the West Highland Way in Winter because I wanted something a bit warmer. I wasn't disappointed, while the other top feels comfortable this you never want to take off. I've considered buying a few of these to wear at work, they would look smart enough but probably too warm. Like the Mondo this has a zip neck collar to keep you warm, it folds to look like a shirt collar. It's got a drop-tail to stop the base of your back from getting cold. The product description like the Mondo says "Fits close to the body" but I find it more a relaxed fit than the Mondo. There's also thumb loops that I know many find essential, strangely these aren't listed on Icebreakers site.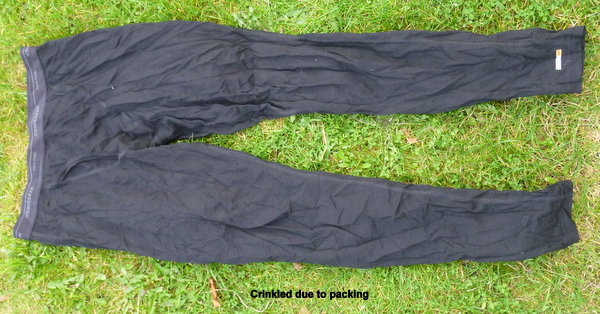 Leggings w/Fly (Bodyfit 200)
Price: £43.29
Weight: 198g
Link: Webtogs
I have had some cheap Snow & Rock Long Johns for a couple of years which I use when its cold to sleep in and wear snowboarding. I got these to replace them, they're just as warm but a lot lighter and made of Merino like the rest of my Icebreaker stuff. I have the 200 model which kept me warm under my Montane Terras while walking up Ben Nevis a few weeks ago. The fit is tight, my thighs are quite muscular but not huge. They are maybe a bit too tight when walking steep inclines or scrambling and could make it slightly harder work. Sizing up would be a good idea. For sleeping in I've found them luxurious, using them last weekend when the temperature dipped just below freezing they kept me toasty in my 0c sleeping bag. The merino feels soft and cosy against the skin and the fly comes in handy for those night trips out of the shelter. I'm not quite sure what the phrase "no compromise on sex appeal" means? The summary would be they keep you warm and feel excellent against the skin.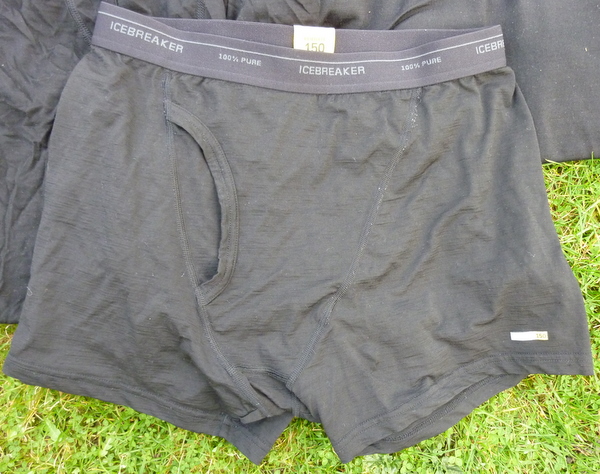 Relaxed Boxer with Fly (Bodyfit 150)
Price: £24
Weight: 87g
Link: Webtogs
For some reason I've not read many reviews of underwear, but its an item of clothing that could cause the most discomfort. Personally I prefer a boxer that is quite loose, especially when walking multiple days. Merino in my opinion is essential if wearing for more than a day. I wore a pair of these on the 2010 TGO challenge and carried a spare pair, after 9 days I changed to the spare only because I was carrying them. The pair I had been wearing still smelled as fresh as the day I put them on (which was clean). Maybe I should wear these as my day to day boxers, which could cut down on washing!! As the name implies the fit is loose without looking like a pair of bloomers. I own a few pairs of these and currently wouldn't buy anything else.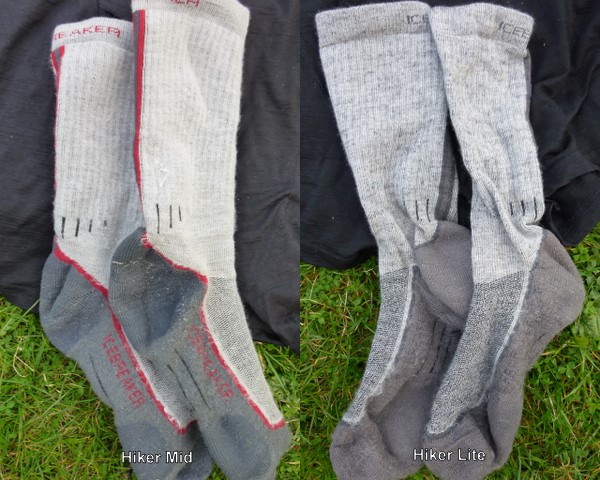 Hiker Mid Crew Socks
Price: £10.50
Weight: 80g pair (Lite Hike: 74g)
Link: Webtogs
I've tried dozens of socks over the years and have generally struggled to find a pair that fit without them being too big or small. I am a size 8.5 and I find that with most brands the socks for my feet are just a bit too big and there is excess material, the sizing on these are perfect for me. Like with all the other Icebreaker products here these are Merino wool which I again for smell reasons I think are essential for multi-days. Merino also keeps my feet warm when wet, this is a big consideration when wearing trail runners. The socks are technical and by this I'm referring to re-inforced areas for your heal and toe, achilles protections and instep support. All this makes them feel very comfortable on your feet. I don't feel that I need these off my feet at the end of a walk, which I have had with other brands. These have been my socks of choice for the last 2 years, the only other socks I choose to wear are X-socks for running, but they pong after 1 run. I also have some Icebreaker Hiker Lite socks which are supposedly slightly more breathable but I'm hard pushed to tell the difference.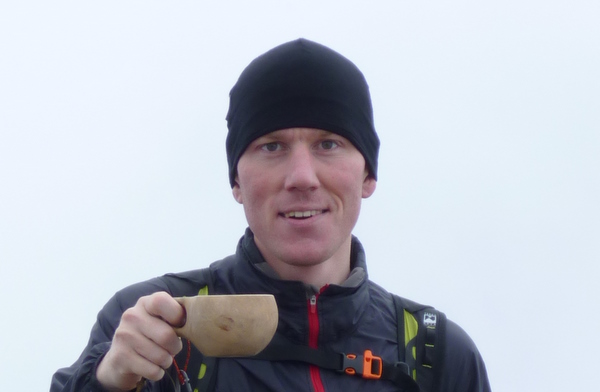 Pocket 200 Hat
Price: £16
Weight: 45g
Link: Icebreaker
I started wearing this hat over a year ago and it's now the only hat I use. It is so small its easy to stow in a hip belt pocket along with other gear and forget it's there until you need it. I haven't got the best shaped head for hats, but on a normal person it would look fashionable and is also reversible. It's hard to believe that this thin merino hat would keep you warm, but its the only hat I've worn right through the winter without any problems.