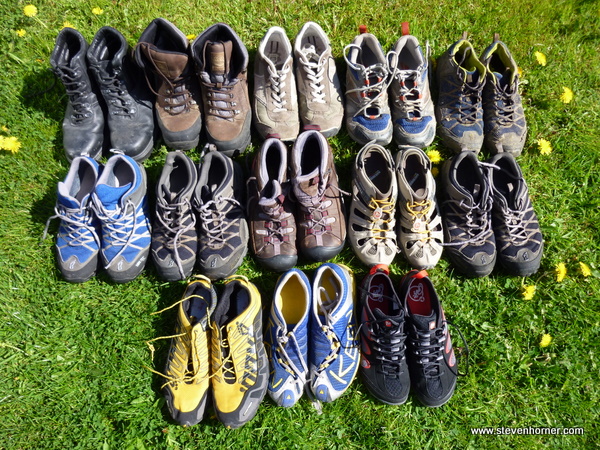 I'm currently testing a couple of pairs of minimalist shoes and while I was laid in the garden I had the idea to pull out all the footwear I've walked in over the last few years. Sadly I threw out a couple of pairs of boots last year.
The black boots at the top left I never actually used in the hills but are similar to the boots I used for several years. The missing boots were the ones you used to see outside the Famous Army Stores named after places in the lake district.
Footwear in the picture:
Generic steel toe capped boots
Aldi Boots -- Walked Ben Nevis in these a few years ago
Caterpiller trail shoes
Montrail Continental Divides -- My first real foray into lightweight footwear
Inov-8 310 -- 5 years old and I still run in these
Inov-8 345 -- Old model, my only GoreTex lines shoes bought for Val d'isere (use for work now)
Inov-8 Terroc 330 -- My main walking shoe, insides dropped to bits
Keen Taarghee II -- Bought for winter walking with Kahtoolas but prefer shoes now
Merrell Continuums? -- These cut my feet to bits
Inov-8 Terroc 330 -- Another pair
Inov-8 Orroc 340 -- Spiky shoes, fab grip in the winter
Keen A86 -- Very light (currently testing)
Merrell True Glove -- Barefoot shoes with 0mm drop (currently testing)
My footwear journey from heavy boots to lightweight trail runners is perfectly captured in the top picture. Along the way I've had various knee problems and have worn custom made insoles. The Podiatrist described my feet as the worst he had seen other than his own (he was talking about my overpronation). The picture of the insoles below should give an idea of how bad.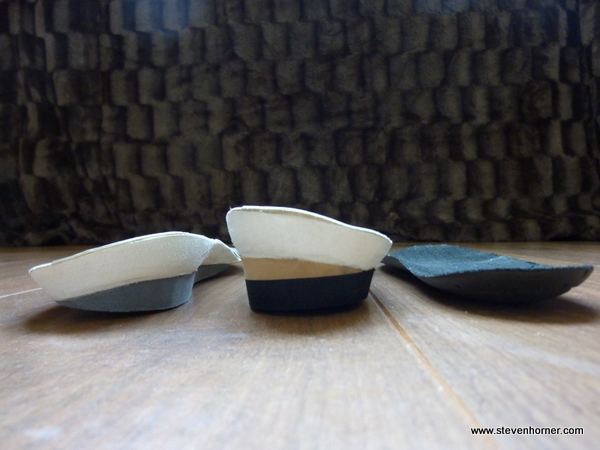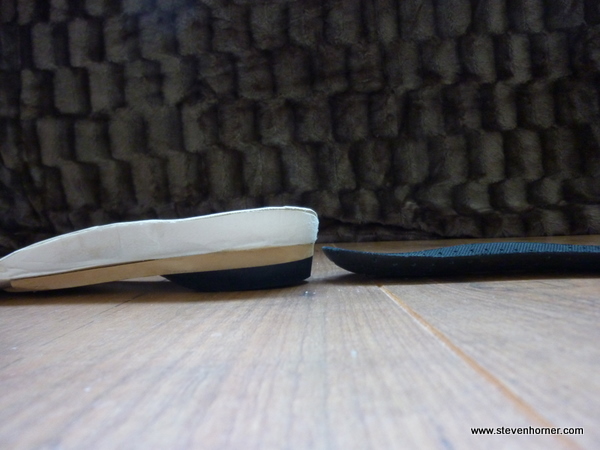 The custom insoles regularly cause blisters due to the slippy heat reflecting surface used to make them. In recent months I've started walking differently, no longer heal striking and have not used insoles for the last few months. So far I've had no knee pain, minimalist shoes have allowed me to get back to our natural way of walking and running.
Maybe eventually I can run barefoot but this will require some foot strengthening, the A86s and True Gloves are helping to make this transition. Not that I have plans to go backpacking barefoot.