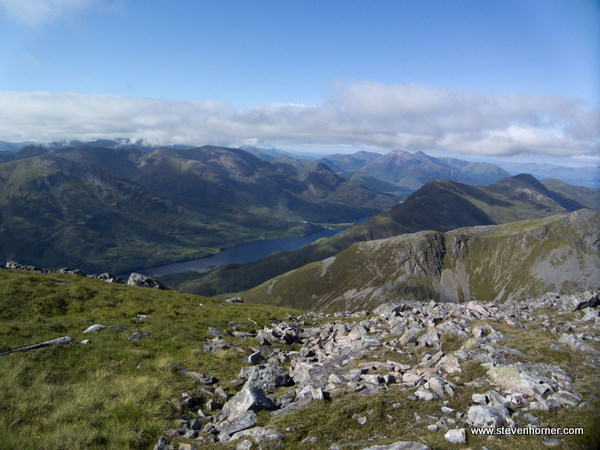 The Mamores, if you haven't heard of them you are missing out on some of the finest mountains in Britain. If you've been lucky enough to walk up Ben Nevis on a clear day you will have noticed them to the South, the opposite side of Glen Nevis. These have been on my ever increasing To Do list for years. Last year I walked 4 of the 10 Munros that make up the Mamores as part of the [Ring of Steall](http://www.stevenhorner.com/?p=998), sadly the tops were in cloud almost all day but it was still a fabulous walk. I then tried to walk them in March on my [Shearing trip](http://www.stevenhorner.com/?p=1338) but had to change plans due to their high avalanche risk. In May they were included in my [Highland ZigZag](http://www.stevenhorner.com/?p=1393) route which I ended very early. Fast forward 2 months...

Phil Turner contacted me about doing some pointy bits together, we hadn't had a trip since the Three Beinns route in March on Arran. Our trips are always memorable for one reason or another and I very rarely pass on the opportunity to walk together. Phil was going to be walking Ben Nevis helping the Deaf and Blind Michael to the summit and suggested walking in the area the following day. The Mamores jumped into my head, before I got chance to reply Phil suggested Steve Fallons route over them. Great minds think alike (not sure we fit in that category).

A few messages later and the details were arranged along with Colin Ibbotson walking with us too, a training session before his Colorado Trail trip 2 weeks later. Finally I was going to meet Colin, although I was slightly worried about trailing in his dust as he floated over the mountains with ease.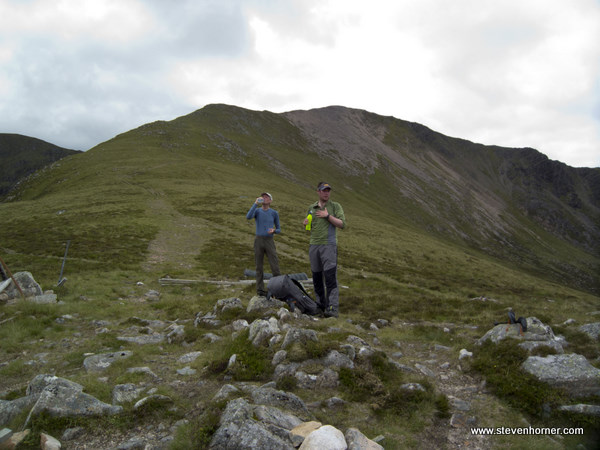 A couple of weeks later I was at the start of the route with Colin being eaten by midge while we waited for Phil. He was 40 minutes late but we let him off, he had spent 18 hours the day before on the previously mentioned DeafBlind Ben Nevis trip. Another 15 minutes later after Phil had packed his Tramplite pack Colin was loaning him, we were finally heading up out of the glen through the trees. Once out of the trees there was a steep climb up onto the ridge (if it could be called a ridge), before this though we needed some water and Phil sent Colin down to the Allt a' Choire Dheirg to fill all our Platypus, he was in training after all. More likely Phil and I could probably do with the rest before tackling the steep ascent ahead.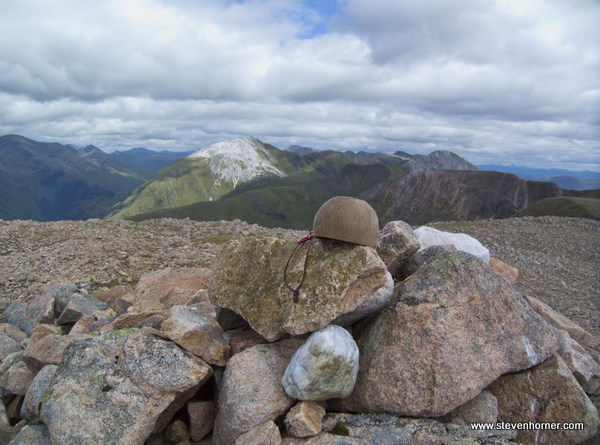 The ascent was easier than expected, gaining height rapidy and soon reaching the ridge leading up to Mullach nan Coirean and being presented with breath taking views in every direction. The weather was excellent, although a breeze would of been welcome. Cloud was covering several of the higher peaks like Ben Nevis and Aonach Mor but this just added a little drama to the view. I almost forgot the obligatory Kuksa Munro summit shot, luckily Phil reminded me. Mullach nan Coirean done, only 9 more Munros to go.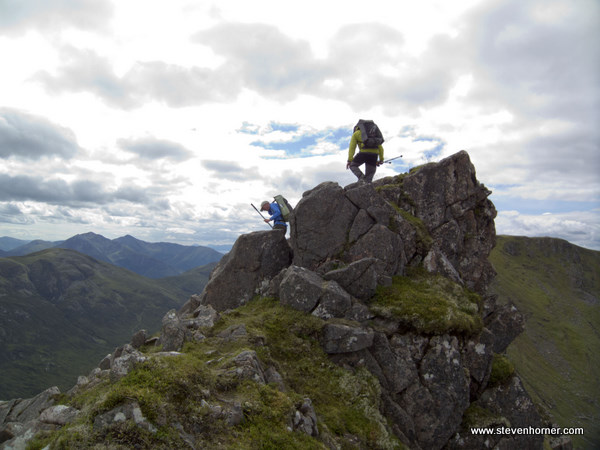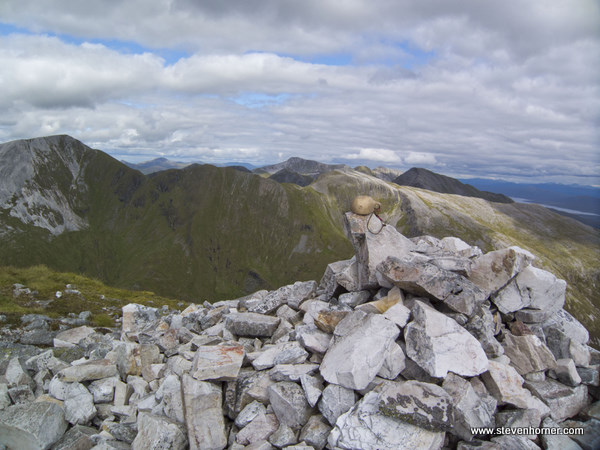 The next target Stob Ban was easier than expected, maybe due to the views or possibly because we were busy talking. We had been taking it quite easy, Colin was being kind and slowing for us along with sitting admiring the view and enjoying the weather on each summit. It was now after 4pm, having not set off until 12. We could see a perfect wildcamping spot with running water from Lochan Coire nam Miseach, it was agreed we would wildcamp for the night. A shorter day than I was expecting.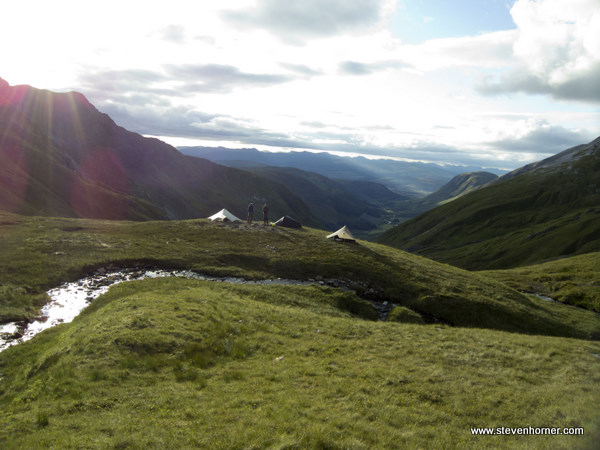 Shelters were soon setup my Trailstar, Vango Helium 200? (Phil) and Solo Trailstar (Colin). After a few hours admiring the view, talking, cooking and feeding the midge we disappeared to our own shelters for the night with assurances from Phil that he would be awake by 6.
The following morning I had proof that miracles really do happen, I heard Phil moving about just before 6am. I'd been awake for a couple of hours contemplating, what exactly I can no longer remember. By 7 we were heading up to just beneath Sgurr an Iubhair and along the Devils Ridge. The views were even better than the day before with clearer skies, except for Ben Nevis and the Aonachs which were crowned with cloud. It was already sweltering or maybe it was just the exersion from ascending to the ridge. This was my second time on the Devils Ridge which conjures up images of deathly drops and clinging on by the fingernails. Yet in reality its very tame, there is one very short section that could add some scrambling fun but we bypassed this on the way to Sgurr a' Mhaim. The last pull up to the summit stuck in my mind that it went on forever and was expecting a false summit but happily I was wrong. I was last up there while on the Ring of Steall and couldn't see anything for cloud, today the views were breath taking or was that due to chasing after Colin.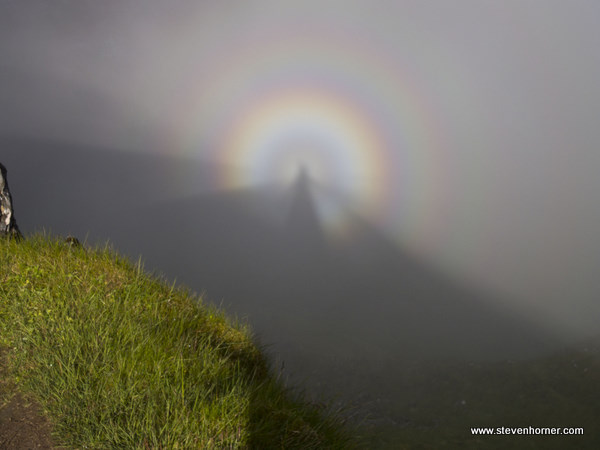 I started to cross the scrambly section on our return while the others went around again but there's one slightly more difficult section, nothing too difficult, but I decided rather than making the others wait while I put away my poles that I would retreat and follow them instead. The ridge looks more impressive with your back to Sgurr a' Mhaim. As we walked back along the Devils Ridge we were treated to a rare sight, a Broken Specktre (none of us had seen one before). We eventually returned to where we had joined the ridge earlier and could see our campsite of less than 2 hours earlier.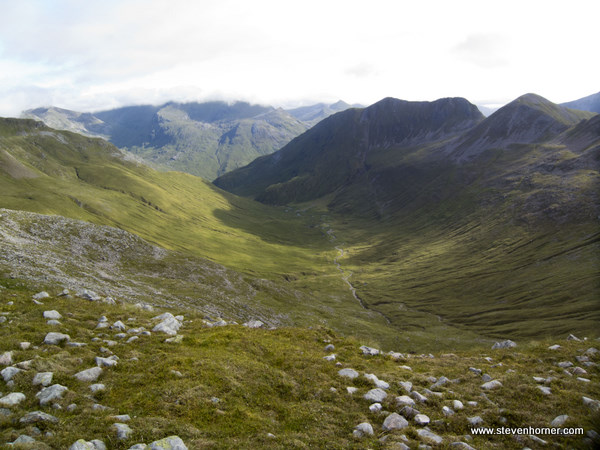 The next target was Sgurr an Iubhair which felt like quite a pull up to its summit at 3284 feet from the top there are once again fabuous views in every direction. This has been promoted to Munro status in 1984 and then subsequently stripped of it again. Colin declared that it was a Munro in his eyes, its certainly high enough and feels like one. So its now an Ibbotson Munro, we maybe should of planted a flag!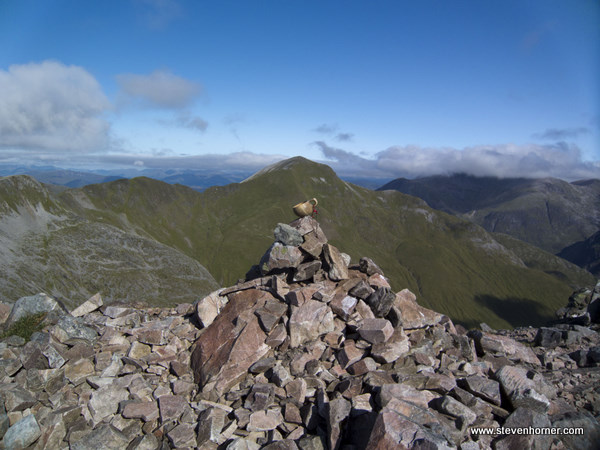 The next pointy bit on the route is Am Bodach which stuck in my mind last time as having a very steep ascent when I walked it in reverse, so a steep descent this time, I don't mean I walked backwards. The ascent this time was much easier gradually rising to a quite large flat summit with views that just keep getting better the further we walk. The 3 of us sat on the top trying to name as many mountains as we could and looking them up on the map. Certain mountains stand out and yes we could see Schiehallion 35 miles away, as well as much closer mountains and ridges like the Aonach Eagach, yet what stood out the most was Sgorr Dhearg and Sgorr Dhonuill not mountains that any of us were familiar with. We spent 30 minutes at the summit enjoying lazing in the sun, eating and taking Kuksa summit shots.
The descent from Am Bodach in these conditions was a little disappointing after I had been declaring how steep it was to Colin and Phil. The last time I walked it I could only see a short distance in front of me, thats my excuse. What did become quite apparant on this trip is how much fast I descend compared to others. The same can be said of Colin when ascending, he motors by everyone even when he is taking it easy, while Phil and myself were usually weezing trying to catch our breath with racing hearts.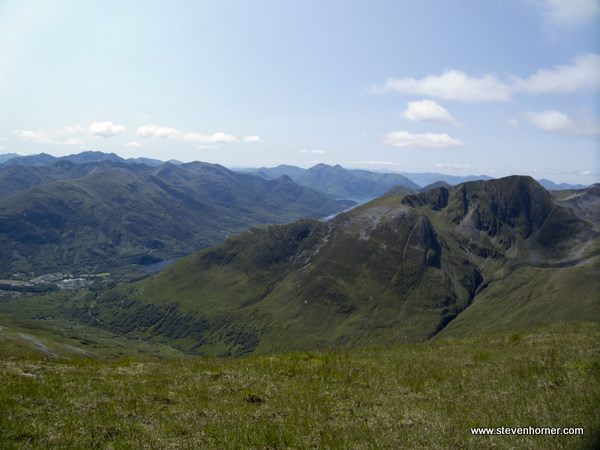 I am not sure why buy I can't remember much of Stob Coire a' Chairn either on this trip or on my previous ascent. It could be that the eye is drawn to An Gearanach and An Garbhanach or back to Sgurr a' Mhaim. Possibly there could be some sort of memory erasing device located at the summit, which could explain how the day disappeared so fast. I can remember reaching the Bealach a' Chadha Riabhaich where we left our bags before climbing up the rocky fun route up to the Munro of An Gearanach, although An Garbhanach which you cross on the way is the better mountain. Without our bags which were actually very ligthweight, we almost floated to the top or was that due to the Mountain House Flatulence. Up until this point we had seen no one, suddenly just after one of us noted the fact lots of people appeared out of nowhere. We didn't hang around for long, quickly turning tail and heading back to our packs.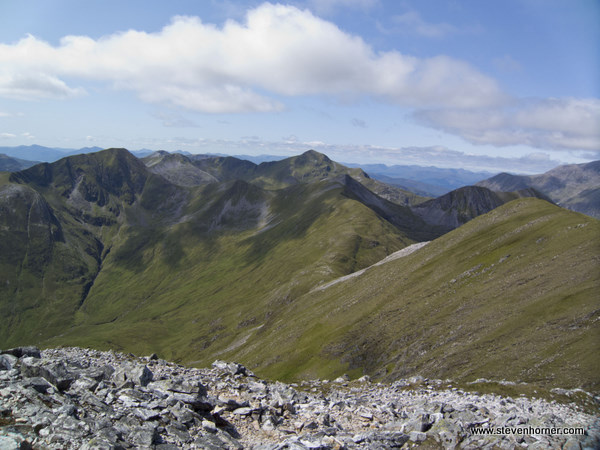 Rather than reascending Stob Coire a' Chairn we headed down to fill up on water and contoured around the side over boggy ground rejoining the path and heading up towards Na Gruagaichean, although there is a "sharp gap" as described by Steve Fallon. The gap was quite easy, I decided to get a head start on Colin and descended the gap quickly and rather than waiting for the others to catch up. I headed straight up towards the summit, but I could feel Colin chasing me down. On reaching the top we met a guy who has walked up from Kinlochleven and after a couple of minutes discussion Phil reached the top and mentioned that a woman was passing him on the way down, she fell head first, stuck her arm out which Phil grabbed and somehow swung her around landing on her feet. Sounds like she was lucky.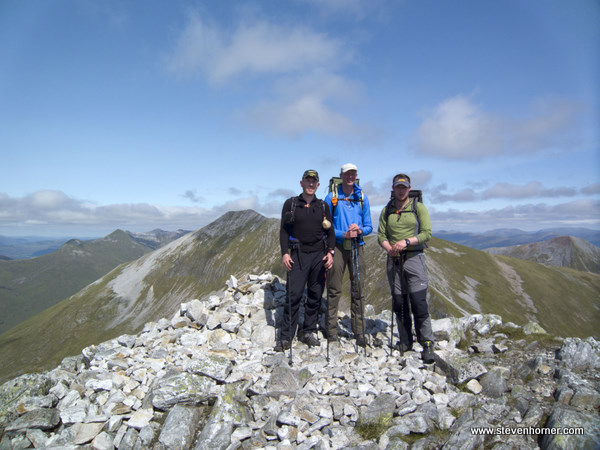 By now Phil and myself were beginning to tire, I'm not as fit as I used to be and Phil isn't used to Pointy bits. There was a discussion regarding myself and Phil just walking up to Binnein Mor and then heading back down. Colin wanted to walk the extra 2 Munros. Once again we jettisoned out packs and stored them this time a lot higher at 3400 feet before climbing to the summit of Binnein Mor which is at 3707ft is the highest of the Mamores. Kuksa pictures were quickly taken before rushing back to our packs, considerably more slowly than the start of the day. Phil and myself had made the decision to miss the last 2 Munros, I just felt drained my legs and feet weren't complaining just a general lack of energy. Colin was determined to walk the last 2 Munros, we agreed to meet him at the small loch beneath Binnein Beag after Sgurr Eilde Mor. We lay on the gassy bank with our packs as we watched Colin race off with far more energy than is human after a long very hot day in the mountains.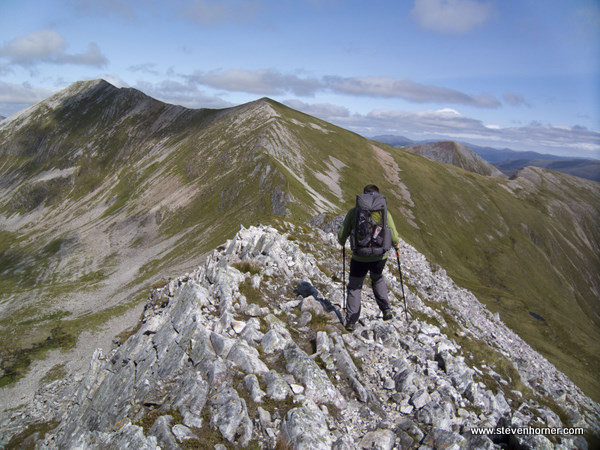 Once Colin disappeared from view we followed the route down to Coire a' Bhinnein where several kuksas of water were consumed as we watched Colin almost sprinting to the the summit of Sgurr Eilde Mor. It was clear now how much Colin must of been holding back for us, either that or he could almost taste the food we were planning to eat at the end. Pressing on to the redezvous point at the small loch, Phil and myself propped ourselves up behind a bolder. We tried to spot Colin but couldn't see him anymore, I shut my eyes for a second and dozed off. The next thing I remember was Colin arriving, agreeing to meet us at the other side of Binnein Beag. Once back to my feet after my sleep I felt sick. My legs still felt fine but I had a lack of energy, but walked around to where we hoped Colin would descend. Thankfully Phil produced some cake from his pack which he gave me, it was obvious I just needed some fuel. I don't normally eat very much when I walk but with the heat and ascent I'd munched through everything I had taken with me except for one dehydrated meal. This clearly wasn't enough food, the list below is the food I had on the trip which includes other food Phil handed out earlier in the day. I think he was just trying to lighten his pack but I'm glad he was.
Food:
5 x Chocolate Chip Clif Bar
3 x Honey Stinger Bar
2 x Cadburys Brunch Bars
1 x Mars Bars
2 x Peperami

1 x Squeeze Energy gum sweets (packet)

From Phil:

1 x Apple Slice

1 x Coop Cake

1 x Brioche

Unused

1 x Mince Hotpot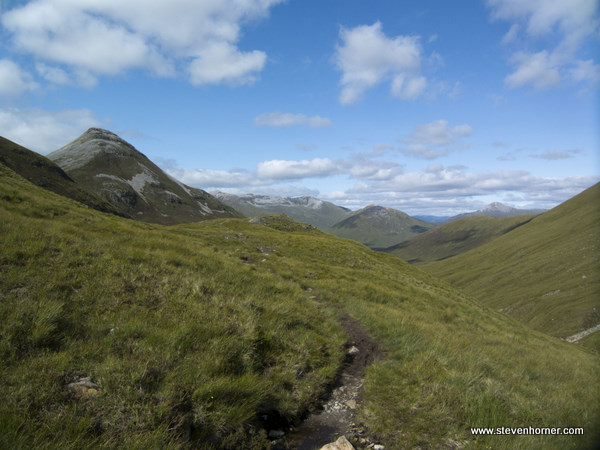 Once I had eaten the donated cake it was as if my batteries were restored. This was probably helped knowing that we only had descent remaining, if another Munro lay before us I imagine the energy would quickly recede. Colin eventually found us and we began the very boggy descent towards the Water of Nevis. I eventually gave up trying to find a dry line downwards and just headed as direct as I could. I was soon stood in the middle of Water of Nevis with a big smile on my face enjoying cool water flowing over my feet. Colin and Phil soon had the same look on their faces. The end was almost in site in my mind, we crossed Tom a' Choinneachaidh which is a very boggy area, where in wetter weather I can imagine sinking up to the waist in peat. Once we reached the path it was given a new name which would be inappropriate for children to read but it basically means its not very good. My Forerunners GPS batteries finally gave up, just as mine were now restored. It said we had already done 21 miles over the 2 days, Colin more. This doesn't sound very much but with the ascent and the heat it felt much further.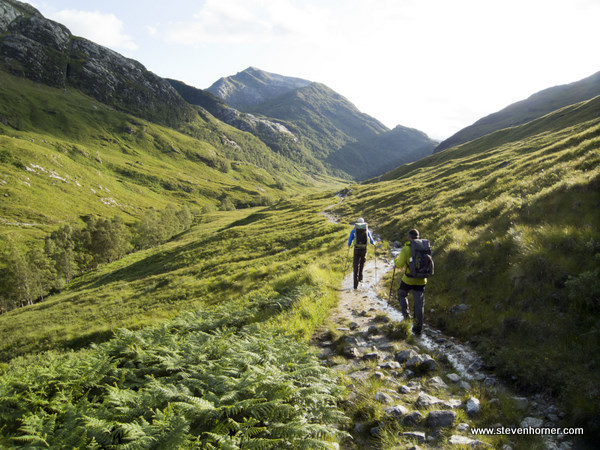 We still had 3 miles to the cars, but these flew by thinking about food. We passed a small waterfall with Phil asking if it was An Steall, the waterfall was probably only about 10 feet high. He would soon see the massive falls which as always looked stunning, this time in the evening light. Several people were passed setting up tents, it looked like about 10 people were trying to stop in a 3 or 4 man tent. By now we were in Road Runner mode with the road reached and the thought of food in all our minds. It had been a fantastic trip with superb weather and company. The trip was finished off with a Nevis burger each in the Glen Nevis Inn before we all headed our separate ways home. In my case a 5.5 hour journey, arriving home at 3am.
This was one of those rare trips where everything just slotted together, I can't wait for the next and wish Colin all the best on his Colorado Trail.
There are lots of lessons from this trip the largest being the volume of food consumed, far more than I was expecting. I still had a full meal which would of been sufficient but when walking with others you don't really want to hold everyone up by stopping to cook. I was quite surprised how much energy I had after the cake, thanks for that Phil. This will likely be the last time I write such a detailed report.