Myself and Traci actually did this walk 18 months ago in June 2013, but for some reason I never got around to writing it up. I made extensive notes on the actual days and this is the write up of those notes. Hopefully someone will find this useful.
We were looking for a summer holiday to relax but me being me, I wanted something a bit different. I have always hated sitting around a pool or lazing on a beach. Initially we were looking at Greece and I was contemplating adding a walk up Mount Olympus as you do on your relaxing summer holiday. Yet even with the supposed problems with the Greek economy at the time the holidays were still expensive. I decided to see what else was available that had mountains nearby. Somewhere I had never considered jumped out at me when I realised that the Atlas mountains were close by. The destination was Marrakech.
The obvious target if you have a couple of days to walk in the Atlas mountain is Mt Toubkal, the highest mountain in North Africa at 13,671 ft (4,167 m). It's a big step up in height for anyone used to the mountains of the UK and something else to consider is the heat in summer.
Planning
I started planning the walk several months before the trip and found a couple of useful sites on the internet, the best of which is here where you can also download KML files of the route. You will also need a map and the best map available from my research is the Cordee Toubkal and Marrakech Map at 1:50,000. Most of the other maps are less detailed or old.
I also bought the Moroccan Atlas - The Trekking Guide Book which has a detailed drawn map of the route with lots of extra information.
Huts or Camping
The previously mentioned site describes doing it in 1 day, which is certainly achievable if you can set off early, know you are fine at altitude and are fit. My plan was to take 2 days and stay in a one of the refuges on the mountain. There are 2 to choose from and are next door to each other at the South col. The original French CAF Neltner hut or the newer Les Mouflon de Toubkal which is where I chose.
I contacted Les Mouflon de Toubkal by email a couple of months before our trip and booked 2 beds in the dormitory which we were told would cost 286 MAD (£21) each for dinner, bed and breakfast. I beleive this is now 319 MAD (£23.50) each. When we actually got there I was told the dorm would be 500 MAD (£37) for us as a couple, so a little cheaper. We decided to actually pay the extra for a room, which cost us 800 MAD (£59) and personally I think this is a better option. The cost of a room is now 950 MAD (£70).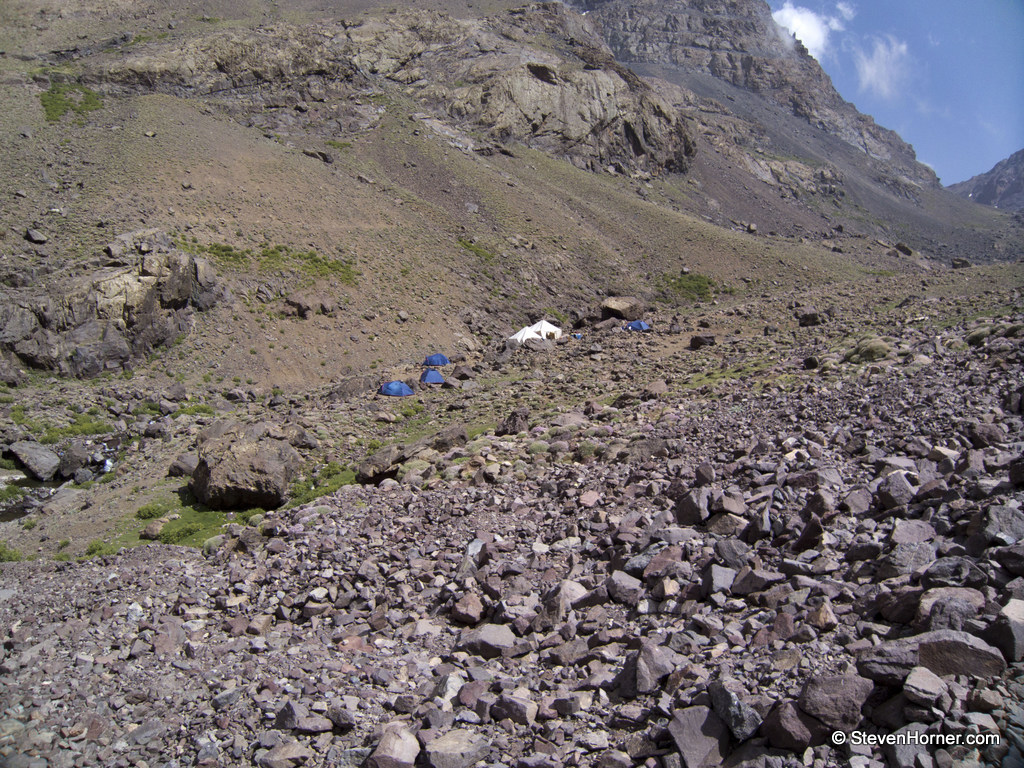 The camping options are limited at higher altitudes, due to the ground being very rocky. You can pay at the refuge for a dusty pitch for 20 MAD (£1.50), there were a few tents slightly below the refuge but I'm not sure I would want to be pitched there.
Food and Water
You need to plan your food and water carefully, the temperatures can be over 40c in Imlil and once out of the village there is no shade. We carried around 4-5 litres of water for the trip from Imlil to the hostel. To be honest this was not enough between 2 of us in the temperatures we experiences at the height of the day.
There are places on the way up where you can buy water or other drinks. Yet most were closed when we passed, other than at Sidi Chamharouch where there were several places you could sit down and drink or hide from the sun. We didn't stop here though due to time. As for food, again the same places that sold drinks also would have a few things, generally fruit. This was probably our weakest point, the only food we took with us we had scavenged from our hotel breakfast, mainly bread. Plan this better than we did, you will need fuel.
Once you reach the refuge you can buy an array of food from sweets like Snickers and Mars bars to full meals. You can also buy bottled water but it is expensive because it has to be carried up by mule.
Getting there
The easiest way to get to Imlil from Marrakech is to take a Grand Taxi from the Taxi rank which can be found to the South West of the medina, outside Bab er Rob. The taxi rank is quite large but is further outside the medina than I had expected along a dusty road. Although more buildings have been built in the area now.
On our way to the to the Taxi rank a minibus pulled up and we were asked if we were heading to Imlil, we agreed to pay 22 MAD (£1.60) each. An absolute bargain, but the minibus was a 12 seater and there were around 20 of us in it. When we arrived at Asni it got very confusing, we were ushered out of the minibus but we had no idea where we should be going. Luckily 3 teenagers who had been in the minibus directed us to a grand taxi. I shared the front passenger seat with Traci, the teenagers shared the back seat with another local couple. The smell of petrol was overpowering, even with all of the windows open. The journey from Asni to Imlil felt precarious along a roughish road, swerving around people selling fruit and trucks seemingly abandoned in the middle of road while they talked to people on the roadside. We were deposited at a taxi rank which is on the left side as you arrive in Imlil (open triangular area to the right of the road on the embedded map).
If you planned to walk the route in a day you would need to stay in Imlil, unless you managed to arrive a lot earlier than we did. There were various places advertising rooms as we walked up the bank from the taxi rank. A search on Google will find several for around 200 MAD (£15) B&B.
The Walk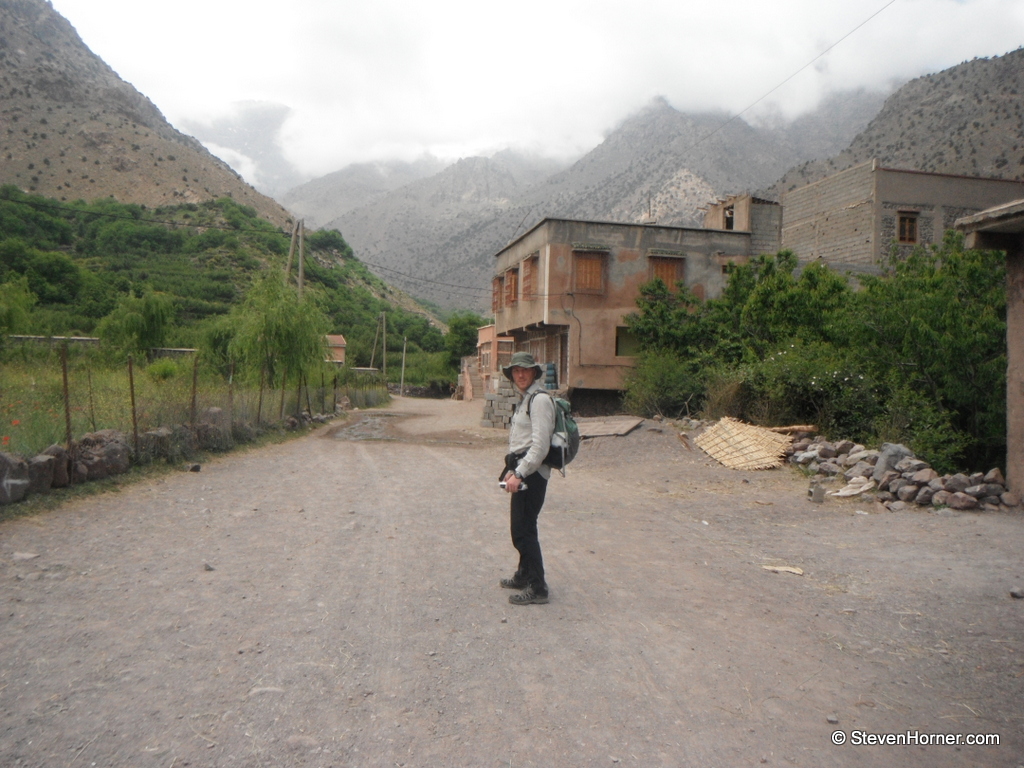 We set off from Imlil after being dropped off at around 11:30. The village was very busy with vehicles, mules and people rushing around. I always find the hardest part of a walk navigationally is the start when leaving an unknown town or village.
I am always raring to set off and should take time to orientate yourself and map, I had taken the time at home to scan and geo-reference my paper map. so I now had a digital map on my phone which helped locate myself in Imlil and confirm I was indeed heading the direction I thought I was.
We found the track out of the village quite easily but found we had crossed the stream too early and were heading up to Aroumd (marked Around on the Cordee map) earlier than intended. This involved a steep climb through the trees but I could see we would join on to the same path. We walked through the edge of the village, passing a small group of children laughing and playing. As we walked by a small girl spat at me, I didn't actually notice as she she was behind me. It appeared almost as if she had been dared to do it.
After leaving Aroumd behind there is a large rocky open area which looks like a flood plain but was bone dry when we walked. After the the flat stony expanse, you start the climb on a very obvious path. From here on the route is very easy to follow and you rarely need to consult the map, other than checking points off as you climb higher.
I would recommend the Moroccan Atlas Book purely for the hand drawn maps. The Cordee map does not have the detail to help with the navigation out of Imlil, its the hand drawn maps that allowed me to see my route up to Aroumd would join onto the same track I had intended to take. After the climb from the flood plain, I never used the hand drawn maps again until I returned to the same point the next day.
The walking is quite easy, although a constant climb it's on a track the mules travel daily up to the refuge. Your energy is sapped by the heat and once out of the trees near Imlil there is no escape from the sun. The temperature was in the high 30's celsius with no let up all day.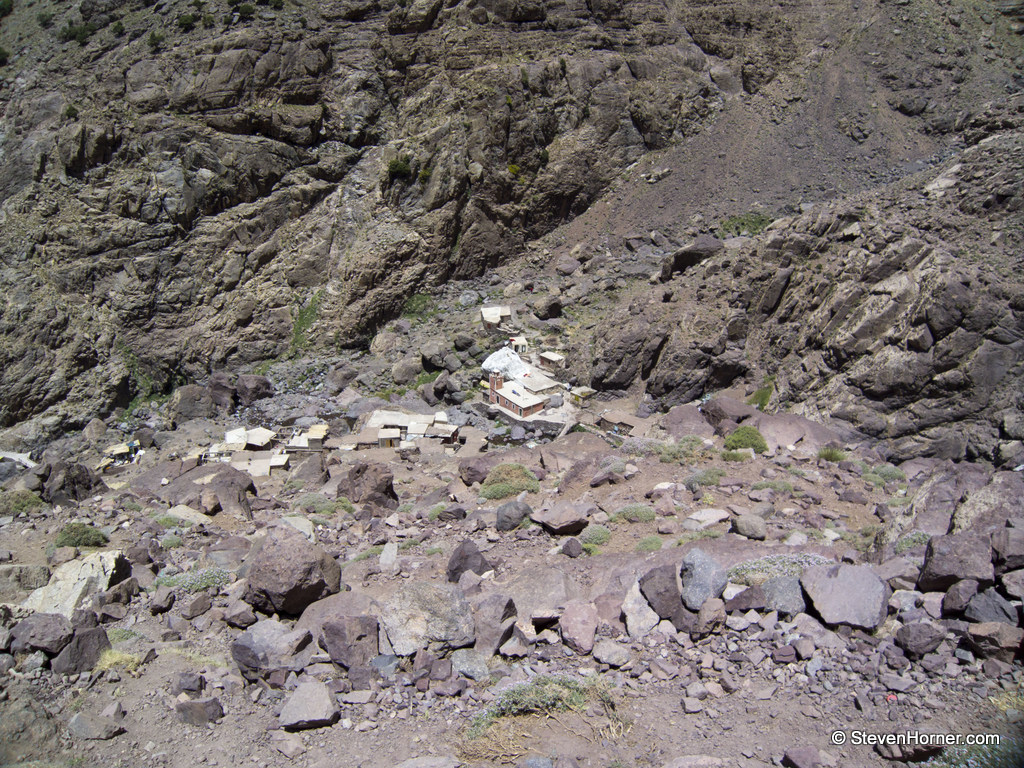 I don't intend to write a detailed description of the walk up to the refuge, it's too long ago and there are various books and websites which do a better job than I could. As we walked higher we did pass a few places that would be selling drinks and fruit, but they were closed maybe because it was now the middle of the day. They are just stalls or tiny stone buildings at the side of the track.
Some of these places are marked on the hand drawn maps in the Moroccon Atlas book. The last place you could actually find a proper place to buy drinks or take a rest is at Sidi Chamharouch, there were 2 places I spotted selling drinks and a few small places selling scarves and other items. The hamlet is built around a muslim shrine. You can see a large whitewashed rock as you pass. You cross over a bridge and again climb steeply. I can remember thinking the section above the hamlet must be the hardest part for the mules.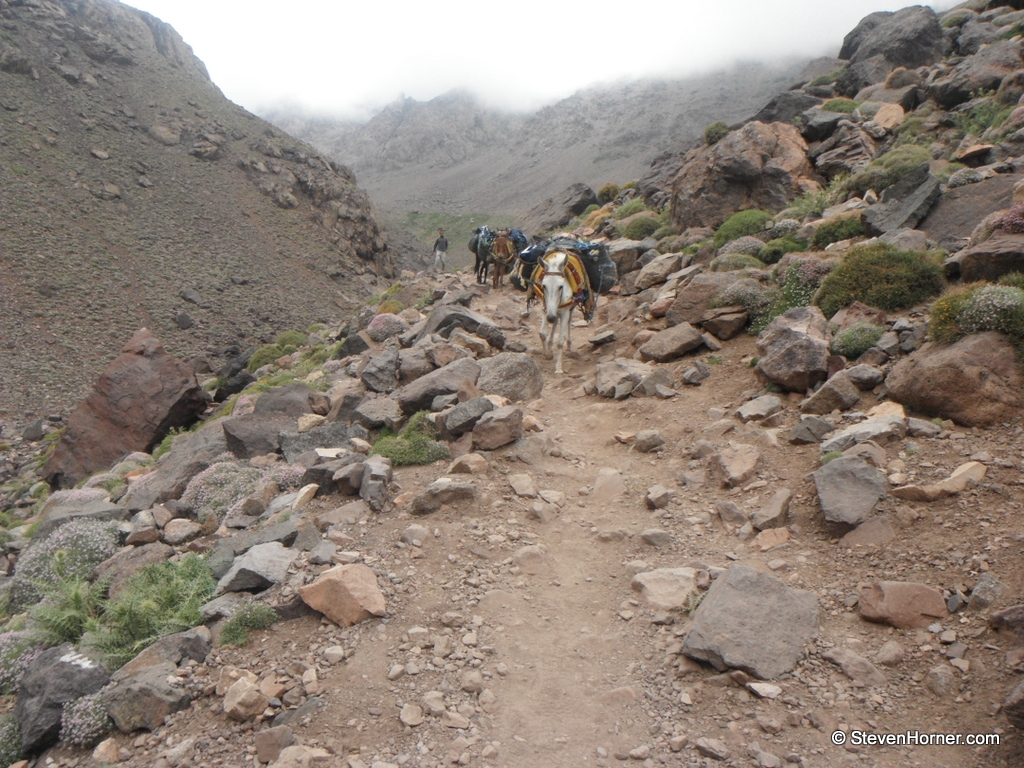 Mules are the only way items can be brought to places above the flood plain we passed earlier, their destinations would be the 2 refuge higher up or Sidi Chamharouch. It's amazing watching the array of items the mules are carrying from gas bottles to building supplies and of course food. We felt sorry for the mules often struggling up or down steep sections overburdened with supplies. Our walk up was surprisingly quiet, the higher we got the more people we saw heading in the opposite direction. Some of the mules were carrying people who were too lazy to walk or their luggage. We also passed several groups who were being lead by guides.
There are lots of mention of guides when researching the walk up to Mt. Toubkal, I chose not to pay for one. There was honestly no need, the route is very easy to follow. In winter my advice would likely be different, unless you had plenty of experience. You will be bombarded with people back in Imlil asking if you want a guide. Clearly this is a source of employment for people in the area but in summer an experienced walker would not need one. If you do decide to pay for a guide be careful to get one who can clearly speak your language, many spoke French better than English.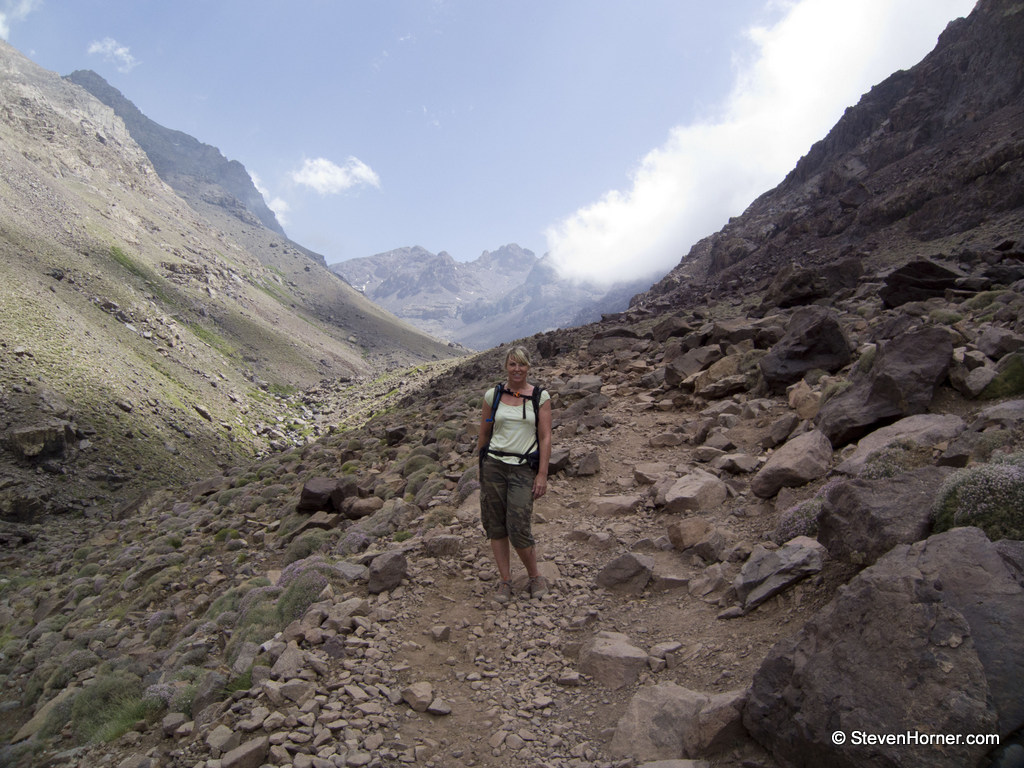 We made good progress keeping a slow but steady pace, we were beginning to wonder if we were ever going to reach the refuge. The water was running low and the blazing sun which was being shaded slightly by cloud now was still very strong. We were starting to feel more tired than expected, probably due to the heat and the altitude. As our energy started to sap the refuge came into view. We stopped to eat some of the bread we had taken from breakfast and drink some of our remaining water. Looking up there were still odd patches of snow in places clinging on in shaded areas above us. There were a few tents below the buildings, I was happy we hadn't decided to camp up here.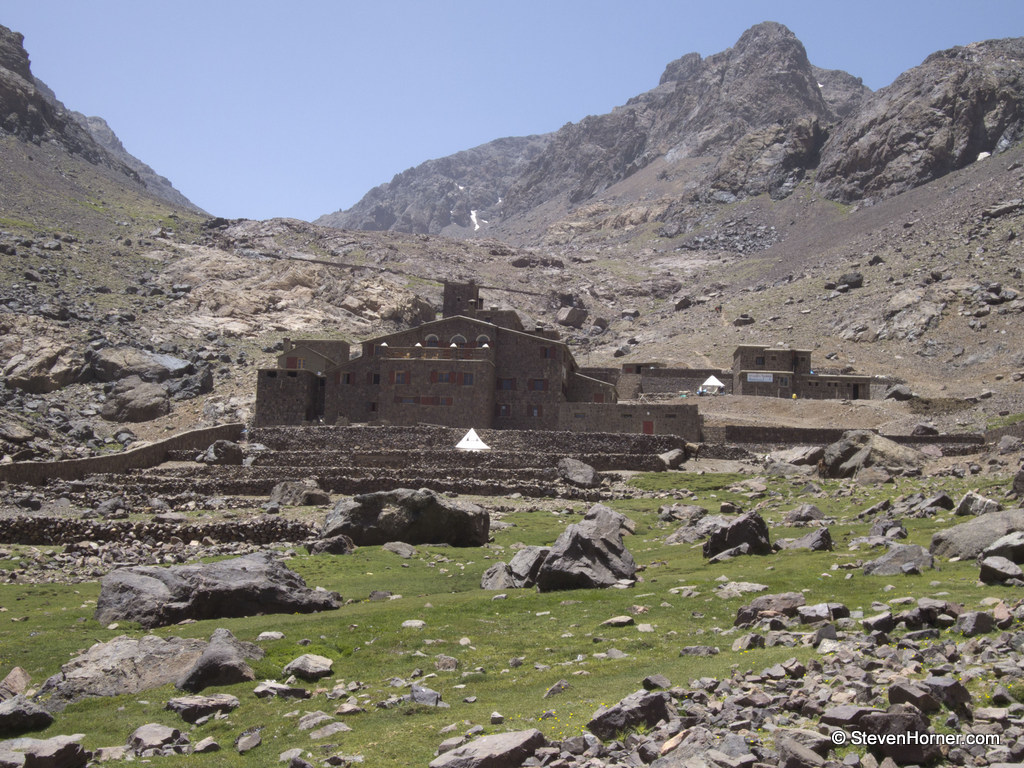 We were booked into the Les Mouflon de Toubkal, walking through the door at 16:30 we couldn't see a thing until our eyes adjusted to the darkness.
There were a small number of people inside, some clearly who worked there. Most did not speak English and wore traditional clothes. This was in contrast to the person who appeared to be running the refuge who spoke perfect English and wore clothes like we would wear back home, T-shirt and jeans if I recall correctly.
We had booked 2 beds in a dorm but decided once we got there to change to a private room. We were pleased we did, there was a large number of older Japanese hikers staying who were very loud. We just wanted to relax and this would have been hard with the noise from the group. We were given some mint tea, which is very refreshing and is drank everywhere we went in Morocco.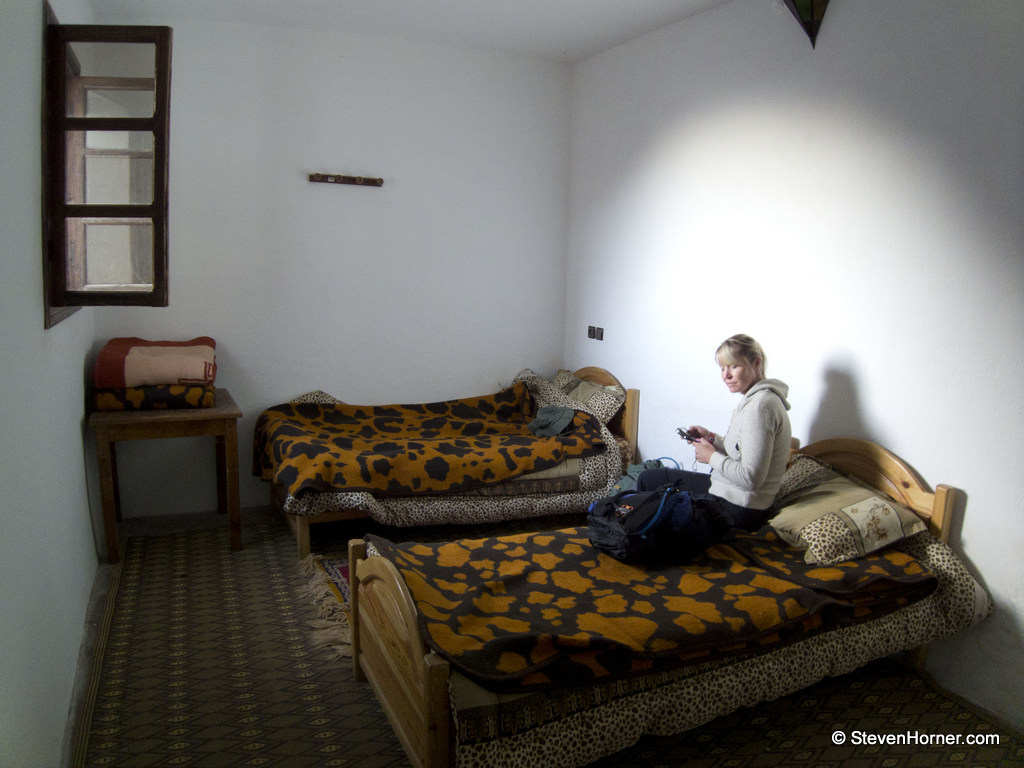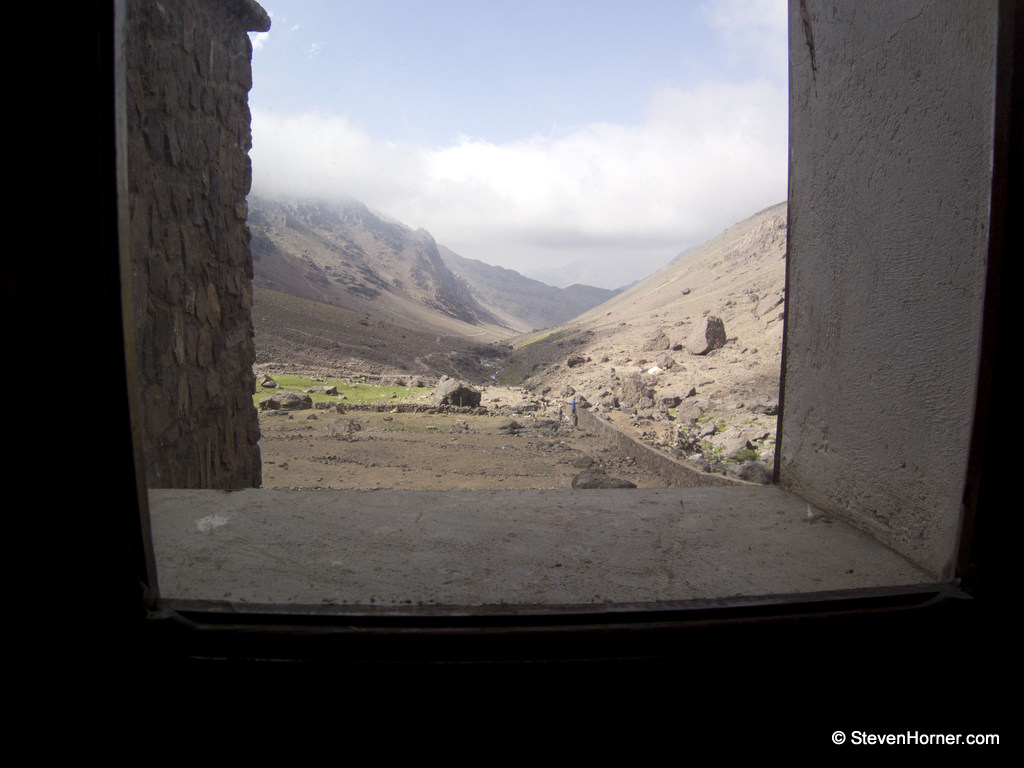 The room we were given was just off the open area and had a view back down the valley we had walked up. There were 2 single beds in the room with thick blankets. We had considered bringing sleeping bags, but instead brought just sleeping bag liners to protect us from any bed bugs, etc. I think this was a good idea, the blankets felt very itchy but cosy and warm. We asked for an evening meal, I can't remember if we had any choice but it was the best meal either of us had ever had. We think it was lamb tagine, but its possible it was goat. No matter what meat it was, Traci still states it was the best meal she has ever eaten. We had a large Tagine and bread to ourselves and would highly recommend doing this rather than carrying your own food up.
We arranged to have some breakfast ready for 6:30 the following day, then headed to bed to read and relax before going to sleep.
We had a very broken nights sleep due to strange loud noises all through the night, which sounded like tunneling beneath the refuge. This was the only negative thing about our stay there. They even had flushing toilets, unless I imagined that. We got up at 6:15 and our breakfast was already out for us with hot water for coffee brought once we sat at the table. Breakfast was jam and bread, we took some of the bread to eat during the day. We also bought 2 bottles of water and snickers before we left at 7:10.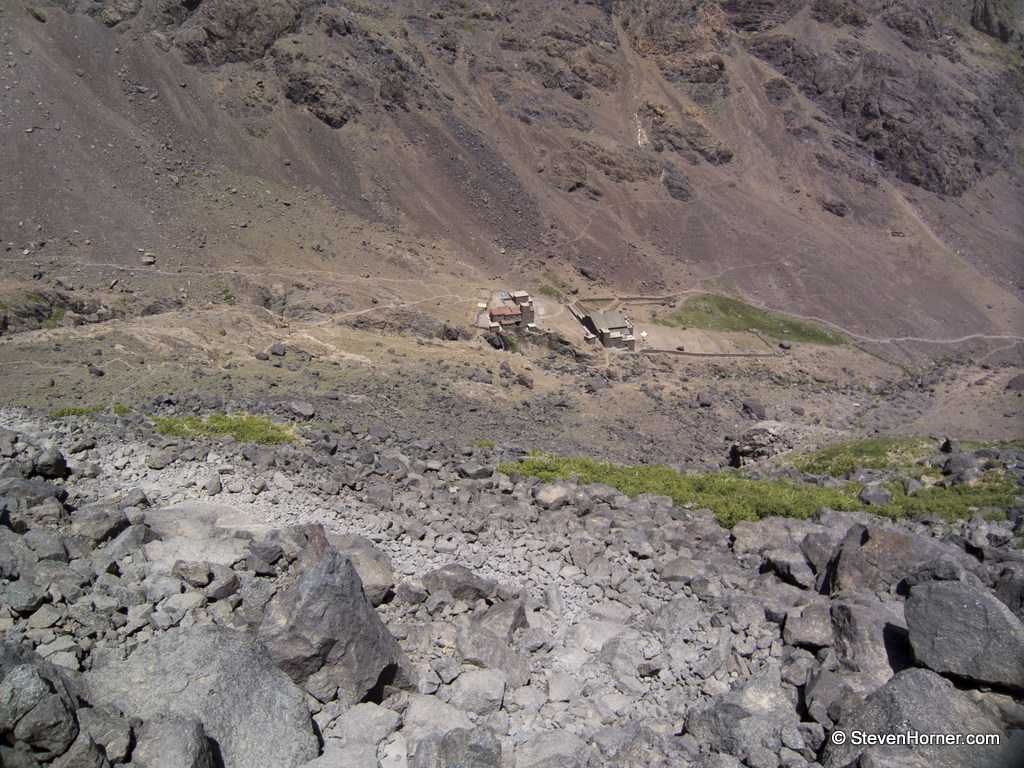 The path above the refuge crosses in front of a waterfall and steeply up a scree slope. We missed the track to the left which avoids the worst of the scree. Traci was struggling and was having problems with earache caused by the strong winds and possibly the altitude. She was also struggling to catch her breath and started telling me to do it on my own. We either did it together or we went down together.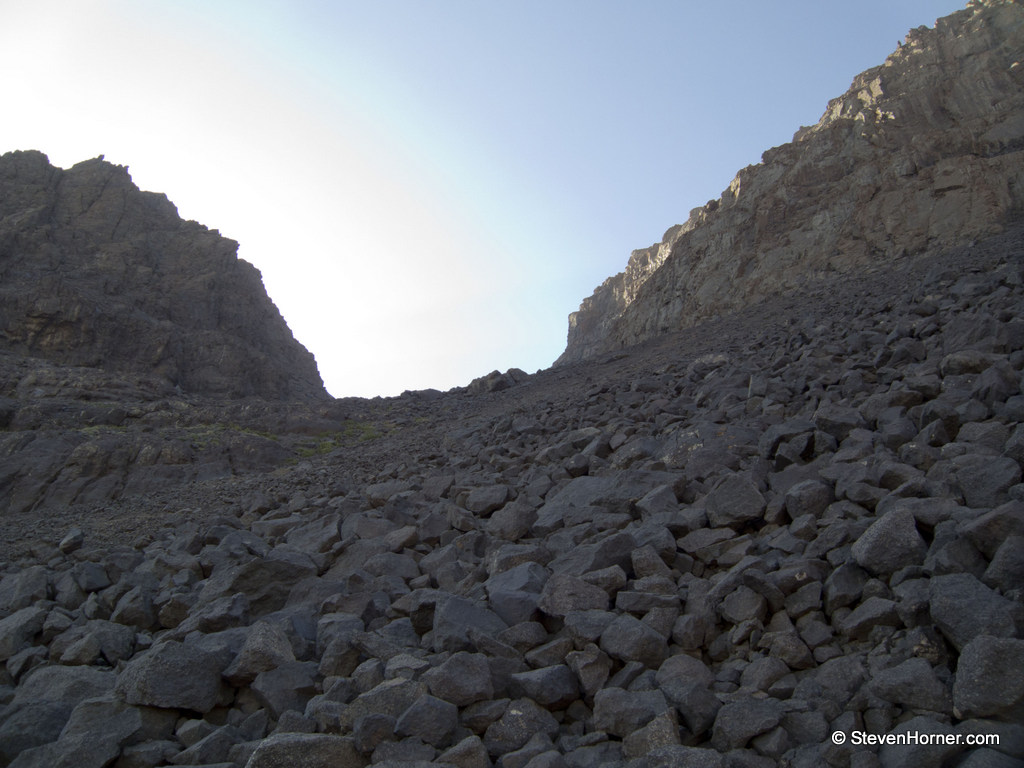 We carried on and found a path marked by cairns. The wind was lighter in the gully and the sun hadn't reached us yet due to the mountainsides. It was slow going, finding ourselves out of breath sooner than as UK heights. Traci was feeling it more than me, but I was happy to stop and catch my own breath. We worked our way up, we could see 2 hikers in the distance with the gap to them steadily decreasing. The path split into three at some point and we missed the initial split but stuck to the right where the scree was easier to cross.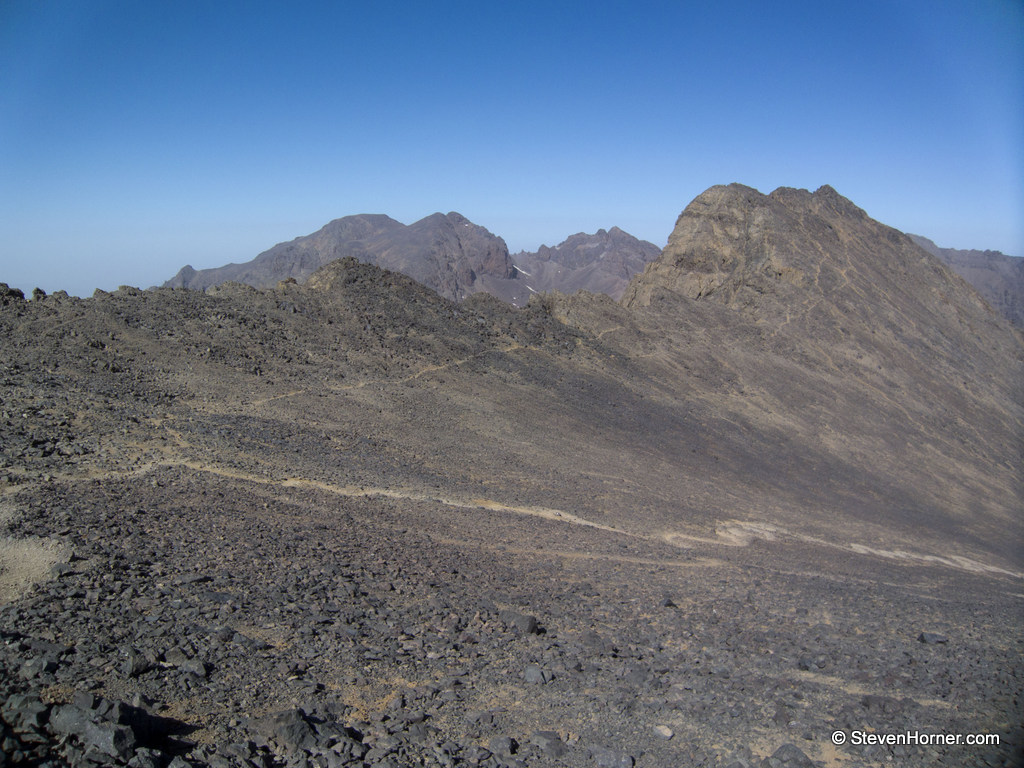 A man travelling fast up towards us, soon caught us up. I'm not sure of his nationality, he may have been Moroccan but he spoke good English. Explaining it was his second time up having to return for pictures after his camera had been either lost or stolen. Soon after this we reached the top of the gully and the ridge where we turned left, continuing to follow the clear path. We passed the 2 hikers we had been closing in on, two women.
Shortly after passing the women we passed another 2 groups who were heading down. The first who were French, spoke to us in English telling us it was about 40 minutes to the top. Traci thought they were joking, thinking we were almost there. The group of 3 was British with a guide. The young lady looked ina bad way, clearly struggling and in tears. The guide was helping her down as best he could.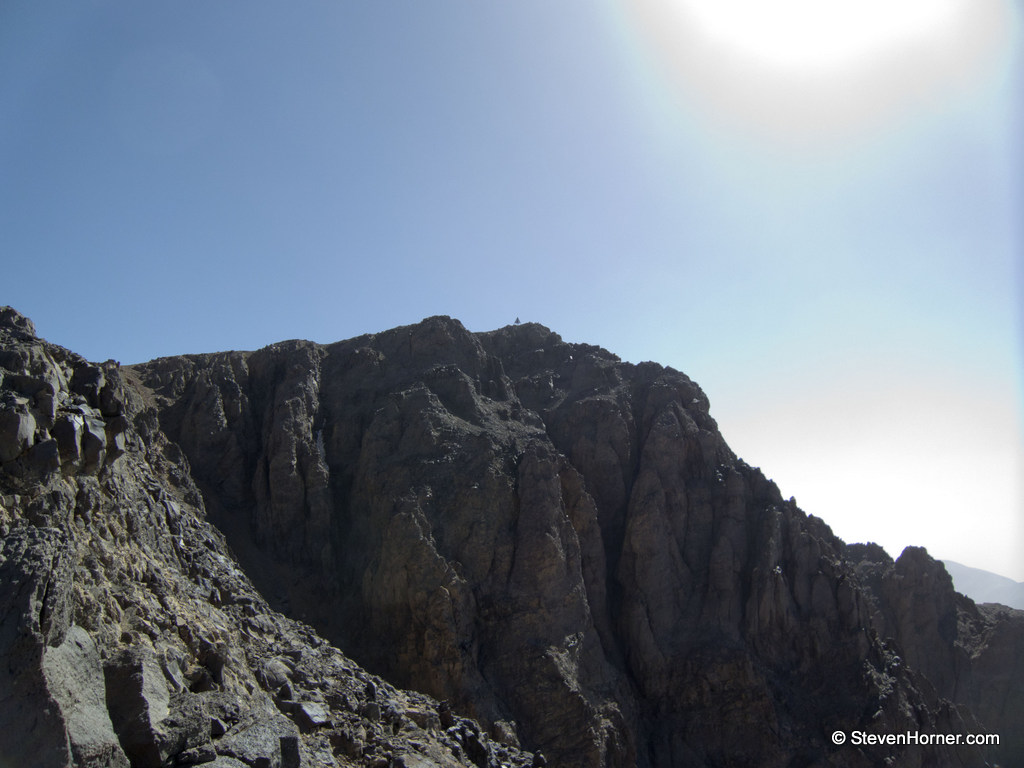 A couple of minutes after this the summit came into view but the track went to the left of the ridge before heading to the right and the summit. It took around 20 minutes.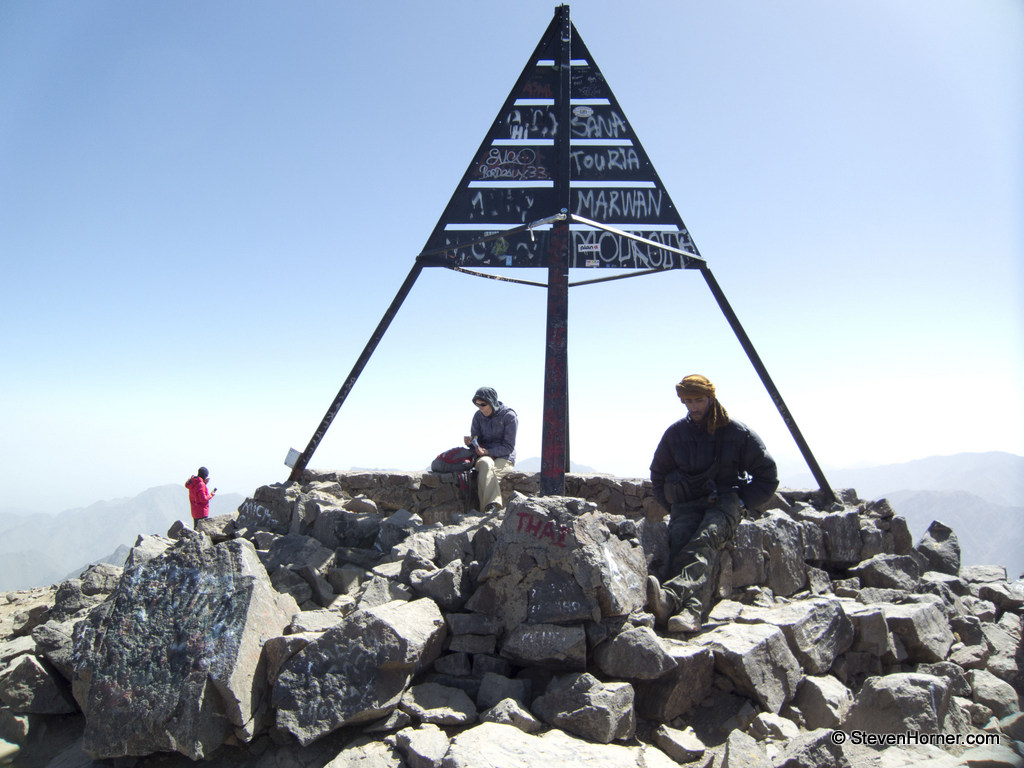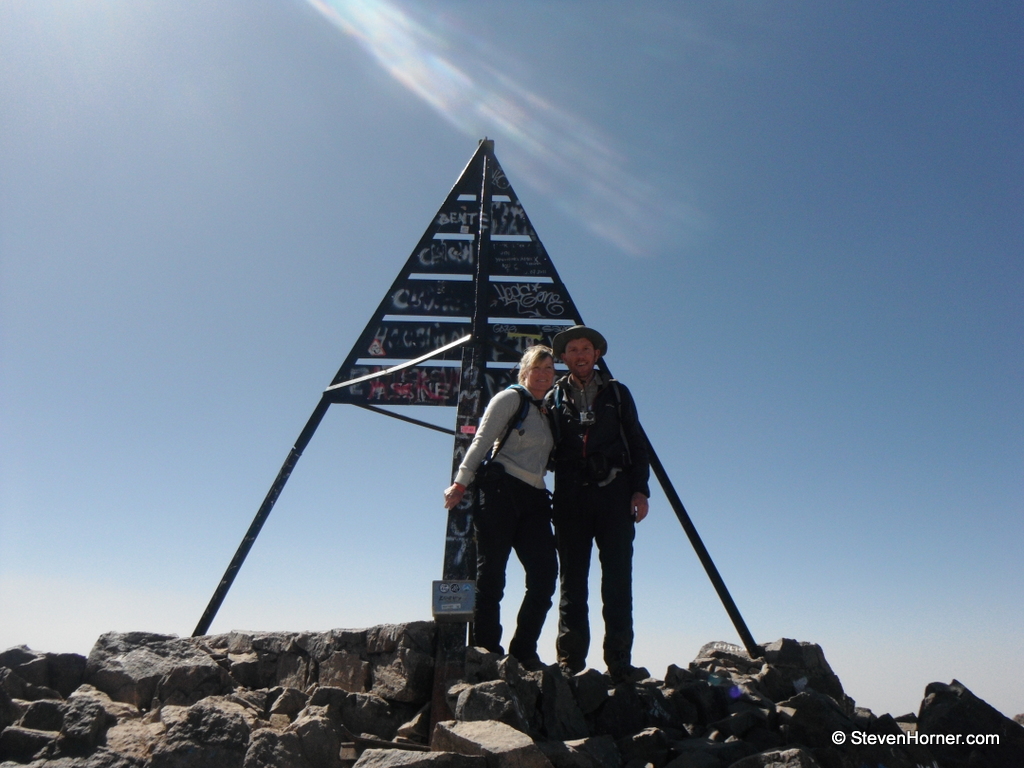 We met the guy at the top who had lost his pictures on his previous trip. We took pictures for each other before he left us alone at the summit. After around 20 minutes we decided to head back down as we were leaving the two ladies we past earlier had arrived and asked us to take pictures for them.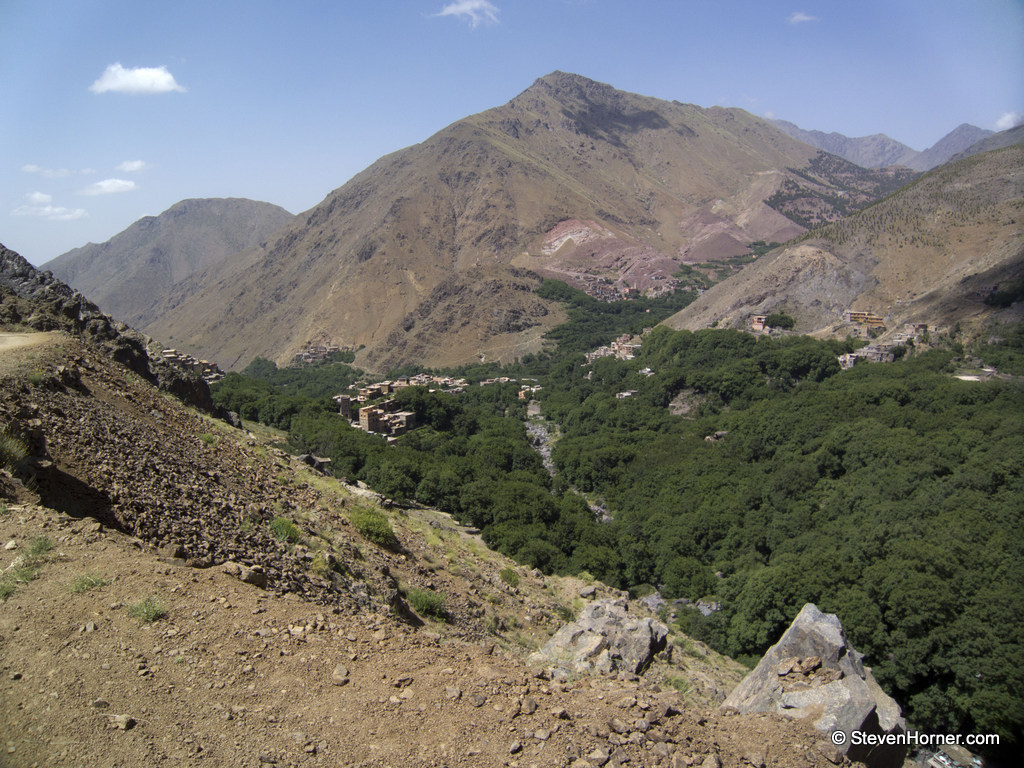 We descended fast retracing our path, which was more obvious on the descent. We didn't hang around when we reached the refuge but continued on. We stopped to eat some of our bread below the refuge, it took less than 2 hours from the refuge to Sidi Chamharouch and the white rock which we passed quickly. There were a lot less people on our return journey.
Twenty minutes later and we were at the zigzags above the flood plain. I decided to ignore the route description and head the more obvious route which was far easier and faster.
We arrived in Imlil just before 4pm and bartered for a grand taxi back to Marrakech for 200 MAD (£15), although I also had to pay the guy I was bartering with not the driver. The smallest amount I had was 50 MAD (£3.66). We had the taxi to ourselves this time, although the driver was crazy, driving very fast, over taking vehicles with cars heading towards us. He had to go onto the dirt at the side of the road to avoid collisions on more than one occasion. We were pleased when we made it back to Bab er Rob and the Taxi rank in one piece.
I was conscious that we could make the last free shuttle bus of the day back to our hotel if we were fast. I set off at pace for the pickup point, but Traci was struggling to keep up. We made it to the shuttle bus with a minute to spare before it arrived.
We both loved the walk and Morocco, we returned the following year for a more relaxing holiday. I would highly recommend Marrakech and the walk up Mt. Toubkal.
You can find the zipped GPX track for the 2 days here, which could help with timings and the actual route we took.